Region

Canada
City

Halifax
We are excited to announce - Zen Wave, the latest E-bike from Zen. Initially, we introduced our flagship Samurai models, but they are in the higher-end category, and the market is geared towards $2.5K bikes rather than $4k or $5K bikes.
So, with this Zen Wave, we can bring some of the latest innovations into the affordable market.
The webpage will be up in a few weeks, but the bike will be priced at USD 2199 or CAD 2999.
We have 6 bikes (sold out), but our first large shipment is in about three weeks. Final battery QC and battery assembly would still happen in Canada. This is a perfect bike gift for the holiday season and something you can enjoy for a very long time.
Key innovations
(at this price point)
:
Smart BMS
We designed a custom BMS for this E-bike that offers multiple safety and innovative features. For example, by default, the BMS only charges 80% of the battery, and with one press of a button on the display, it will unlock the full charge to 100%.
You don't need a Cycle Satiator or some advanced charger. Everything has been built into the pack itself. The pack is made of 21700 LG cells. Even charging 80%, the battery has more than 620Whr capacity, and at 100%, it has close to 780Whr capacity. BMS is built to UL-2271 standard.
Smart Charger
The Battery BMS and the charger communicate effectively to adjust the SoC and eliminate the need for advanced chargers, timers, voltage limiting devices
Key specifications and points:
High-resolution Torque sensor with 104 pole cadence sensor, offering smooth pedal assist (jerky pedal assist is an issue with most bikes at this price point)
4-piston hydraulic brakes
XCM-32 front suspension
An integrated rear rack that can carry 30kgs
Fully adjustable stem with integrated cable routing.
Motor​

Zen Custom Bafang 52V, 500W, 65Nm torque,
Top speed: 32 km/hr (Canada), 45 km/hr (USA)
5-levels of pedal assist with Dropout Torque sensor
throttle to 32 km/hr​

Display computer​


KD-686 LCD color display with USB-C charging.
Custom CANbus protocol​

Battery & charger​

52V, 15Ah (~750 Whr)
BMS built to UL standard
52V, 3A, UL-certified charger​

Transmission system​

Shimano CUES Linkglide system – gear cluster, shifter, and chain.

See the video below, Prowheel 48T front chain ring

Gear cluster​

Front suspension​

Brakes​

4-piston hydraulic brakes by LOGAN with E-cutoff
(OE manufacturer for several brands)
Images below​

Wheels and Tires​

27.5" MTB wheels with 36 spokes, 13G spokes
, and CST CTC06 27.5" x 2.4" tires​


Stem and Handlebar​

Zoom TDS-D636-8FOV, E-bike specific, internal cable routing
EN15194-rated
Zoom handlebar​

Accessories, lighting, carrying capacity​

Full cover fenders, integrated rear rack (25 kgs),
Locking ergonomic grips, integrated front and rear lights
ZEN suspension seatpost (optional)​

Size and color​

18" (universal step-thru design)
Works for anyone from 5ft to 5ft 11"
Starlight White and Sky-Blue colors​
Some pictures for viewing pleasure [please click on the images for higher-resolution]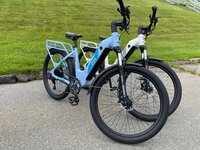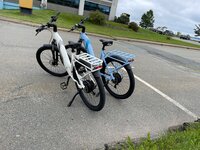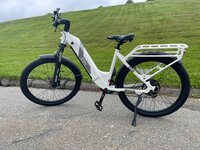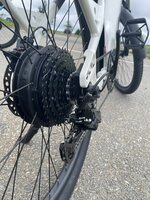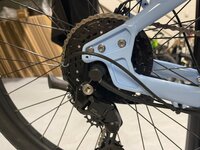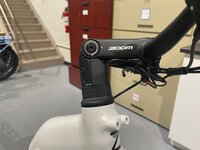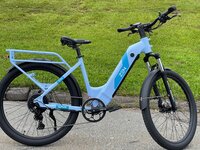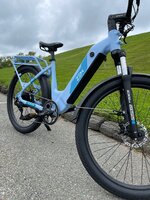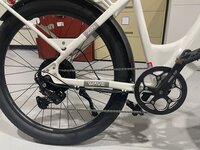 Last edited: