So I started a similar thread on EMTB Furoms with a somewhat positive success. But I figure that EBR would be a better and appropriate place to continue the theme over here.
Hopefully, this thread will give confidence to both veteran and new comers to ebikes that (subject to maintenance), ebikes can last longer than what some may perceive as '
it'll break or you'll have problems after your warranty has expired
'.
To that end, I've recently taken on a new project that should hopefully stimulate conversation and provide confidence to most who may potentially fall into this scenario.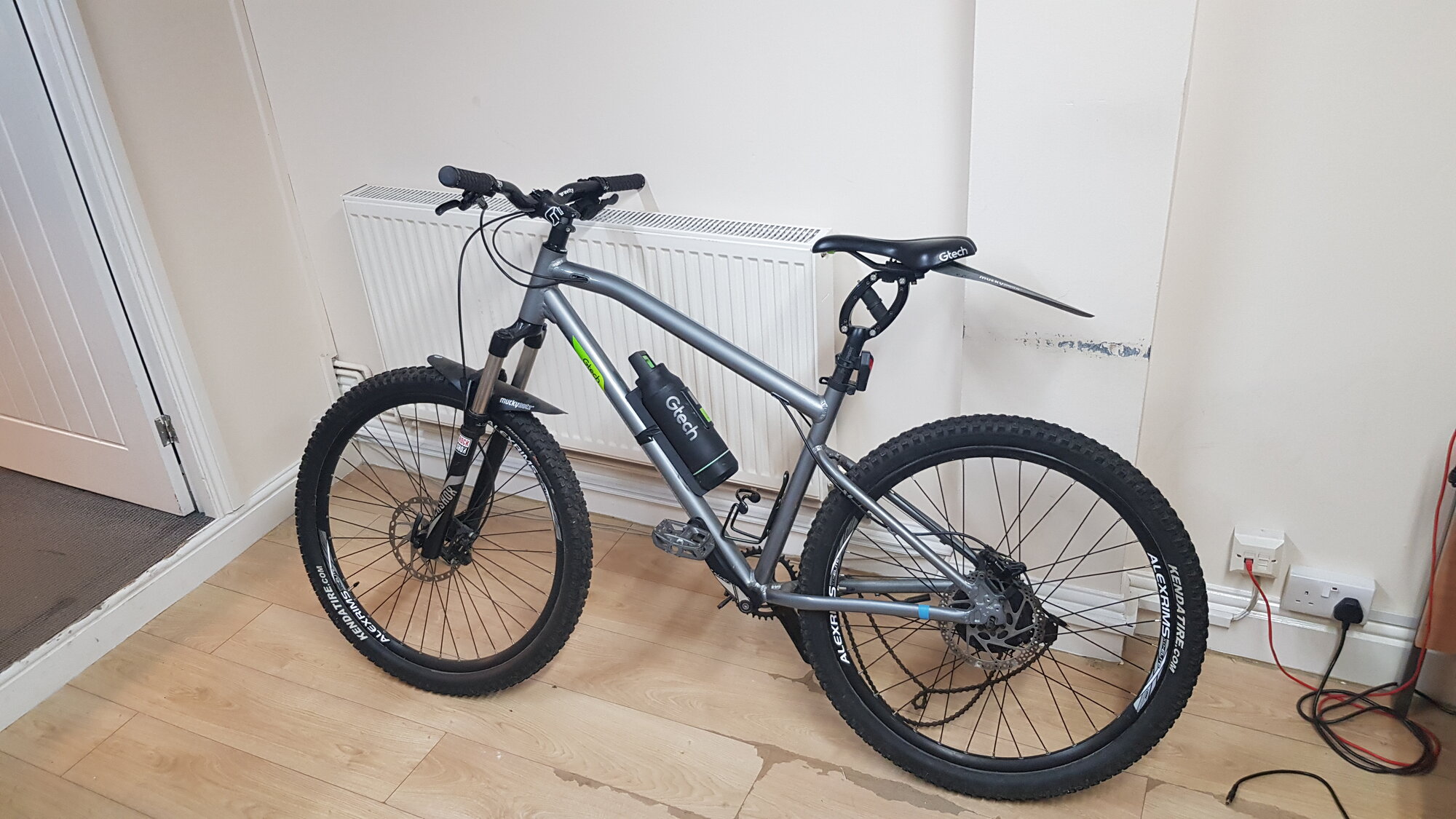 This is a G-Tech eScent electric mountain bike. Owned by my friend and maintained for a good couple of years. As such, the bike works both mechanically and electrically. However, upon my friend demoing newer ebikes (to which he was almost going to buy one of mine off me), I asked the question, "what's wrong with your ebike?".
We got talking and ultimately he expressed concern for the following:-
1. Future proof - The bike (by design), can only use the bottle styled batteries which by nower days standards, lacks in capacity. Ultimately, to get the range, he would need to take 3 additional batteries which ultimately each battery retails for near £300 (x3=£900 for a 36v 7amp battery).
2. Power - this, is pretty much straightforward. The bike uses a Bafang hub motor capable of 500w. Here is the thing, his batteries would never allow him to achieve 500w so technically, my friend has never experienced the motor at peak output.
Versatility - What can I say, I'm a hardtail fan #hardtailforlife . The point being (subject to your requirements), it is very easy to modify aspects of a hardtail more easily than full suspension without worrying about rear tyre/rear triangle interfering with a pannier rack for example. In my friend's case, he wants something like a weekday touring/commuter & weekend warrior.
4. Using the newest products - I'll be honest with you all, I've managed to secure components from brands who they have generously donated for this project. More will be revealed soon.
And lastly,
Price - Obviously, true upgrade should be perceived as an investment. Ensuring that you are getting the best experience possible out of your ebike. But I appreciate that 2022 will be the year many of us will start to penny pinch. So I've set a budget of £500 (1/4 of how much my friend was prepared to spend on a new ebike). The bike cost him near £900 so within a period of 2 years (excluding cost of maintenance), £1400 max.
I'll be sure to keep you all posted as to how I get on and I'll link the video to this thread
.
But I digress, please share your thoughts, stories and testimonials of your ebike (converted, pre-built or upgraded) and how long you've owned it for
ESPECIALLY IF ITS FROM 2017+
Thanks for swinging by this thread and look forward to hearing from each of you