Administrator
Staff member
Hi guys! Redshift Sports sent me a pair of their new Arclight Pedals that have rechargeable light bars inside... and they're pretty cool. This is not a paid review, but they did send me the product for free, and I'll be giving them away when I'm done.
I'm always trying to be safe, and calling out the premium integrated lights that many electric bikes come with, so I was excited to see this novel approach. Sometimes it's difficult to mount lights to a bike, and they can be prone to theft or easily get bumped out of position. They also tend to be more stationary and only visible from front and rear angles. The Arclight Pedals address many of these issues... but they aren't perfect.
Pros:
The pedals automatically know which way is front and which is back, so they update from white to red if the pedal gets spun around.
Lights and electronics are IP64 rated to be water and dust resistant, they seem fairly durable.
The light modules are magnetic and snap into place easily. You can remove them when parking to prevent theft and tampering or to charge them. They seem pretty secure but might fly out if you really crash hard and the bike does a barrel roll!
Each light bar can plug directly into any USB Type-A charging port for easy refill, but their included dongle can charge all four at once from one single USB port.
Redshift Sports also sells a multi-mount to use the same light bars on frame tubing, backpacks, and helmets.
The lights shine from the front and sides, so they are visible from multiple angles... even up and down to an extent.
They offer solid, blinking, and strobe modes! But they cannot be adjusted independently... it would be cool if you could set solid front and blinking for rear, but I see how that would be complex to implement with a single button.
The light modules appear to remember the mode you were using (solid, blinking, or strobe). They automatically turn off to save battery after about 30 seconds.
They offer an amazing 90 day risk-free trial, free shipping, and free returns, as well as a lifetime warranty.
Cons:
Some added weight compared to a traditional plastic, aluminum, or magnesium pedal.
No pass-through holes to allow mud and snow to squish out while riding... it may clump up and become slippery.
Limited knubs for grip and traction vs. the fixed and adjustable pins on my favorite pedals from Wellgo.
The lights are positioned very low relative to an on-frame light, so it may be harder for automobiles to see (since they often sit way up high). Your feet also cover the lights a bit so they don't go up as much as straight, down, and sideways.
The headlight mode (white front lights) don't aim where you steer as instantly as a stem or fork mounted light and might be blocked by grass, rocks, and bumps since they are so low.
Priced at $140 USD, they are very expensive compared to a standard BMX pedal from Wellgo or others ($20 USD on Amazon). You have to pay $15 extra for each multi-mount if you wish to mount the lights to your frame, gear, or helmet.
Here's their official promo video, and my review video is just below that. I did some water tests towards the end, and they held up great.
Official specs and marketing fluff:
360° Visibility (front, rear, and sides)
The "natural biological motion of the pedals" make you more recognizable as a cyclist.
Some studies show that combination of motion and light can make you up to 57% more visible than standard bike lights.
Automatic on/off: the light modules turn on when they sense riding and turn off when they sense that the bike has stopped. My tests showed that this takes around 30 seconds.
SmartSet sensors dynamically change the LED color depending on orientation so you always have white forward and red rear.
The battery for each light module can last from 3 hours for solid, 11 hours for blinking (flash), and 36+ hours for strobe (eco flash)
Aluminum alloy housing, steel axle, sealed bearings, the light modules are ABS plastic. Each pedal weighs 305 grams with the lights installed (my own scale said between 350 and 400 grams each).
Charge time is roughly 2 hours per light module, their charging adapter can fill four modules at once!
Designed to fit most bikes with a standard 9/16" thread pitch.
Here's the
official Redshift Sports webpage
with details on pre-order, and a separate page for the
multi-mount rubber strap
to be used on handlebars, gear, and helmets. It sounds like they ship in May 2022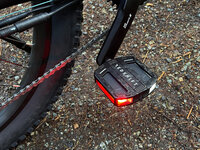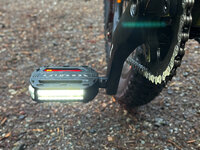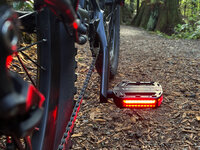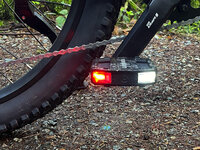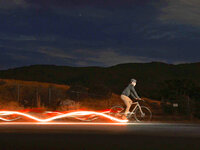 Last edited: