Hi all. I have a Cafe Cruiser by ride1up. After a ton of research, it seems like there is some QC issues with some of their motors and recently in the fb groups, and some forums, there are people like myself disappointed in it's power.
I'm aware motors will put out whatever you feed it, but the rpm on this motor is low and it's hill climbing is weak. There are also reports of the motor frying itself when going uphill at 18A. Ride1up has recently limited the Cruiser to 18A from it's previous 22A because of reports of it frying itself and yet it still can fry itself at 18A.
I'd like to also note that there doesn't seem to be any grease on their planetary gears, or if what I do see is grease and not bits of melted nylon then I'd argue it's not greased properly. You can see where their's heated up and started damaging teeth and probably even binding.
I live in a hilly area that's also very windy and this motor is so much weaker than my 36v (48v battery overvolted) 750W ebikeling motor that it frustrates me every time I ride it.
So I would like to begin looking at options to replace this motor and upgrade it. I have done a lot of digging at the motor is a:
Bafang H620 RM G040.350/500.DC
that Ride1up says is custom wound for 750W sustained. However, the tires are 26x3.0". A mechanic in the Ride1up forum says the rims are 46mm wide. This means I can't just swap the wheel to upgrade.
What, if any, motors will fit in this wheel? Or am I going to have to somehow build a wheel around a new motor? Are there any other Ebike companies with a good hub motor that have 26x3.0" (46mm wide rim) wheels that I can order a spare wheel from?
The old name for this motor is apparently "Bafang CST". That is what manufacturers used to call it.
​
H620RM G040.350/500.DC Specifications Dimensions​
Specifications Dimensions / Size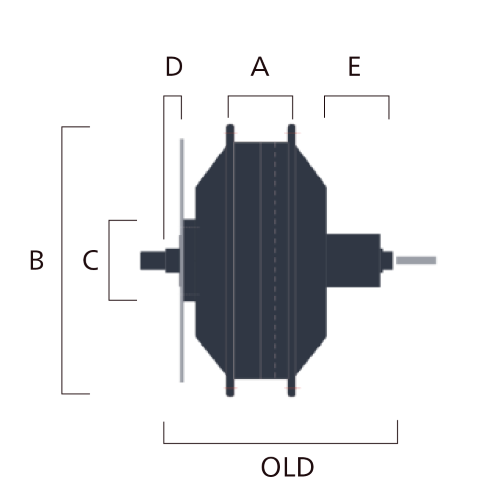 Dimensions / Size A 32mm
Dimensions / Size B 164mm
Dimensions / Size C 44mm
Dimensions / Size D 15mm
Dimensions / Size E 41.9mm
Dimensions / Size OLD 138mm
Last edited: