Region

USA
City

Clearwater, FL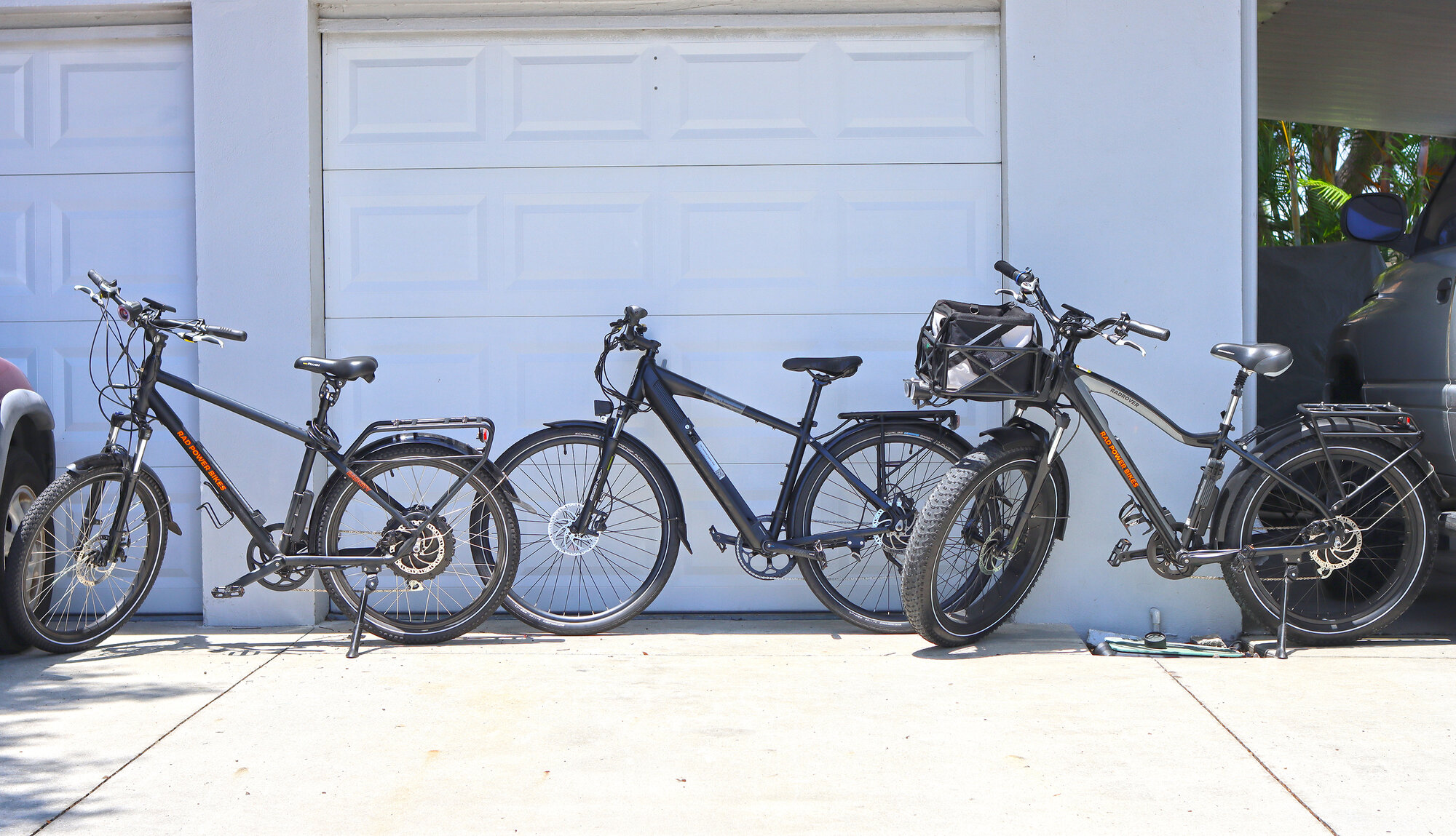 TLDR.
Preference Rank, just like in the photo above.
RadCity 4
Juiced CCX 2021
RadRover 5
Summary
: In my view, the RadCity 4 is the Goldilocks of eBikes where functionality, reliability and value meet in a well balanced and versatile vehicle which can be used for almost any task, it is affordable, comfortable and expandable plus Rad Power is a brand you can absolutely trust long term for their great customer support, telling from my experience with them.
The CCX, in the other hand is a great bike too for those who value speed, power and hydraulic brakes, but unfortunately as a brand, Juiced Bikes support still sucks, their packaging is terrible, mine came with a broken kickstand and the battery cost is a deal breaker for me.
To know more, read on.
Background
:
I'm new here and this is my first post.
I'm also new to ebikes but enjoy researching in deep about my options before buying.
So, I decided to get my first eBike last year with the goal of filling the transportation gap between walking and driving a car. The money I could save from gas, wear and tear in auto parts and repairs sounded like a no brainier to me so I was ready to spend up to $2,000 on my first eBike and feeling good about going greener and healthier.
After several months of research, I finally pulled the trigger on the RC4 last December 2020 but have to wait until Feb 1st to get it delivered due to pandemic shortages and the disruptions everywhere.
I work from home most of the time with occasional meetings at the office which is located 5 miles away.
I use my RC4 to run most local errands, like commute, pick groceries, visits to the local parks, paved trails, off road, the beach most of them within a 8 miles radius.
My stats: 5'8 200lbs
Once I got the RadCity, I started to test all kinds of things. Now after 4 months, 3 ebikes and 1,000 miles later I wanted to share some thoughts.
How, did I end with these 3 ebikes?
On March, I decided to buy the Rover5 as a gift to my partner and as a way to get a second battery, initially my intention was to get another City4 because I really like it but it was out of stock at that time and perhaps it was better to have a different kind of bike as a complementary option.
And on April 2nd, I bought the Juiced CCX because of my frustration with RC4 speed limitations and other things, grass looks greener... so I was very curious and wanted to decide properly to keep the better one and settle.
Review and some Comparative notes:

Let's start with the Negatives.
The major disappointment I have with the RC4 is speed, stubbornly is not a class 3 despite the hardware being capable of that. The RC4 not only stop assisting you after 24 MPH, but also engages the hub motor regenerative braking to make sure you never go beyond 24mph. This is irritating and frustrating to say the least.
Another disappointment related to speed is the small 46 teeth chainring that comes with, it is too small for 16mph and faster speeds. You'll be hamster-wheeling this bike if you want to go fast. Fortunately, this can be fixed, so I changed the Chainring / Crankset for a 53 teeth sprocket, very easy to do and relatively inexpensive, it makes a huge difference in ride quality.
Now on the Headlight, don't get too excited that the headlight is powered by the main battery, because in the end it is useless, like in not bright enough for safe driving in the dark, on top of that, the bracket is flimsy and the light is moving all over the place having the user to adjust it all the time. The CCX headlight is much brighter 1100 Lumens ! and the bracket attachment is more solid, adjust it in a position and it will stay there.This Rads headlight is an issue for which I've not found a satisfactory solution yet, Rad's $50 premium headlight which is brighter than the stock one is an alternative but is too bulky, incompatible with the front rack and not bright enough. Out of curiosity, I tried this CCX headlight on the Rads since the connector is the same and is also 48V but both of my Rad bikes don't deliver enough current to power it on, so it looks like Rad bikes are limited by the controller not delivering enough current for bright headlights. So much for integrated lights…Oh, and the headlights irritations don't end here, the way to turn it on is by holding simultaneously two buttons, this makes this no sense, more than once I have accidentally turned off the bike when trying to turn on the light. The standard for most ebikes, including the CCX is to hold just one button to turn on the headlights and there are some ebikes which have a dedicated headlight button. Hell, even this King-Meter display that Rad rebrands comes by default with the single button press to turn on the headlight but Rad went out of their way to irritates customers and change it for the stupid speed stats function, which nobody uses GRRRR.
Lack of Cruise control. Seriously?! We are in 2021 and there is absolutely no reason why any eBike with a throttle lacks this very useful feature, it is just sowatware. CCX has it, it is safe and I find it very convenient. The Rad display also keeps forgetting the last PAS setting in use, it always start at PAS 1 so I always have to change it to level 2 which I prefer most of the time, annoying…The Juiced does it better, it remembers users' preferred PAS setting all the time.
Another inconvenience is that no Rad come with a protective caps for the battery tray plugs, fortunately this can be fixed by buying the plastic protective cap elsewhere, but it should come standard, as well as the rear rack should come with M5 screws installed to protect the rack threads.
For the Juiced Bikes this aspect is worst because their complex semi integrated battery tray is all exposed and ugly. You don't feel like riding or leaving that bike outside without the battery on.
Last, but one of the most serious issues with Rad bikes, and please don't spread this security vulnerability around, the battery can be easily unlock with a $3 blank key, so anyone can steal your $600 battery. This is bad and need to be fixed ASAP.
Now, the Positives.
As I said, in the beginning, after considering everything and realizing that there is no perfect bike the RC4 emerges as a very capable ebike despite some flaws when compared at this price point.
Let's start with the hub motor. I love this gearless motor because is completely silent, smooth, reliable, powerful enough and efficient for long rides. The gear hub motor in contrast which is more common in other bikes is noisy and unreliable, I keep hearing all kinds of motor noises from the Rover and the CCX, those feels like the plastic gears won't last more than 2 years, Yes, I knew geared motors have more torque on paper, but in practice I did not notice a dramatic difference between the City and the Rover regarding power, however, in this aspect the CCX is in another league, it has lots of power and can reach up to 33mph but its motor was the loudest of the three, a shame since those Schalbe tires were the quietest of the 3 and it was the bike with the best free rolling, almost like a regular bike.
Now, the RC4 direct drive motor is so silent that it lets you hear the ambient sounds like if you were floating on a magic carpet, you hear better other vehicles approaching or just the birds.
Fortunately, gearless direct drive motors are here to stay since they can be seen in recent $8,000 bikes like the Stromer ST3, ST5 and others.
Continuing on the electric components, I love Rad's open and simplistic modular style in which the battery/tray, Controller and Display can be easily replaced using third party components, so you don't feel captive in a proprietary eco$istem and their "OEM" parts sell at reasonable prices.
This make Rad's bikes very easy to mod and customize if you want to keep it long term, however, I can't say the same about the display/controller which you can't do much with it.
In contrast, Juiced Bikes uses a unique proprietary 52V battery and tray which is way too expensive to the point of breaking deals at $1,300 when you need a replacement, no thanks. The Juiced batteries are also a pain to mount/unmount and the XLR connector requires you to align the 3 pins perfectly for every charge, this is like going back from USB-C to MicroUSB. I much prefer the simpler DC Rad plug, even in darkness I can plug it, fast and easy, also, the battery charger that comes with the Rads is better too with brighter status LEDs.
The Rad's Display it is big and has more contrast which makes it more readable in all light conditions and the USB connection is cool to have as well, I tested with my iPhone and even a 10.5 iPad Pro and it works. The CCX display has more info like Battery voltage but is too small as in less readable and doesn't have an USB port, that is optional.
All 3 bikes power on instantly so that is all good.
The RC4's wheel/tire size 26"x 2.3" is also perfect, not too thin like the CCX 1.75" tires, which are for paved roads, but not too fat and noisy like the Rover 4". The RC4 2.3" tires, can ride on almost any surface with efficiency and grip with the proper thread, there are plenty of choices for replacements, not so for the Rover tires which are more expensive, poor options, prone to puncture and have bad rolling resistance.
In this regard, check the finest bikes like Riese & Muller and Stromer, those have 2.4" wide tires as well, perhaps because that size offers a better balance in efficiency, comfort, reliability, speed and versatility and no they don't sell Fat-tire ebikes lol.
Another notable aspect about Rad bikes is the utility factor, with the accesories mount on the front frame, etc, it just give you more options to carry stuff, it could be better though if Rad had a quick release system, instead of rely on annoying Velcro straps or permanent screws.
Among these 3 ebikes, again I prefer the RC4 utility factor for the integrated larger rack, because it is sturdier, can carry more weight and has better pannier loops.
The RC4 high step, also has additional space for a triangular bag under the frame top tube, not so in the Rover, and the CCX frame leaves little space there because of the protruding bottle cage bolts.
As for geometry and riding quality, all these 3 ebikes are different, the most comfortable for me was the RC4 since it has a more upright handles. The CCX has a more racing profile so is not as comfortable and the Rover's balloons tires become too bouncy when inflated to max PSI for efficiency on paved roads or become a heavy, battery draining drag when the tires are at lower pressure. The Rover feels like out of place in urban environments, looks cool but impractical.
One aspect I immediately noticed and miss about the CCX though is the FUN it was to ride because is fast, nimble and powerful, at 30MPH I didn't feel unsafe and needed to reconfirm with the GPS speed app to make sure I was in fact riding at 32mph. The RC4 is not that type of fun but it is such a joy to ride, every time I ride it, I feel like riding more and more.
Recommended accessories:
Larger Chainring, 53 or 56 teeth if you like to ride fast but hate hamster-wheeling, applies to the Rover too.
Thumb Throttle, only $15 bucks and makes a huge different in confort. The CCX left thumb throttle was great.
SR Suntour SP12 NCX Seatpost, money well spent for comfort, highly recommended.
For RadCity4 High Step, get the Velmia Triangle Bike Bag which fits perfectly there, has plenty of storage, is unobtrusive and is water proof.
Battery tray caps.
Short M5 bolts to protect rear rack.
For serious grocery picking I got the Banjo Brothers, Market Pannier. Large capacity and sturdy.
There are more observations and aspects to all these 3 ebikes but I'm going to leave it up to here, for now.
Please feel free to comment or ask questions, I'll be checking this thread when I have more time.