Region

USA
City

Hollywood
March, 2023: So, I fiiiinally received the bike I ordered back in September! A Riese und Müller Delite Rohloff HS, GX, with the Fox Float suspension. And a front rack and bag. I opted for the slow boat shipping because I figured I spent enough on the Delite as it was, and I didn't want to drop another $400 on air shipping. I already have an excellent e-bike so it wouldn't kill me to wait for a bit.
This is gonna be long, and it's Friday, so freshen up your drink and light a cigar.
Brand Spanking New: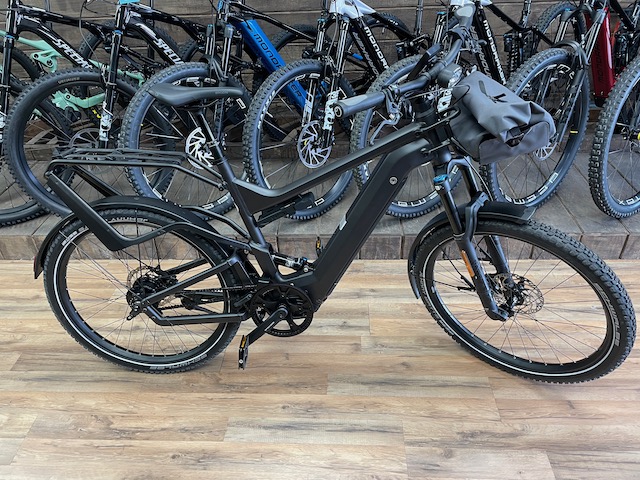 I have a Priority Current with a Shimano Nexus-5 hub shifter, and riding it for well over a year really helped me figure out what I needed in an e-bike. The Current is a great bike - lots of torque and power for getting up every hill around here. I live near the Hollywood Hills in Los Angeles, California, USA, and we have some seriously steep streets around here. We actually have steeper streets, and more of them, than San Francisco, oddly enough. San Francisco has hills; we have mountains. Anyway, that was my original goal in an e-bike - to be able to get up the steep streets around here, and up around Griffith Park.
The Current solved that. It can get me and my fat 220-pound / 100Kg butt up every hill that I'm brave enough or crazy enough to ride back down, and we have some steep ones. Once I could ride up in the Hills, I found out that the streets up there are really badly maintained. They''re terrible - cracked and raised concrete, potholes, lousy asphalt repairs. Plus, there are some dirt roads and trails in Griffith Park that I discovered, and wanted to ride.
The Current could handle all that, but my body couldn't. Hey, I'm pushing 60, and man, my joints would ache after a good ride over those bad roads. So, I had solved the problem of hills, but once I got up those hills and had ridden around, there was revealed another problem: My sorry old arse couldn't take the beating dished out by those streets! lol
Typical Hollywood Hills Street: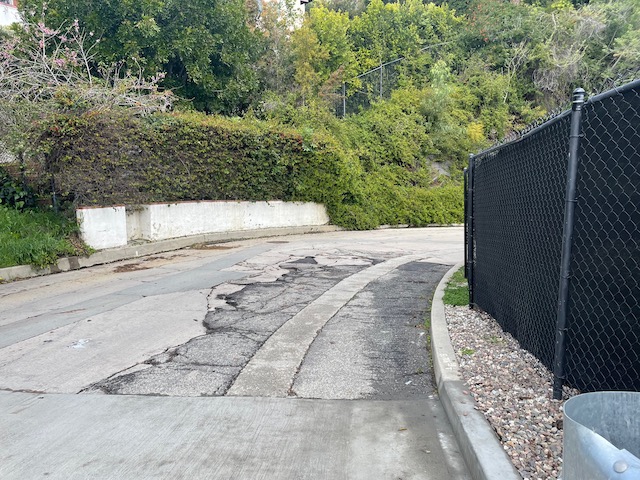 So, I need a suspension. The 18-month experience of riding a non-suspension bike gave me a clear idea of what I fully needed. If I'm going in, the experience gave me the confidence to go ALL in.
I tried a number of bikes with suspension forks, but I needed something for my arse, too. Seatpost suspensions (thudbuster, etc.) were helpful, but no help if I'm standing on the pedals. Most full suspension bikes are mountain bikes, and although I do go off road, those are dirt roads and fire trails not hardcore mountain biking. I wanted something I could commute on, too. That means fenders and racks and lights and road-style geometry.
More Bad Road:
All the upper-range bikes from major brands are really good. What set the Delite apart for me was, oddly enough, the rear rack. I don't think any other bike has a sprung rear rack. At least, not any that are available in the US. They may have a rear suspension, but not a suspended rear rack. My lumbar and cervical (neck) bones appreciate a rear suspension, but my camera and computer really appreciate that sprung rear carrier rack. And less unsprung weight improves handling. I'm 6' 4" / 193cm in bare feet, so I opted for the largest frame. With the dropper post, this is a big bike for a big guy. It fits me great.
Also, the rack has MIK built in, so I don't need to attach an adaptor plate to it. I love MIK bags and baskets. No dicking around clipping them on and messing with velcro straps to secure them. No bungies and zip-ties. Just click on a pair of panniers - it takes literally a second or two - and they ain't going anywhere. I can take the bike out of my apartment with the bags off to make it easier, and then just click them on once it's outside. Click the bags off, and click a basket on, or a trunk bag. Fast, simple, and totally solid. The Delite rear rack has that built in and I love it.
Fully Loaded: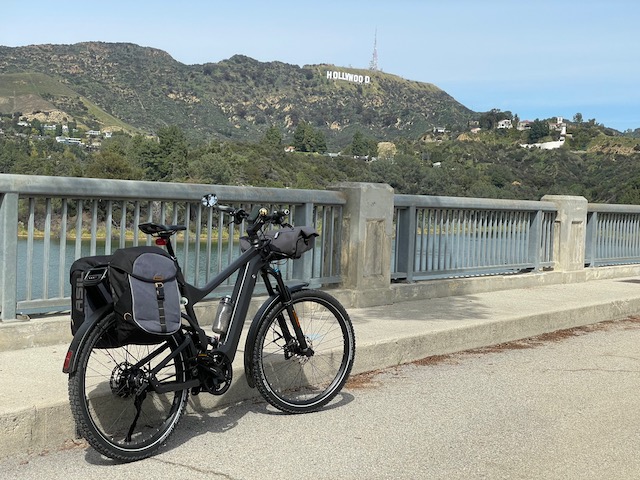 So, now that I've ridden my new überbike over various ugly terrain for over 100 miles / 161 KM, here are my impressions.
Biggest benefit: The suspension. Fox doesn't call it "Float" for nothing. The worst roads that used to jar my bones right to the joints just float right under me. I can still tell it's bad road, but it doesn't hurt anymore. I ride more, faster, and for longer, and I don't feel it afterwards. This is freakin' huge. I love riding this bike!
Motor: The Bosch system is so refined. The Priority Current motor system has lots of torque, and it's great, but Bosch is just so smooth and nicely integrated. The power comes on smoothly as I press the pedal, cuts out right away when I take pressure off, changes assist level nearly instantly as I press the switch, and all the parts and sensors work so well together. On paper, the Bosch claims 85 N/M torque vs. the Current's claim of 140 N/M, but by the seat of the pants, I'd say they are about the same. The Bosch system works better as a complete system of sensors, controller, and motor. It feels more like riding a bicycle, but with a massive boost of power. Bottom Line: I can ride up steep hills faster in the same equivalent gear.
The Rohloff: I ditched derailleurs back in the '90s. I hated them. Bloody fiddly things always getting the chain bound up between cogs and crap caught in them. Granted, this was before such modern luxuries as indexed shifting and the like. Back then, you just had to learn how far to move the lever to get a good shift and commit it to muscle memory. There were no notches and indexed electric gizmos. Kids these days have it easy lol.
Anyway, that's to say I've been riding hub shifters for 30 years, and a few more if you count the 3-speed I had as a kid, so I like them and I'm familiar with how to use them. This is my first Rohloff, and I can say it is the Undisputed King of hub shifters. This thing is bloody solid. The gear range is insane. I can roll this 60+ pound bike up one of the steepest hills around here in 1st gear just using Eco Mode, or go 30mph in 14th at a pleasantly relaxed sub-80 rpm cadence. No squishiness, and firm precise shifts. Bloody brilliant.
I rode it all the way up here... from all the way down there!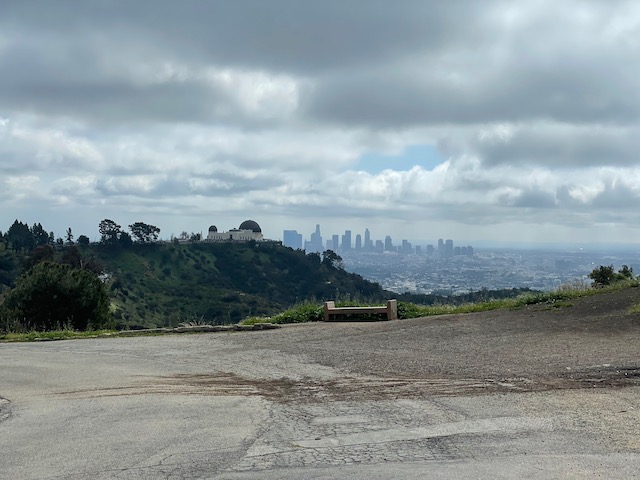 But the pushbutton actuator could be improved. It's not very ergonomic. It's a bit of a bitch to get my thumb over there from riding position. After a few rides, I rotated it downward a lot which helped, but I'd rather see the electronic shifting done via a rotary selector like the cable shifter, but with electronic contacts so that it wouldn't need the cables. It would be nice to just grab and twist 2, 3, or 5 gears or whatever instead of pushing a binary up/down button. It can be done. I know it can be done. Rohloff could do it. I'd like to see it done. But I'm getting used to working it as it is, and I'm getting pretty good with it. It's not nearly a deal-breaker though, just something to get used to and something I hope Rohloff designs at some point.
Seat: Not as padded as the one on my Current, but surprisingly, it is more comfortable. Seat/arse interface is a personal thing, but I was expecting I'd have to try a few seats out and I don't think I'll have to after all. I'm happy with it.
Lights: I got the optional front rack and bag (I did say I was going ALL in), and the light came mounted on the handlebars. The bag kind of blocks the light, but the dealer included a kit to move the light to the front of the rack. I'm sure they would have installed it for me, but I wanted to try the whole bike as delivered. After one night ride I went ahead and put it on the front rack myself. I actually prefer it there not only because it's not blocked by the bag anymore, but because it's more stable mounted on the frame rather than the bars. The beam is wide enough to make that work. The front and rear lights are BRIGHT, and I love having a brake light when I'm riding on the streets. The high-beam button lights up blue when I have the high beam on, which is a nice touch.
The light is much better mounted on the front rack.
Tires: I got the GX option for the Fox suspension upgrade, not for the knobby (or knobbly as they say in the UK I think lol) tires. Tyres? Anyway, rather than swap off the brand-new knobblies for the regular GT tires I thought I'd just ride these and see how I liked them. They are quieter on the street than I expected. Definitely better in the dirt and the muddy conditions that Southern California has been having lately than street tires. I'll hang onto these! When they wear out I'll reconsider the whole matter, but I didn't expect to like them as much as I do.
The Johnny Watts tires are handy here: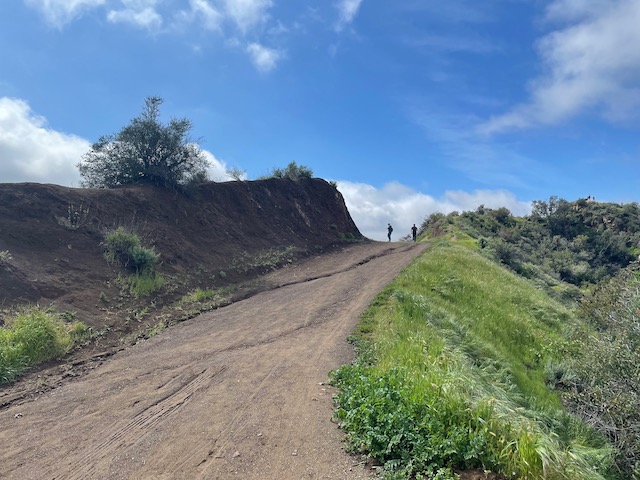 And here: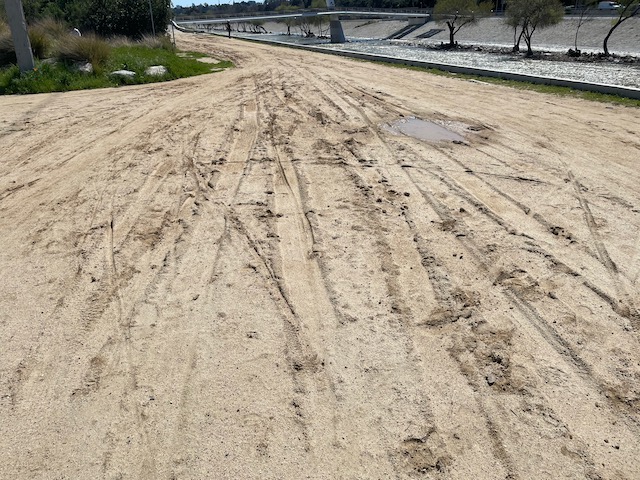 Battery/Range: On my inaugural ride, I went 16 miles in moderate to hilly terrain and used 30% of the battery. On my most recent 28 miles, all up and down hills with some level ground in the middle, I used 67%. Being a new bike, I was laying pretty heavy on Turbo just to check it out. I figure that gives me a safe estimate of around 40 miles of range. Which is enough, and about what I expected. YMMV (Your Mileage May Vary), of course. If I need more, I'll buy another battery and throw it in one of my panniers. With the massive range of the Rohloff, I can ride this bike without any assist on the flats, just not very fast lol. So unless I have to ride up some steep hills to get home, I'm good. Even then, with the assist on Eco and in 1st gear on the Rohloff, I can ride up some pretty steep hills without using much battery power.
My daily ride is only 5-10 miles for exercise, and it's about 13 miles to my office, where I can recharge the battery. A recreational weekend ride may take me 30-40 miles on mildly hilly terrain. So that's why I didn't get the Superdelite. Why have the extra weight of the Super when I will rarely use two batteries? Range anxiety is a thing, my friends. Watch out for it. That one time where I might have to ride full speed, into a headwind, uphill both ways, for 50 miles… may never happen lol. Riding an e-bike for a year before making this rather hefty purchase informed my decision, by knowing how much battery really I use for how much I really ride. I recommend considering how you actually ride before opting for the heavier bike. I ride often with the assist in Eco, or off - I don't really need much assist on flat terrain unless I'm riding on busy streets with cars and *need* to go fast. On side streets I'm not using Turbo, just Eco, or nothing. Even going up moderate hills, I shift down, and Sport is plenty of assist. OTOH, if I had medical conditions or other reasons where I would need to use the high levels of power assist often, then the SuperDelite would be the right choice. Again, YMMV. But the range of the Delite is plenty for me, and I like the lighter bike with the lower center of gravity.
The Lock: It comes with an Abus Bordo lock, keyed the same as the battery lock. I use Abus locks for everything - padlocks and bike locks. They're good. I was pleased to see that the Delite uses the X-Plus keyway, which is the same as my existing Abus D-locks, meaning that they *could* be keyed the same. But frankly, the Bordo doesn't really do it for me. It pretty much combines the worst things about D-Locks with the worst things about chain locks, and I'm not sure it's as strong as either. If I didn't already have good locks, the included Bordo would be useful. But the Bordo costs around $140, so I'd rather it was an option that I could leave off because I already have good locks. Or better yet, charge a few bucks to give me the option to specify a key code when I order my bike - then the bike battery would arrive keyed the same as my existing Abus D-Locks. Verdict: Meh.
The Bordo is good but I like the D-Locks better, along with a supplementary noose chain.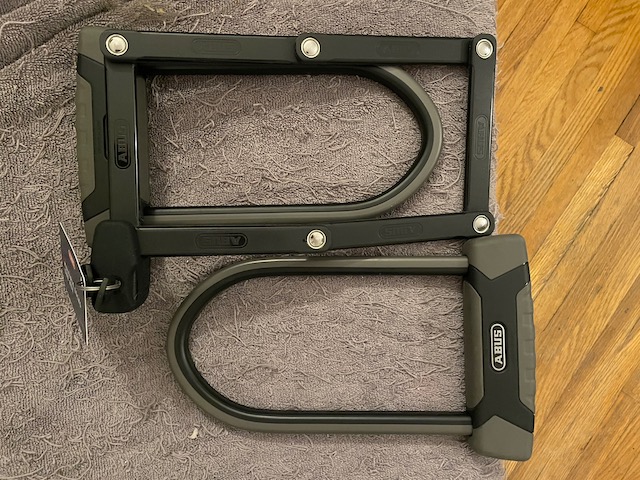 The Local Bike Shop: I bought it from LA Fly Rides, who used to be just a few blocks away from me on Hollywood Boulevard. I did my test rides there, which was great because I could test the bikes in my own neighborhood where I usually ride. In between placing my order and the bike being delivered, they moved to Calabasas, which is about 30-40 minutes west out the 101 freeway. Still plenty close enough since I have a good bike rack (QuikR Mach 2 - highly recommended!) on my trusty Subaru estate (station wagon). Anyway, they were excellent. They called me as soon as it came in, and spent maybe an hour or so going over the bike with me and getting it fitted right, and the suspension adjusted. Their head mechanic had spent some time in The Netherlands, and I go there often, so we had a good chat the whole time about how wonderful it is there for bike riders lol. But yeah, he set it up to my basic height and weight parameters before I got there, and I rode it around, he did some tweaks, I rode it more, he tweaked it again, rinse and repeat, and got everything as I liked it. I popped it onto the rack and took her home. All in all, great service. And they're not too far away for future maintenance and service needs. BTW, the sea shipping took 8 weeks, so it arrived much sooner than the expected 12 weeks.
Fits nicely on QuikR Stuff rack.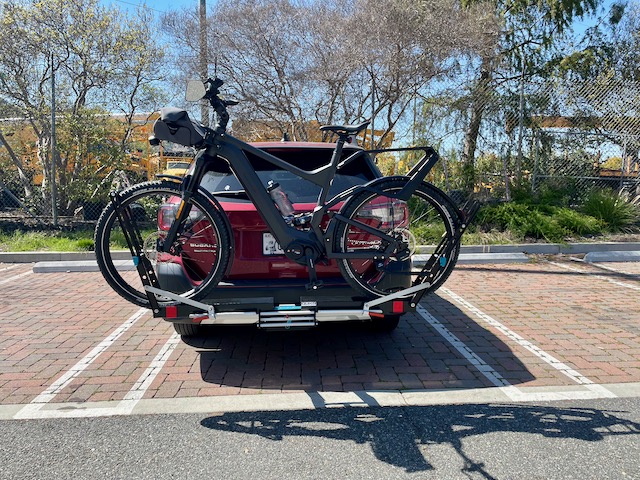 I Almost Forgot About The Nyon Display: I am a computer nerd and a reader of manuals. So setting this up was easy. YMMV. It has GPS Nav, which I actually find useful, in contrast to others' experience. Having it find my way home after getting lost among the winding little streets of the Hollywood Hills without having to dig for my cell phone is convenient, and it works. All the data compilations, like what percent of the time I used each assist level, altitude gain, hill grade, etc., aren't really necessary to having fun on a bike, but they are useful and I like having them. I paid the few extra bucks for the lock feature. It pretty much bricks the bike unless my specific Nyon is attached to it. No motor, no gear shifting. I think it's a good idea. Now I just have to decide whether to park it in 1st gear, where I can run faster than the thief can pedal it, or 14th so it's harder to zip off with it. lol.
Front Rack and Bag: I recommend it! Cripes, I'm deep into the pockets for this bloody thing already, let's just do it all, eh? But seriously, if I'm looking to make a trip that includes a stop at the Bicycle Café where I'll need to lock this bloody expensive bastard up, I can pop a lock or two in there easily. The weight of a couple of locks is barely noticeable up on the front frame-mounted rack, inside the nice bag. My cell phone and parking lot clicker go in the two little zip pockets. There's still room for other stuff. Anything else I may need like work stuff, cameras, rain jacket, etc. goes in my Basil double panniers, easily MIK-Clicked onto the rear rear rack. The Delite is a Beast of Burden. And it still goes fast. And Smooooooth.
I don't always ride hills!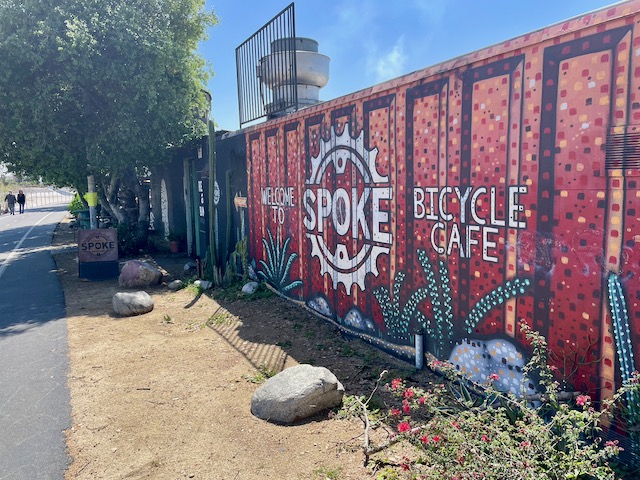 Little Conveniences: The rear view mirror folds away like on a car, making it easier to wrangle the bike through the door into my place. I love the brake lights, the high beam front light, and the high beam button lighting up. The Fox shocks are adjustable from full cushiness on bad terrain to almost-hard-tail on smooth roads. The dropper seat post is really handy at red lights and for getting on and off the bike. There is a horn, and it's loud, for riding on busy streets with cars. I still put my bike bell on it tho. I like my bike bell. And my Cateye blinking rear light. My bell and my Cateye light have followed me through several bikes and a couple of decades, so onto my new Panzerfahrrad they go lol.
The Price: Every review points out how much R&M bikes cost, so I won't bother other than to say there are bikes from other makers that cost more and don't meet all my needs (Trek makes a pretty awesome eMTB for $3K more than my Delite) and there are others that cost less… and also don't meet my needs. But I can say that this bike solved all my problems and I think it's worth it.
Overall: I freakin' love this bike. No "buyer's remorse" whatsoever. I'm riding more often and for longer distances than on my previous e-bike, and certainly more than on my previous push bike - and thus having more fun! - because it's just more comfortable in every way. It feels solid and surprisingly nimble for a heavier bicycle, and it's just a blast to ride. I can go pretty much everywhere with this bike. I've ridden it on good roads, bad roads, wet roads, dirt trails, muddy trails, grassy parks, steep hills, and deep gravel next to train tracks… everywhere I'd want to go, and it has performed brilliantly.
Is it my Dream Bike? OK, no. My Dream Bike is a plain old beat-up Dutch omafiets (granny bike), in the Netherlands, riding from town to town on beautiful fietspads (protected bike paths) lol. Unfortunately, I live in Los Angeles, and for riding on crappy roads, with crappy drivers, having to hop up onto crappy sidewalks and back down over curbs, and having to go up into the Hills to get away from the crappy drivers (and dealing with even crappier roads up there), this bike is IT. I am pleased!
Ducks: Just Because!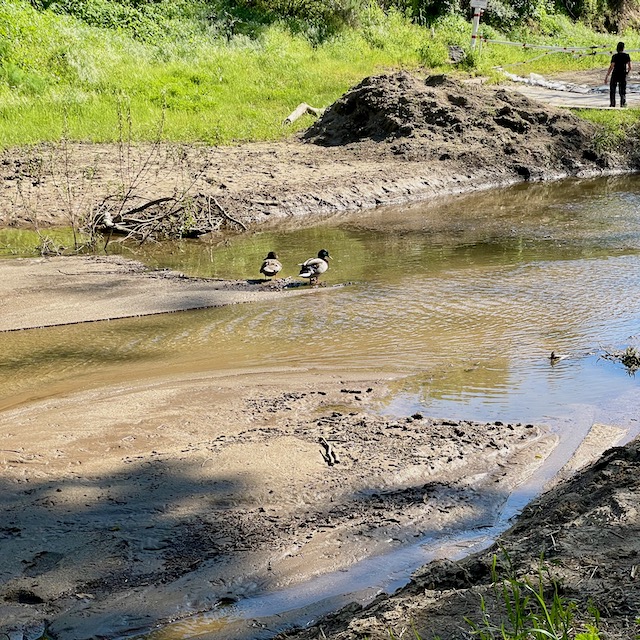 Last edited: