Well new to me anyway. Years ago my first LiFePo4 battery came wrapped in duct wrap and I used it to power a 1000w Golden Motor wheel mounted in a BOB Yak trailer. It lived in a nylon Ammo type box on the floor of the trailer. For that situation it worked well but for my bike builds since I have always gravitated towards a cased battery with a mount and have had several different types over the years. Now my main bike has an integral battery and I am pretty pleased with that arrangement over the old water bottle mount ones of my past.
So as I was getting my hub motor bike up and running finally I wanted to do the battery and controller in a stealthier/cleaner way than in my first two similar bikes. I came up with the plan to put the battery in a top tube bag as well as the controller. I sourced a baserunner controller from Grin as it is small and fits my architecture of CA3/All Axle motor. For the battery I inquired of my battery connection I told him the dimensions I was looking for with 52v 21700 cells and smart BMS no case and he came back with one that totals 20Ah or 1040wh's. I received it today, 3 weeks from conception, and it fits the scheme perfectly.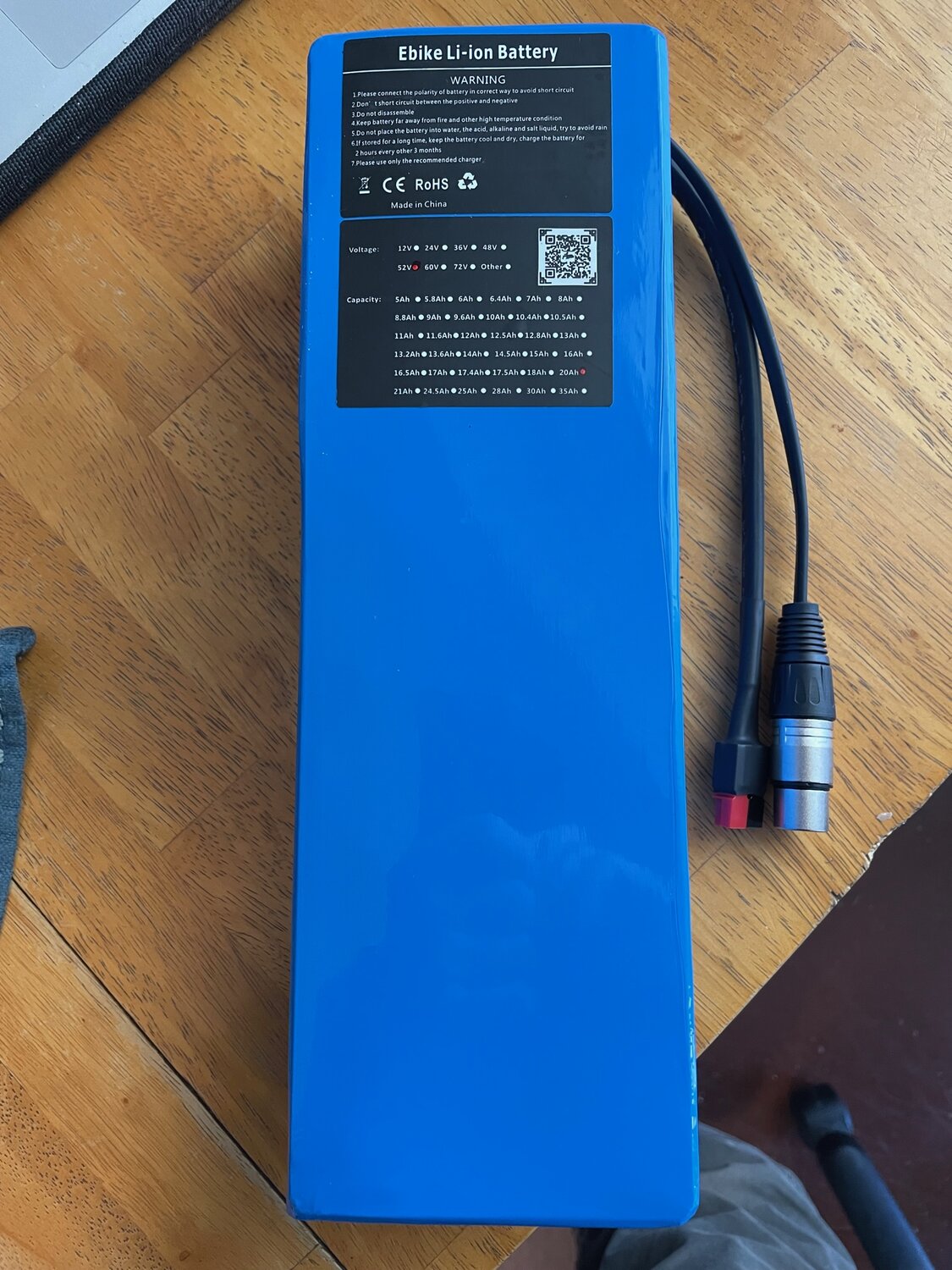 Older picture of the bike with external controller but test fit to this bag and it fits just right.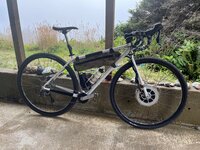 So to go full circle I have to say that the outer wrapping and also whatever thin solid material they used under it provides a much better and tight packaging than that first duct tape battery and other than having to figure out how to hold it on a bike these type of batteries are very economical also as this one cost me less than $375 shipped. I believe that first duct tape 48v 12Ah 576wh battery I bought almost 10 yrs ago now was around $500 IIRC.
And they also used an XLR charge plug at my request so that I can plug it directly into the one on my Satiator and be able to charge up to 10A if necessary. And I favor Anderson connectors so speced those also.