Administrator
Staff member
Hi guys! I'm moving some content off of the main site and into the most relevant categories of the forum. This post was originally made on November 1st 2012: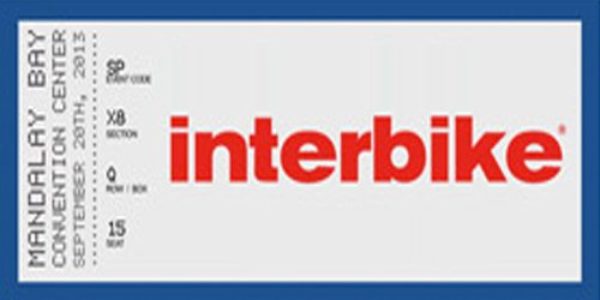 This is the third year I've been able to attend Interbike in Las Vegas, NV USA and ebikes were more plentiful and sophisticated than ever! There's more at the show than just new or upgraded electric bikes though, this is a showcase for the latest gadgets and services that cater to the cycling world (electric or otherwise). I saw lots of cool brands, old friends and participated in some interesting events at the show and tried to capture video of stuff I found interesting. Posted below are updates from the show in video and written form with links to the people and products referenced. Feel free to add your own memories or questions and suggestions in the comment section below or the
forum here
.
Video from day 1 :: Outdoor Demo Day, Interbike 2014
Started out a bit slow after arriving in Vegas late Sunday night, my Sister was married the day before and I caught a red-eye in from St. Paul Minnesota and shared a cab with a girl from
QBP Quality Bicycle Products
who I also chatted with on the flight. Registration at the Luxor hotel was smooth and the line wasn't too large. While waiting I met a guy from
Boardman Elite
who was coming from the UK and had just attended Eurobike… we were all pretty tired, I finally got to bed around 3am.
The next day I caught a shuttle from the Mandalay Bay to Bootleg City (about a half hour drive) where the Outdoor Demo Day events take place. On this bus ride I met a guy who works with
Wellgo
and also has his own startup called
BMXICAN
. We talked about pedals… which was cooler than it sounds.
The first thing I noticed at Outdoor Demo Day 1 was a custom "urban camouflage" painted fat bike from
Felt
with the Bosch Gen 2 Centerdrive system. There were lots of fat ebikes arriving this year including models from
Surface 604
,
IZIP
and
Polaris
. I'll be posting reviews soon.
I picked up a
ProBar
then ran into Justin from
Justin's Natural Almond Butter
and got to hear about how his company was started in Boulder Colorado. He also gave me a sample of the newest flavor "Vanilla Almond Butter" which was pretty amazing. Next I ran into
Wojtek
who's a fellow video blogger and we chatted for a bit. Sounds like he's become a brand ambassador for
Stromer
which is neat. A bit later I came across a Sony booth that had
Action Cameras
which they were loaning out. I decided to take one and film for a bit to do a comparison of audio and video quality. At this booth I got the chance to meetup with
Chandlee
from Certified Electric Bike Specialists in Chattanooga, TN. He and I chatted a bit and experimented with different camera adapters for helmets and bikes.
Later on, Chandlee and I saw some new paint on a Surly Karate Monkey bike which was semi-clear (called spray tan) and showed off the weld points. Chandlee has been talking about converting his own Karate Monkey to electric and debating between the
8Fun BBS02
or the
BionX D-Series
. Sounds like you need a special drop out adapter to convert from thru-axle to standard skewer to make it work with the BionX system. Later we ran into a random dude who was demoing the new Nine-E electric bike from Felt and Chandlee geeked out about it for a while.
We then metup with a rep from Rhinomed who were showing off the
Turbine
which is a nose expansion plug thing that makes it easier to breathe when doing sports. Chandlee tried one out for the camera and was impressed. Basically, these things have a built in ratchet so you can flare your nostrils more or less depending on your comfort and air intake needs. The package comes with a medium and a large and the guy suggested that you start with the medium, we were also told that Rhinomed is working on a slow-release fragrance that will help clear your sinuses.
A little while later we ran into a rep from
Xtracycle
that was showing off the Edgerunner with an
8Fun mid-drive BBS01
motor attached as well as a NuVinci N360 continuously variable transmission CVT. The motor and CVT are items that you can add yourself to an Xtracycle (and many other ebikes) but there is also a new purpose-built edgerunner with the Bosch system built right in. The nice thing about the Bafang/8Fun motors is that they offer pedal assist and throttle mode vs. Bosch which is only pedal assist.
Later I met some reps from
Santana
which is a well established tandem bicycle company. They had a
BionX electric drive system
installed on one of their tandems which offers good balance and regeneration models. One of their tandems had some extra large tires and 10 inch (254 mm) disc brakes for off road riding. Looked awesome, we thought about riding it but passed.
I scooted over to the
Polaris
tent and asked their lead product manager, Carey, about the new "Shift Speed" technology that listens to which gear you're in as well as how fast you're pedaling. It's a neat setup and I reviewed several of their bikes which will be up on the site
here
soon. Just next door was the
ElliptiGO
tent and I asked about their updated models. I was told that with one of their bikes you actually get more cardio (33% more cardiovascular workout). It's a blend of running, cycling and elliptical training. with these you don't have to sit and you also don't get the same knee impact as with running. You can get an ElliptiGO with 8 or 11 speed internally geared Shimano hub that can be shifted at standstill.
Next I visited the
Surface 604
booth and learned a bit about their name. The 604 stands for the Vancouver phone area code which has beach and snow features that their fat bikes can handle. Places like Tofino for beach riding and Whistler for skiing. Their old bike was called the "Element" and the new model (while similar) comes in several different flavors and motor sizes and is called the Boar.
A bit later I ran into Chris Nolte from
Long Island Electric Bikes
and we talked about
KTM
(which had some European model ebikes with the 250 watt Bosch centerdrive) as well as his trip to Eurobike where he had already seen a lot of the new stuff… I teased him for this. Chris arrived to Vegas a little early and toured the
Zappos
factory for fun. Later Chandlee told us about the
Beaverdam Blitz
which is an annual ebike ride for East Coast enthusiasts (it happens in Georgia). Last year was the first ride and I was unable to make it but I'll be there next time
last year it happened in August and this year it will probably happen in July and is put on by Certified Electric Bike Specialists.
Next I visited the
Brompton
booth and while they didn't have an electric bike on display they did mention that NYCeWheels offers a
pretty good conversion
. Richard and Kathryn mentioned that Brompton may have an ebike in the future but is primarily known for their light weight designs that fold extremely small, have great accessories, a rear bumper suspension element and several handle bar styles. They also showed off the braze work with their "raw lacquer" premium finish that's a powder coat you can see through. Brompton ebikes are designed, built and assembled – they ship it completely ready to go in a box. Brompton was founded in the late 1970's.
Towards the end of the day I ran into Pete prebus from
ElectricBikeReport.com
walking back to the busses and we swapped stories about the show. We both got rained on but it felt good because the day was so hot and dry. That was it for day 1!
Video from day 2 :: Outdoor Demo Day, Interbike 2014
Day 2 was much hotter than Day 1 but I got a bunch more electric bike reviews in. I was losing my voice from being up so late both nights and traveling but I soldiered on! Got some cool footage of the bus ride there as well as Ride 2 Recoverywhich was on its way to the show.
My first stop was the
GoPro
booth where I spoke with a rep about future improvements and how their hardware differs from the Sony Action camera I had tried the previous day. He talked about a new "fetch mount" that Kaya was demoing around the show. They've also got some new dive filters and a three way mount (grip, tripod and sportsman). Sounds like they are working on processing power, lens improvement and battery life. He told me that GoPro usually offers higher resolution and frame rate than Sony's product right now.
Just after I left the GoPro booth I saw a Scratch cooler (which makes a Gatorade style drink mix… but way better). Then I noticed that the GoPro booth was powered on Solar using a
Goal Zero
setup. It was impressive to see a TV going as well as multiple GoPro chargers all being powered by the sun and a large battery pack. The setup was using four 30 watt panels (120 watt total). The company does sell smaller setups for $500 with just one 30w panel as well as a backpack designed to charge your accessories.
Next I visited the
ProBar
booth and was told that they're introducing some new bars. I really love these bars because they are vegan, organic and non-GMO. They taste great and don't have extra sugar or unhealthy stuff. In fact, I brought some of these with me to the show to carry around.
Later on I ran into Peter from
NYCeWheels
and we talked about the
Tern
electric bikes that were being showcased at Interbike. This year they have two models that are purpose built and can fold without having to remove the battery. This was Peter's first show and I saw him several times exploring different models. Their store is in Manhattan NY.
Next I chatted with a Magura representative who explained what their relationship with Bosch as a service partner would mean. They train dealers and help deal with returns etc. at the show they had some training clinics. A bit later I found the GoPro puppy and enjoyed petting her. Then I saw a beautiful LOOK bicycle (non electric) and helped a guy who was stranded on a High Roller adult-sized big wheel tricycle by pushing him up the rest of a hill.
Just after that I swung by the BionX booth and hung out with Michael DeVisser who founded
OHM bicycles
. They primarily build frames and work with drive system manufactures like
BionX
. He's been working in the space since 2005 when he first tried an ebike in Asia. OHM is a Canadian company and there are lots of hills in and around Vancouver where Michael is from.
A bit later I met
Steve Peace
who was riding a tricycle style road bike with aero wheels. He had just completed the ride to recovery and was relaxing in the shade. steve started riding trikes around 2009 after he suffered a stroke. He has been working with Dave Levy and
BMC
to craft these custom rides and is the owner of two test bikes. It sounds like more trikes are used in England but the US is beginning to see growth in this segment. They are trying to get Dave to build some more
Next I visited the FreeCross booth which also makes outdoor elliptical bicyles (similar to Elliptigo but with three wheels instead of two). Their products are very high quality and work with a program in Europe to reduce insurance costs through physical activity. This is where I metup with Ravi Kempaiah who is a member of the EBR Community forums. He was excited about the new Felt electric bikes as well as those from Haibike and others.
Video from days 3-5 :: Exhibition Hall, Interbike 2014
With so many ebikes to cover this year I decided not to do separate videos for day 1, 2 and 3 of the Exhibition Hall portion of Interbike. Instead, I've compiled footage from all three days here with a few references to which day specific footage was captured. It is all shown in order. The footage at the very beginning was actually shot the day I flew in but I forgot to include it there so I stuck it on this video
I kept bumping into Joe from
Ashland Electric Bikes of Oregon
and he actually helped me shoot some footage which was very nice. We chatted for a bit on our way to the convention center area of Mandalay Bay. Joe was staying in the Motel 6 and loving it! Or… at least saving some cash money by doing so.
To start off I just filmed everything I saw while walking through. I passed the J&B Importers booth then saw an exhibit on the history of fat bikes. Randomly after that I saw Jason Kraft from
E-BikeKit
and we spoke a bit. I had tried one of his
trike kits
on this fat tire trike called the Atlas from Sun Bicycles the day before at Outdoor Demo Day 2.
Next I visited the
Topeak
booth which had a bunch of new fenders with lights and a bottle cage with a built in light that makes the entire bottle glow like a lamp. Later in the show I actually met the founder of Topeak and he showed me some cool bicycle pumps that act as a stand for your bike so it won't tip as you inflate the tube. Cool stuff all around. As I left the booth I saw a bicycle trainer machine that was designed to provide biometric feedback about riding. I also saw another Skratch drink booth.
A few booths away I saw the entire lineup of
Hiplok
bicycle locks designed to be wearable and easier to carry. They have a small u-lock that latches on to backpack straps across your chest as well as a long chain lock that can be worn as a belt. Then I found the
Virtue Bikes
booth that had several electric bicycles (a normal bike, a cargo bike and a velomobile). One of the booth attendants explained that Virtue had been around since 2010 and was planning to introduce the velomobile ebike I saw in late 2015, it is called the Pedalist and will retail for $3,500+. It reminded me of the
Organic Transit ELF
velomobile ebike.
A bit later I saw some
Ortlieb
panniers that looked similar to older models. Just clean, durable and highly reflective waterproof designs. Unfortunately I didn't get to speak with a rep, just explored them on my own. Then I visited the
HP Velotechnik
booth which had a bunch of customizable recumbent trikes that could be electric powered. I like that one had a vertically adjustable seat for comfort or users with mobility challenges. It reminded me of the
Outrider Horizon
trike.
Cruising over towards the ebike section of the showfloor I ran into Chris and Kyle from Long Island Electric Bikes again and they let me interview the lady from Yepp, egg and Gazelle! She showed me how you can add a "skin" to change the style of a "naked" helmet to make it more fun for kids. Just after this I cruised past the
Leisger
booth (it's a German ebike company) which had a bunch of new ebikes that I didn't get to try but looked pretty cool.
Next I saw the
eMazing Ebikes
booth and chatted with the staff. I've reviewed these bikes before and they are very light, fairly affordable and available in several sizes for a good fit. Not the most powerful systems but not too bad given their mix of cadence sensing and torque sensing. Next door was the EG Bike booth which is also a more affordable ebike manufacturer and one of the only ones I know of with a full suspension folding ebike called the
Vienna
. I also visited the
Juiced Riders
booth and saw a bunch of new models (a short cargo bike, a mountain bike and an extra large capacity cargo).
Then a gentleman named Bob said hi to me and took me over to see an electric bike wheelchair add-on for people who are handicapped. His son is a quadriplegic and he was excited to show how this thing adapts to a standard wheelchair. The company is called
Davinci Mobility
and their systems go from $3 to $5K.
A2B
has several new models for 2015 that are designed to be more affordable while still maintaining the hiqh quality that they have built their reputation on. I tested these out and should have reviews up in the
A2B section
of the website soon.
I had some lunch and then visited the Innovation Lab area of Interbike which features products from "up and coming" producers. On my way I saw the Revolights booth and got some footage of their rim-mounted LED lights that automatically sense forward and backwards (using an accelerometer) and cast a headlight and tail light for visibility and rider safety. They are really cool in their current form but I was told that future versions will have stronger mounting points and better batteries with a mobile app as well. This company began on Kickstarter.
I slowly passed the
BESV
booth (later got to try their ebikes out, fancy designs but very expensive). Then I saw some
Kayman
electric bikes which resembled the new ebike from
Jetson
that I tested out later in the show (review coming soon). I saw some kids helmets and then visited the
ProdecoTech
booth where they were displaying a bunch of new, more powerful ebikes. The Outlaw 1200 has a 1,200 watt motor that is for off-road use only. Aside from the motor size, it closely resembled the Outlaw SS that I've
reviewed here
. THey also have a new Mariner folding ebike with a rear hub motor vs. front that I really enjoyed.
A bit later I saw the new smaller Sony Action camera and got to say hi to their reps. This was the last thing I saw for day 1. The next day I shot some footage of the Mandalay Bay halls and crowds pouring into the exhibit hall. One of the first things I saw was the
GenZe
ebike which is a new affordable bike being built by the Mahindra group (an Indian company) debuting in Northern California. Their bikes cost ~$1,500 and are very basic, reviews coming soon. I had actually wanted to say hi to Chip Foose but he left just as I was engaging with GenZe, bummer!
Right across the hall I saw
Motiv
and was able to speak with Cameron about the "Stout" fat bike. After finishing with Cam I walked back to the Innovation Lab area and toured some startups. One was called
FULGAZ
and they've got an app that lets you use a bicycle trainer in tandem with video footage to practice routes or just make training more fun. They showed me some awesome footage from a Bay Area Marin Headlands ride in Northern California and we had fun chatting. For the demo I saw they were using a standard road bike in combination with a
Wahoo KICKR
which costs ~$1,200 and the app uses a monthly subscription rate that gets as low as ~$13/mo if you subscribe for a year.
Some of the other booths I visited in this area include MYBELL which offers two recorded audio messages (digital horn) as well as LED lights (up to 110 lumens) and it mounts to most bike handle bars. Next I saw
Velo Sock
which has a cool "sock" for your bicycle to keep your carpet clean from dust and dirt and also make the profile of your bike more aesthetically pleasing (you can print anything you want on these so you an match your wallpaper if you want). A bit later I found ZEW and met the founder, Corbin from
Corbin Fiber Electric Cycles
. Next I visited the
Spinlister
booth and they showed me their bicycle borrowing service… it's basically Air B&B for bicycles so you can rent your bike or find one in the community to use vs. having to buy. In addition to bikes they also do surf and snowboard stuff
I kept moving through the Innovation Zone and found some adult sized training wheels from a company called
EZ Trainer
. They looked pretty solid but I didn't get a chance to go for a test ride. For people who might be struggling with mounting their bicycle or balancing this could be a useful product. Next I saw the
Flybar
which is like a giant pogo stick that you can actually do flips on! Pretty amazing product that goes form $150 to $300 depending on the size. You can also adjust the spring for your weight. Just down the aisle was
Bouclier
, a company that makes visors that can be attached to most helmets (using a sticker that has a magnet inside). These are designed to be easily removable but when left on, provide excellent protection from harmful sun rays that can lead to skin cancer. The Bouclier visor costs ~$45. Just next door to them was another face protection company that had a product more like giant sunglasses than a visor. This company was called Raygear and the product is Xshield which comes in full size, helmet size (it cuts off so you don't bump your hat or helmet) and glasses size that's just a bit larger than traditional sunglasses.
On the other side of the row I spotted the
Lock8
which is a fancy bicycle lock designed to mount directly (and semi-permanently) to the frame and then work with a cable. If the cable is tampered with, an alarm goes off and if the bike is completely stolen you can recover it through the use of integrated GPS tracking. This is another company that started on Kickstarter, future models may actually have cables that retract into the bike frame but the one I saw had a removable cable and retails for ~$250.
Back at the main showfloor I stumbled across the
Daymak
booth (a more traditional company that has been using Kickstarter in recent years to explore solar powered ebikes). These guys have a large scooter called the Beast and an all in one wheel which both use solar energy for charging. The all in one wheel actually uses solar panels on the controller and and uses a wireless communicator so it's very easy to install. I was told this will launch on Kickstarter for ~$699.
Towards the end of the day I met with Don DiCostanzo from
Pedego
and was allowed to go up onto their booth to shoot the entire showfloor. Interbike 2014 had more electric bikes that I have seen at the two prior shows I attended. Aside from the lack of sleep and last minute travel from my Sister's wedding it was a lot of fun and I'll be posting bike reviews here in the following weeks and months.
Award Ceremony Video :: 2014 Interbike E-Bike of the Year Award
On Thursday Interbike held an award ceremony banquet where Gary Fisher announced the Electric Bike of the Year. Above is a short video I shot with the award winner coming up on stage and then a few clips of the winning model. This was the first annual E-Bike of the Year Award to be given out at Interbike in the USA and it was exciting to see a recognized figure such as Gary Fisher voicing support for the industry.
Last edited: