Administrator
Staff member
[UPDATE] I got to spend some time with a production version Kiox and go deep into all of the settings to create an overview video and post recently.
Check it out here
. The following post was pre-launch and more of an overview with some Bosch reps showing the heart rate monitor
Hi guys, Bosch sent me this press release about their new electric bike display called the Kiox. It sounds like this on-board computer will be the premium offering for 2019 models and I'm guessing many years to come. Past models have used the grayscale
Intuvia
and
Purion
models in the US with an optional color
Nyon
upgrade with GPS in parts of Europe. I'll get more info and videos, as usual, during my trip to Interbike in September
What stands out to me about the Kiox so far is:
Adaptive Color LCD that adjusts brightness based on surroundings (like many smartphone screens). I'm guessing it's also transflective (like GameBoy Advance screens and some of the Brose button pads), easy to read in harsh lighting. It will be easier to interpret your level of assist at a glance with different colors indicating power level vs. reading words and numbers like 1, 2, 3, 4, 5 or Eco, Tour, Sport, Turbo
Lower positioning bolted to the stem cap (by default) and extending up over the stem vs. on top of the handlebars compared to the Intuvia, so it's less likely to take damage if a bike tips or flips. It sounds like Bosch will allow custom integration where the display is built into stems which reminds me of the BESV Lion LX1 or maybe some brands will embed it into the top tube like the Stromer ST2.
Bluetooth connection so you can sync a heart rate monitor and get feedback about beats per minute and estimated calories burned. By connecting your phone and a Bosch ebike app, you'll be able to update the software on the Kiox without the need for cables and dongles (and possibly without needing to visit a dealer, as is the case with current models).
Removable, just like the Intuvia and Nyon, so you can take it with you and reduce scratches at bike racks and weather wear (sun, rain, dust), it uses a magnetic connection vs. purely mechanical plastic clip.
The display still relies on an independent button pad with six buttons (Walk Mode on top, Left and Right to navigate menus, + and - to adjust assist levels, and i to select), so it will be easy to adjust assist settings and menus while riding, without taking your hand off of the left grip.
The display has a power button and dedicated lights button just below the 1.9" (48mm) LCD, just like the Intuvia, but seems to have removed the reset and i buttons.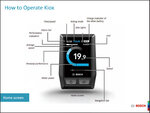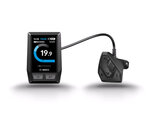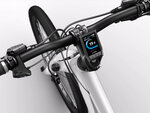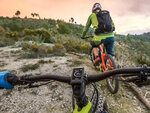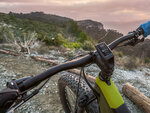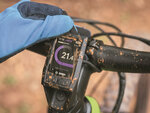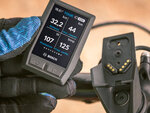 The video below was shot by me at Interbike 2018 and shows some interaction with the display and button pad. I love that Bosch moved to a battery percentage and finer infographic, vs. the current 5-bar readout. The Kiox shows power output in watts and pedal cadence by arrowing left and right through the different screens. One screen is divided into four parts showing trip distance, range estimate, power in watts, and heart rate beats per minute.Turbo is red, eMTB is orange, Tour is green, Eco is Blue, and Off is grey. You might leave the display active to show your heart rate and run integrated lights but pedal a bike manually with off mode.
These are the video notes: 2019 Bosch Electric Bike Updates: Kiox Display, Heart Rate Monitor, Bosch Ebike App, PowerTube
While attending Interbike 2018, I was invited to visit the Bosch Ebike booth to speak with Claudia Wasko and Jonathan Weinart to see the new Kiox color LCD display panel and button pad, which is set to arrive in October 2018 to brands and show up at dealers sometime in 2019 (Jonathan mentioned winter 2019). I was told that the display functions as a training partner and is designed for active riding. It connects to the bike using a magnetic system that secures it firmly but also makes it removable. This means that if you crash, the mount for the display system is less likely to break... and the screen on the Kiox uses Gorilla Glass that is super tough. There is an optional set screw underneath which can be used to more permanently fix the screen for rental units and bike show types of situations. They tried to keep the Kiox clean, compact, and optimize the reading angle. It looked great at the show but I'm curious how it will look in bright sunlight? I noticed that the display was well protected above the stem of the bike vs. up high on the handlebar. Bosch can provide an optional socket to install the display on custom stems or in the frame tubing of electric bikes... much like the Stromer or Smartmotion display systems.
One feature that I really appreciate about the new Kiox display is that there is a Micro USB port built into the bottom that can be used to charge accessories and run diagnostics. This is similar to the Intuvia display panel. The smaller Purion display had a Micro USB for diagnostics only, not charging. The button pad on their controller felt very consistent, much better than the Purion control pad which didn't always click as easily. Buttons include Power and Light on the display as well as Left, Right, +, -, Walk Mode, and Select on the control pad. There are lots of settings buried within the Kiox display including My eBike, Bluetooth, System Settings, Information.
The display unit has a day and night mode, where the background changes from white to black so it reduces distraction or becomes easier to read, and this can change automatically with the built in light sensor. When changing assist levels, the Kiox goes from Grey (Off), Blue (Eco), Green (Tour), Yellow (Sport or eMTB depending on the motor), and Red (Turbo). This allows riders to more quickly determine which level of assist is in use without requiring you to read. In addition to range readouts, Bosch has now moved to battery percentage. This is a big improvement over the 5-bar battery infographic used on the Purion and Intuvia. Bosch also sells a display called the Nyon which is only available in Europe.
Display readouts include: Clock, Assist Level, Battery Infographic with Percentage, Current Speed (MPH or KM/H), Range, Trip Distance (Odometer), Trip Time (Minutes), Power (Watts), Cadence (RPM), Average Speed, Max Speed. The display uses Bluetooth Low Energy (BLE) to connect with smartphones for use with GPS and future Bosch Ebike app. It can receive updates over the air using smartphones. One of the immediate uses for Bluetooth with the Kiox is heart rate monitoring. You can connect to a bracelet or chest harness and it will readout your heart rate almost realtime so you can track fitness
Jonathan used a Mio heart rate bracelet but said that Fitbit and others would be compatible. Kiox does not have GPS built in, but it sounds like it could take advantage of your smartphone GPS eventually.
Other updates from our talk include Bosch being recognized with an innovation award in 2018 for their PowerTube battery design. I was able to test and review this battery on several 2018 models from Bulls and Riese & Müller. It weighs a bit more than the PowerPack 500 and requires some frame customization work, but looks beautiful and generally positions weight lower on the frame. Claudia talked about the current trend in e-road bikes and electric gravel grinders as she took me over towards a Trek with Bosch Performance Line Speed and Cannondale with Active Line Plus motor.
To run the forums, host the site, and travel, I have introduced a service fee for my reviews and some in-depth videos like this. Bosch did not pay for this video, but I have received advertising dollars from them in the past and plan on covering bikes that use them throughout 2019. My goal is to be transparent and unbiased, this video and post are not meant to be an endorsement.
>>>
This is the official Bosch press release:
Kiox: the new on-board computer from Bosch
Compact color display for sporty eBikers
Bosch presents an on-board computer for sports usage at Interbike 2018
Color display features a clean appearance and intuitive operation
Bluetooth connection with a heart rate monitor ensures the best possible training
Irvine, CA – For 2019 models,
Bosch eBike Systems
introduces Kiox, an on-board computer specially developed for the needs of ambitious riders. The small and robust color display is controlled by a separate control unit on the handlebar and provides the eBiker with data on speed, personal performance, cadence, battery state of charge, and more. In addition, the on-board computer can be combined with an optional heart rate monitor, allowing eBikers to train in the best possible way. More connectivity functions will follow.
"Kiox is our best and brightest display with more useful features than ever packed into such a compact unit," said Claudia Wasko, Vice President & General Manager of Bosch eBike Systems Americas. "With its ability to connect to the rider's heart-rate via wearable sensors, Kiox also marks our first step in North America connecting eBikes to the eBiker's digital world."
Focusing on the essentials
Bicycle manufacturers can choose to install the compact and handy display with the Bosch mount or integrate it practically into the handlebar stem by means of custom solutions. This leads to different design variants as well as a minimalistic eBike look. Kiox impresses with its clean appearance, vibrant color scheme and clearly structured user interface—just a few of the reasons Kiox was recognized for a "Best New Product" Award at Eurobike 2018.
Optimized for demanding use
Another highlight: the display lighting. It automatically adapts to the surroundings. The 1.9" high-resolution color display is perfectly readable even in direct sunlight and in the dark. The central position on the handlebar stem provides an ideal reading angle. Robust Gorilla Glass protects the display against scratching and other damage. The magnetic holder provides a secure grip and allows easy removal and attachment of the on-board computer. The integrated display battery provides up to 20 minutes of power in the off-board mode and displays a summary of the day's activities. The on-board computer is controlled by the separate Remote Compact control unit on the handlebar. The palpable pressure from the buttons of the new rugged remote gives the eBiker clear feedback – easy, safe, and intuitive.
The smart on-board computer for athletes
Kiox supports eBikers wishing to improve their fitness. The on-board computer notifies eBikers whether they are going above or below the average speed, motivating them to perform better. With an optimal Bluetooth-connected heart rate monitor, Kiox users can check their current pulse range at all times, enabling them to get the most out of their training. The Bluetooth low-energy interface also allows users to download Kiox software updates to the on-board computer without requiring a cable connection. The future will see even further functions connecting eBikers to the new on-board computer.
Kiox will be available to test ride at several upcoming events including:
The Boogaloo eMTB Race & Demo at the Northstar Free-Ride Festival (Sept 15-16 @ Northstar Lodge at Big Springs, Truckee, CA)
Interbike's OutDoor Demo (Sept 16-17 @ Northstar Village, Truckee, CA)
Interbike Expo's "The Circuit epowered by Bosch" (Sept. 18-20, @ the Reno-Sparks Convention Center, Reno NV),
The Mammoth Mountain Boogaloo eMTB Race & Demo with Kamikaze Bike Games (Sept 22-23, @ Mammoth Mountain Main Lodge, Mammoth Lakes, CA)
It will also be on display at the Bosch booth (#154, next to the Electric Theater) at Interbike Marketweek Expo Sept 18-20, along with the
PowerTube 500
in-tube battery, which was unveiled earlier this year and is now available on many models from some of the more than 30 brands epowered by Bosch in North America.
Last edited: