Administrator
Staff member
Hi guys! From what I've observed, all Specialized electric bikes use the same smartphone app called Mission Control. It offers many features, and has expanded over the years as new generations of ebikes have launched. In general, it allows you to refine the power output of each assist level, connect to wireless fitness devices (like heart rate monitors), interact with other apps such as Strava and Kamoot, and plan routes! One of my favorite mapping features is the ability to plan rides in such a way that you are guaranteed to arrive without fully depleting the battery pack. You can also maintain a specified heart rate by having the bike raise or lower assist power. Mission Control is available for iOS and Android smartphone devices.
Pros:
This is one of my favorite apps because it's the same for all generations of Specialized Turbo electric bikes and offers GPS, distance time and battery level planning, assist level adjustment, integration with Strava and Komoot, brightness adjustability, beep and vibration on off settings, and it's fairly intuitive.
This is a tangential pro, but since the TCD2 display provides a USB-C charging port with 5 Volt 1 Amp output, you can charge or maintain a smartphone device and use the route planning and GPS features longer while riding! Some other ebike systems aren't offering USB charging on their displays.
It's neat that you can re-arrange the readouts on MasterMind display units, and even make your own view with all of the stats you care about! It's very customizable... to be clear, you arrange them on the smartphone and then they appear on your LCD display panel on the bike! This is true for the TCD2 and TCU displays.
I love that with the bike lock feature (which disables the motor and will beep if the bike is shaken) you can unlock using the smartphone app or using a pin on the LCD display panel! This is great for if your smartphone runs out of batteries or you just don't have it, but still want to ride (or maybe let a friend ride).
There's a "Fake Channel" setting in the app that allows information about cadence, heart rate, or rider power to be sent to a separate hardware device such as a Garmin GPS!
It's neat that the app shows your battery charge level and an estimate for battery health. This could allow for self-diagnostics of issues without needing to go to a dealer.
Not only with the Mission Control app get fixes and improvements over time, it can also send updates to the bike! This saves you a trip vs. having to go to the local dealer to get the latest display, motor controller, or battery updates that Specialized may release.
The app appears to allow owners to specify that they bought the bike second hand, which could be useful for warranty tracking and setting new passwords.
I like that the app has a dark background, like night mode. This is easier on my eyes and probably uses less electricity. There may be a setting to change light/dark modes but I didn't see it.
You can set the default assist level, so the bike would always start in Eco, Trail, or Turbo and you wouldn't have to click up or down every time. As a side-note, I love that the TCD2 allows you to arrow up or down and then the settings menu goes around vs. having dead stops at the top and bottom... it just saves clicks and is a nice subtle thing that I appreciate.
Cons:
In the user profile area when setting weight and height, the units aren't specified... and that's very confusing. I wasn't sure what to put in there even though I wanted it to be correct. I assume it must be based off of the units for the system such as metric or imperial, but it would be much better if there was a marking or guide on the menus. Also, it seems like the user inputs here can be erased or even changed, and that there's a bug which has been documented by owners here.
I wish that the on/off settings for beep, vibration, and display brightness were built into the control pads on the bike (the TCD2 and TCU) vs. in the app. It would be easier to adjust them there, and not everyone wants to download and use a smartphone app.
It's interesting that you can pair Mission Control with BLE fitness devices like heart rate monitors, but not Ant+. I think the displays themselves pair with Ant+ and must have that wireless standard built in while not all smartphones do. It's just interesting that they are separated like this.
As cool as the locking and alarm systems are, they do not alert you by phone if the bike is being tampered with... they just beep and disable the motor. I think that in order for the bike to have a GPS tracking and mobile alert system, the display panels would need a cellular chip and probably a monthly fee. This sort of thing does exist as an aftermarket accessory, check out Boomerang Bike. It would be cool if Specialized added something like this someday in their hardware and gave you an option to subscribe for extra security and tracking.
As always, I appreciate corrections, additional points I might have missed, and general thoughts on other great apps that get things right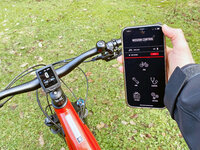 Last edited: