Region

USA
City

Tulsa metro
Hi, I'm a guy in his mid-60s thinking about buying an ebike or getting a used mountain bike that can be converted. I am getting to the age where I hope to soon have a lot more time to goof off!
I like to travel with a trailer and camp, especially on national forest/blm land, and I always take my Trek Pure Sport (love the upright seat position and crank-forward design). I often pedal the gravel roads and such, but in the future I would like to be able to explore more of the steep, rough trails like this: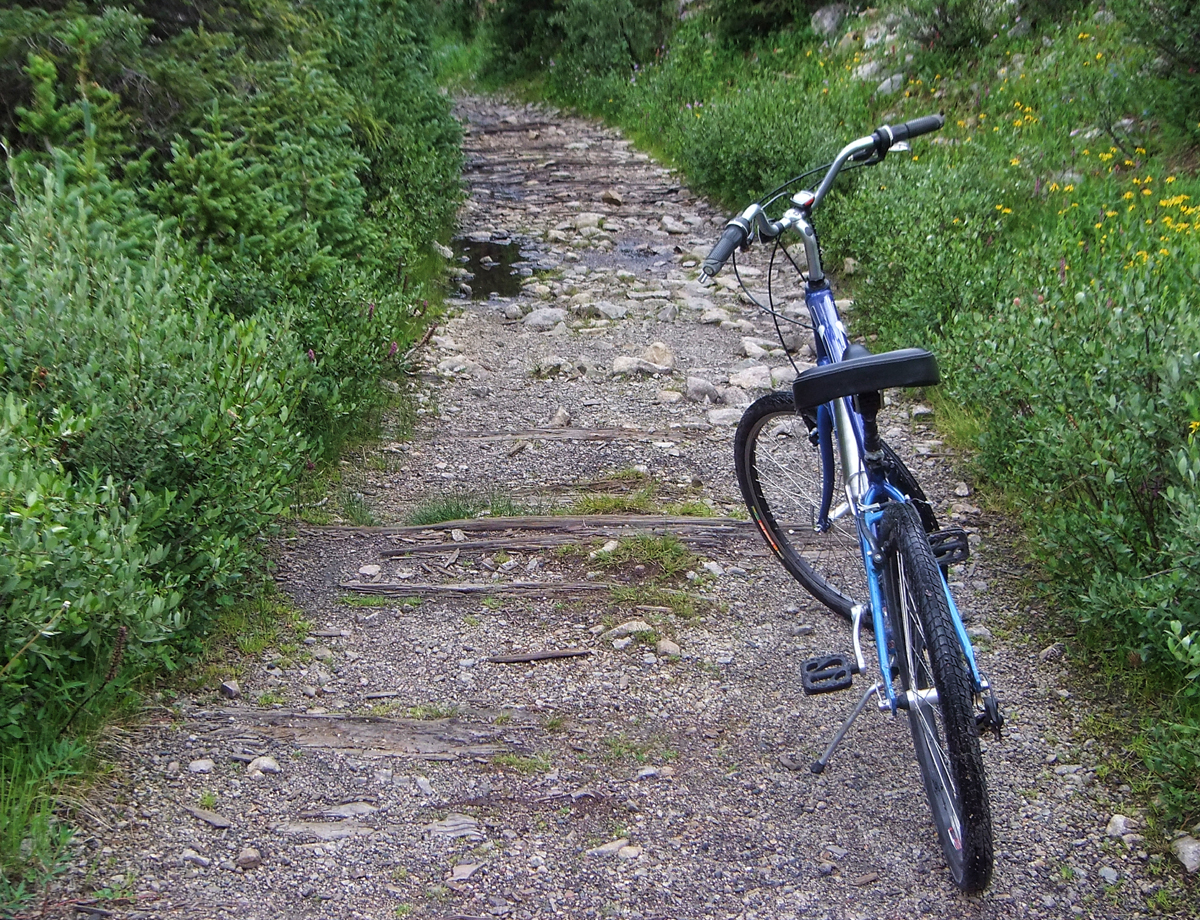 This was the trail to Alpine Tunnel (east side) near St. Elmo, CO. Call me a fool; I had no idea what I was getting into.
Somehow the bike and I survived the beating, although I had to stop a half dozen times for rest and sometimes walk the bike over the roughest sections. I'd like to be able to ride trails like this with an ebike, and I'm thinking I need at least a front suspension (full would be nice).
I would welcome advice on what to get. From the reading I've done, it seems like maybe a mid-drive motor with a small-ish crank would be best? Would a folding ebike be a big mistake for rough terrain due to lack of frame strength? I get the impression that I shouldn't get wheels smaller than 26" (I'm only 5'8" though, so huge bikes are out). I can see some advantage to fat tires, but it seems like the good quality mountain bikes don't have them; why is that? I'm thinking that buying a used front-suspension MTB (I've seen some used Treks go for $150-$500) and getting it converted would result in a lighter weight bike, maybe 50 lb, versus most of the reasonably priced ready-made bikes running 65-90 lb, am I right? Today I spotted a preowned, pristine dual-suspension Gary Fisher Sugar 3 for less than $600, but would there be room on that bike to mount the battery? There is a shop in town that will do conversions for a reasonable labor charge, but the guy I talked to in that shop said dual suspension bikes don't have enough room for a battery (btw they can install a Bafang mid drive but I can tell they really are Bosch fans). I have to mind my pennies so I'm trying to keep total cost under $2500, but at the same time I don't want to buy a crap battery or motor, either.
My goal is to have a nice ebike by late next spring, because summertime is when I have the most free time and can head to the Rockies. Ahhh, the smell of pine trees and the (relative) coolness of the higher elevations (it's been 108* here)!