I want to replace my current commuter bike. It doesn't fit me well, but i now have around 7000 miles of riding to work since may 2021 and i think i have the bike to make a custom electric bike, i am just not sure which motor/battery i should go with, or if it will work with the bike i currently am looking to convert.
I am leaning towards either the bafang 750w or 1000w mid drive motor. My original electric bike had a weird mid-drive motor and i really liked the feel of that, but it was very old and annoying and had 2 chains. My modern Ariel Rider Rideal was great but i just don't like the slow response of the hub motor compared to the mid drive i had. But most importantly i want to be able to go up steep hills very fast. For my commute i have no choice but to use a road that is very steep and has no shoulder, with trees over hanging and a few turns.. very dangerous for bikes. On my Rideal, when pedaling my hardest, i can get to about 17mph and i am out of breath and sweating which i do not like. My older bike, i wouldn't even attempt it, i probably would go about 6mph to 8mph.
I really like having the ability to use the throttle only also, but 80 to 90% of the time i would like to pedal. Throttling from a dead stop or assisting up hill is when i generally use my electric bike.
My Body: 6 foot 3", 36" inseam. Chronic lower/upper back problems, scoliosis and herniated disc, hip problems and knee problems. my body can't handle hills really.
My Commute: 16 to 20 miles everyday. Northern Virginia, VERY HILLY, 2 monster hills to leave my neighborhood, one on a semi dangerous/steep tree lined road with no bike/walking lane and zero shoulder.
My Rideal, a few days ago when i hit 5000 miles at 5am.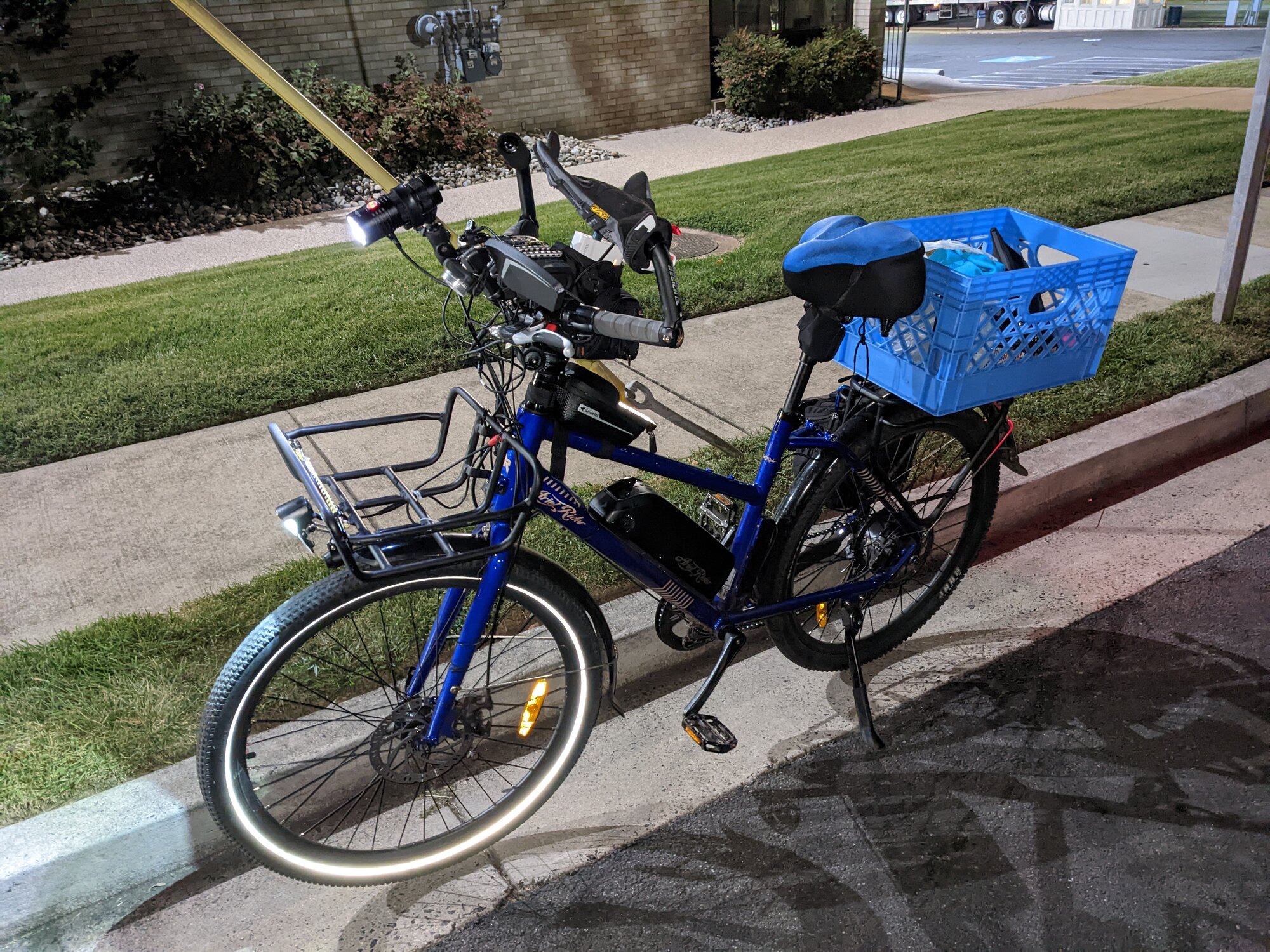 Current/past e-bike:
Current: Ariel Rider Rideal, 750watt hub motor, 6 speed, small frame, mechanical brakes, regular fork.
Past: 2004 AeroEnvironment Charger, 250watt funky dual chain mid drive, 7 speed, small frame, v-brake & rollerbrake, regular fork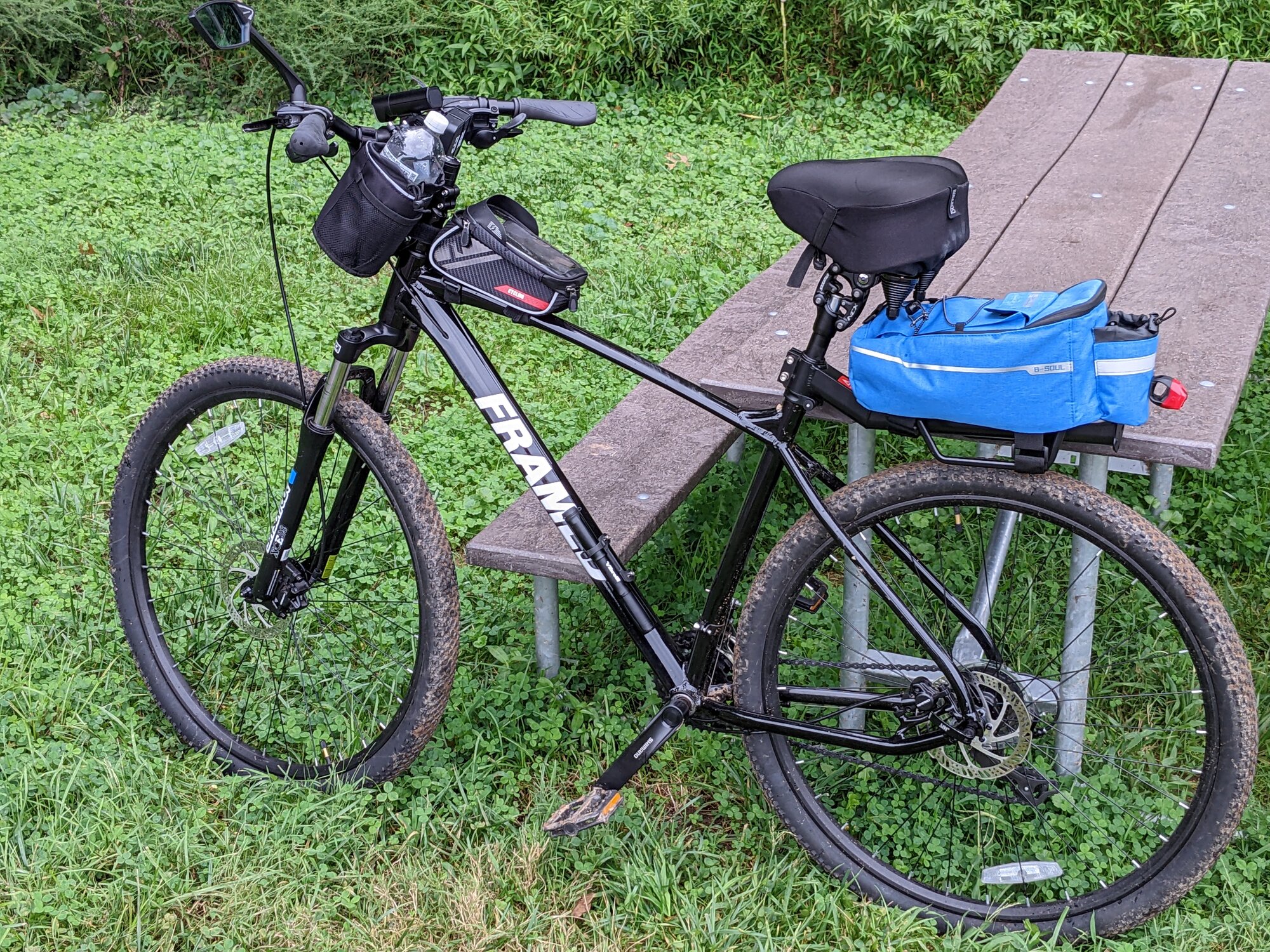 Bike i want to upgrade:
Framed Rendal- 21" frame
29"x2.1" tires
21 speed, crankset 42/34/24T, 7-speed 14-28t
100mm Suntour fork
Hydraulic disc brakes
The Rendal was designed to take you from the neighborhood paths trails to the uptown streets. With the plush front suspension fork and durable alloy frame the Rendal is your ticket to endless adventure. Hydraulic disc brakes ensure full stopping power in any weather conditions you may encounter...
www.framedbikes.com
I have already replaced the handlebars with swept back ones, put on a stem riser and an adjustable stem, i'm looking for an upright riding style. I bought everything needed to swap out the cables/housing which will be a pain but it has to be done to raise the bars up how i would need it.
Questions:
1. Is bafang bbshd and bbs02 the best 2 options for mid drive at a reasonable price? I am seeing some bundles without batteries on walmart, $500 for the bbs02 and $800ish for the HD. Does anyone know of a better place to buy a complete set of components? Also is there a good place to buy batteries, or should i consdier buying the battery/motor all together?
2. Can anyone see any problem with my current bike that would not allow me to accept a mid-drive motor?
3. The bike's down tube has a really bad tapering to the top, almost like a triangle, where the bottom of the down tube is the thickest point, and the top of the downtube where the water bottle holder attachments are, is very thin. At the bottom it's about 3" thick, and at the top about 1/2". If i want to attach a battery to this point, does it matter if there is very little flat surface for the battery to install to?