Administrator
Staff member
As I'm traveling around doing reviews, hanging out with friends and going on adventures I thought it would be fun to share "stories from the road". Please note, some of these stories are going to be from all over the place and have nothing to do with ebikes. Some may contain adult subjects and it's really just a journal to share with friends and stuff.
I run EBR and evangelize ebikes because I care about the environment, individual health and community. I see this technology as a force for good and I want to spend my life focused on positive things. So, I'm going to start off with a favorite quote and a fun picture of my room in Austin around November 2012. If you've ever wondered what it looks like to work full time as a product manager and run this site, doing reviews out of your apartment, here's your chance. Note the treadmill desk, piano keyboard, one of Pedego's first City Commuters, a Specialized Stumpjumper that I was planning to mod, a micro fridge and a bunch of other junk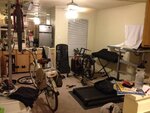 And here's the quote I promised: "The truth is that the situation is desperate, but there is hope. The lie is either that there is no situation at all, or that there is no hope. The liar tells us there is nothing we can do. The trustworthy tell us that what little we have to give, is desperately needed."
ps. I'm going to lock this thread so it flows more like a journal than a conversation. Feel free to message me directly to chat anytime!