Review of OneMotor Brompton package
Hi,
I am a Brompton-rider based in London, UK. I recently purchased a OneMotor friction drive conversion kit after reading some user reviews here and decided to add my own.
I purchased the OneMotor Brompton Kit with couple of other mounts for other bikes about 2 weeks ago. I have a 17-mile commute to work and I have been using the OM pretty much every day since, in rain and shine. OM has performed amazingly well. Those who have read about OM will know the advantages: ease of conversion (took me about 30 mins with standard tools); ease of attachment (takes about 20 s to remove/attach the battery, motor, controller and pedal assist sensor); fantastic design and build quality (the fit with the Brompton frame is perfectly engineered); and light weight and no impediment to the Brompton fold. But it is the performance that surprises the most for a friction drive. My route to work has a 550ft climb with some sections briefly hitting 10-12%. The OM performed remarkably well even on moderate settings (using the EU mode, which is limited to 250w and 15mph). There was no slippage at all in dry weather. In wet weather, most slippage was quickly eliminated by the clever circuitry which senses slippage and increases pressure to improve traction. It's a great design and works really well. Battery performance was decent for such a compact battery (130wH). The range is stated to be 10 to 20 miles and I reckon that's probably fair. Obviously you would get nowhere near that on full power going up a steep hill all the time, but the OM suits riders like me who prefer to use power for assisting my own pedalling rather than replacing it. Using a mixture of the lower P1 and P2 settings (or retracting completely) for the flat sections and going up to P4 or P5 for the hills (with about two minutes on P8 (out of a max of P9) for the steepest section, I had enough power for the whole commute, one way. The larger battery (300wH) would easily cover my return journey but I need to save up for that!
The OM is not a cheap conversion, coming out at over $1400 (plus import duty for me) but after 2 weeks' usage I would say that it's not bad value at all. That's because the OM is a well-thought out product that is engineered and built to a high standard. Little details, like the magnetised power leads, spring-retracting cable, bluetooth controllers and the easy carry system, make it a joy to own. However, the main value-adding characteristic is that owning the OM means that you can have two or three or four electric bikes for the price of one. I use the OM mainly on my Brompton but I also used it on my hybrid today and next week will try it out on my tandem. See the pictures of the unit attached to both my Brompton SL6 and my trusty (30-year old!) Marin hybrid.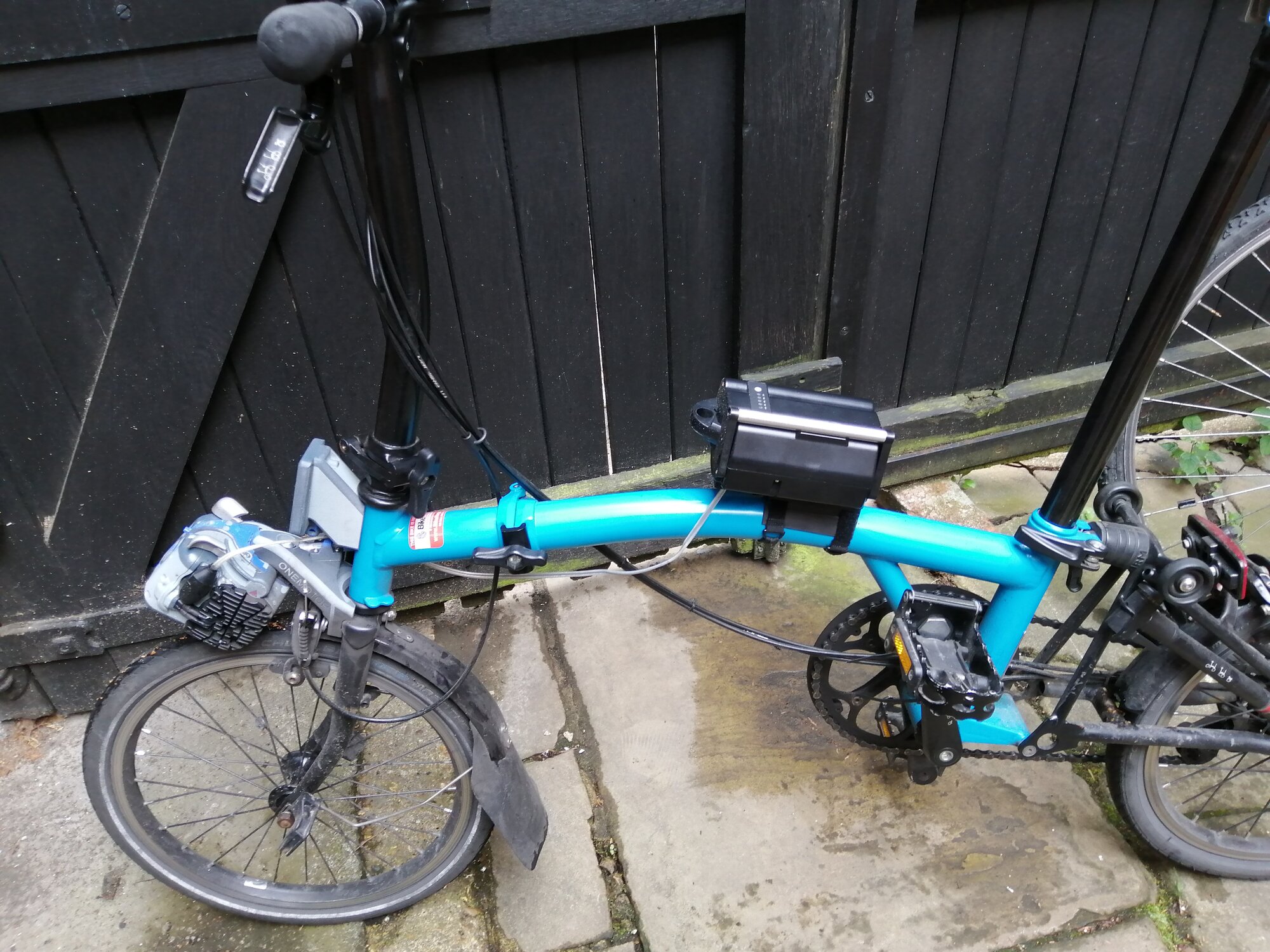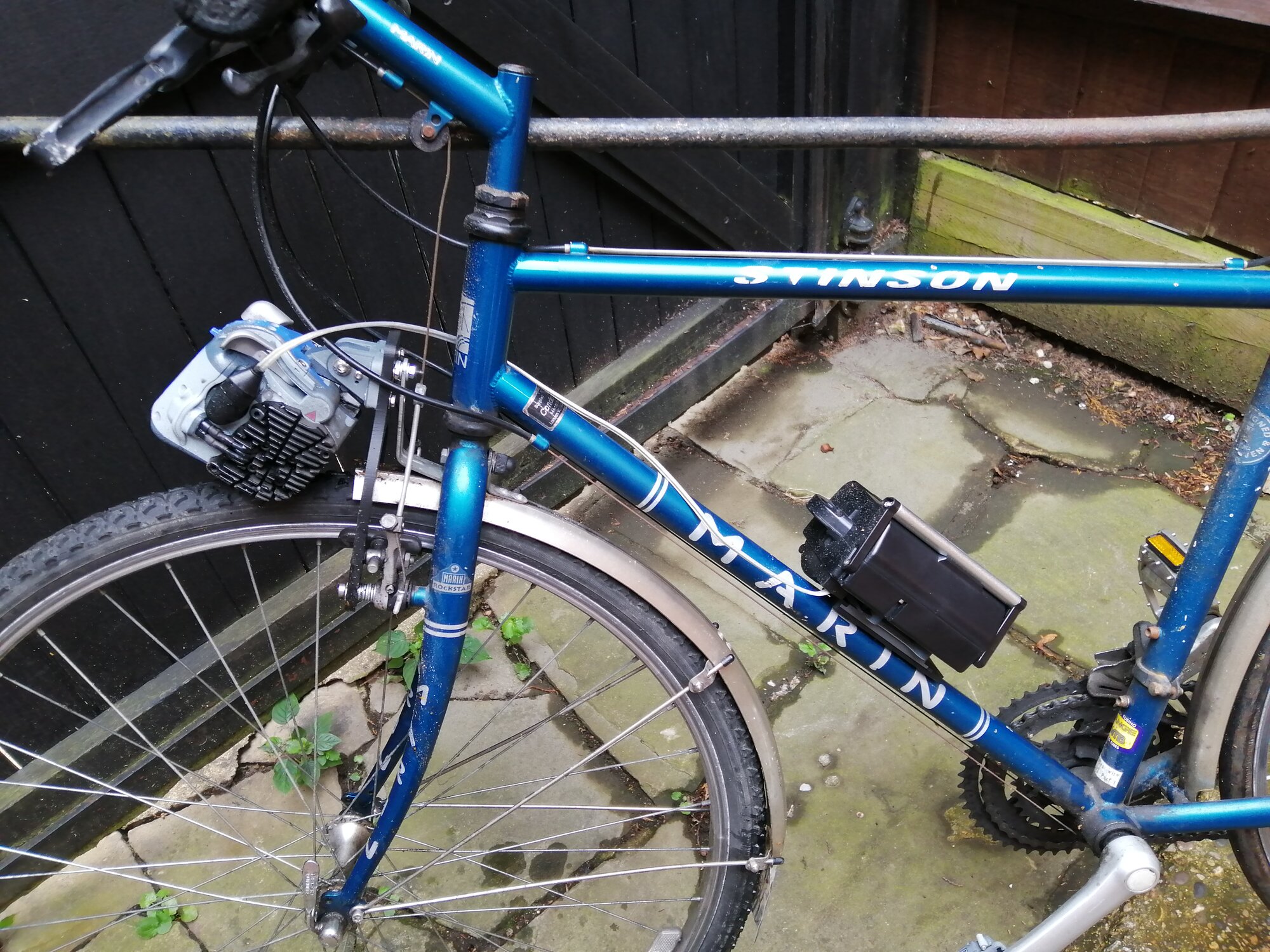 I haven't seen anything else on the market that can do that. If like me, you are a Brompton-rider who also owns other bikes, then the OM is definitely worth a try. I should mention that I do not usually write reviews and have no interest in or connection with OM other than as a purchaser. I just like the product. Before I go, I should mention the customer service. I was helped by a lady called Grace, who really went the extra mile to reassure and assist a slightly nervous overseas purchaser. It certainly made the whole buying experience a lot easier.
AC