Region

USA
City

The Farm, Grass Valley, Ca
…so new in fact, that I don't even have them yet. I bougt two Specialized Teros - a 3.0 for my wife and a 5.0 for me. When shopping I also looked at Giant and Trek, but for a variety of reasons chose Specialized. Initially I ordered two 3.0s but after doing some range calcs on the Specialized website, all else being equal, our height and weight difference left a big gap with two 3.0s (26%) but almost identical range (less than 2% difference) with her on a 3.0 and me on a 5.0. I know that's all theoretical, but its what I have to work with. I'm a little concerned about a couple differences between the bikes after reviewing specs and reading reviews, but other than the lack of a dropper post on the 3.0, we should be more or less evenly matched, and I can add a dropper to her bike.
In the mean time to channel all my anticipatory energy, I bought a Garmin Edge 530, learned it, managed to get my Garmin 645 watch to talk to the Edge, bought two Garmin radar units (RTL515), downloaded and learned the related apps, paired those with phones and the edge, and bought a few other little goodies to keep me occupied. I'm having the rack/fender/light kits installed ($300 + $40 labor) and plan to ride our back roads (no shoulders, much less bike paths) as much as trails. My only concern there is mud accumulating in fenders that are too close to the tires, but I'd rahter deal with that possibiiity (and try to avoid it) than have wet dirt stripes on me when riding in the rain. We'll see how all this works out. Just evaluating it all from my recliner, I can already see the need to trim those front fenders a bit.
Anyway there's so much to learn and I know the value of a good forum, so I'm looking forward to sharing experiences, asking questions now, and maybe answering some later on, and just enjoying good conversation with folks of similar interests. I've always had bikes (rode a 1970 Peugeot 10 speed for many years and have always had some versions of a MTB since) but never spent near this much on a bike before. But with age and bad knees, and advances in technology, those two curves finally crossed and hear I am with a couple of fairly expensive, complex bikes on the way.
Which brings me to my first question (notice I didn't start with this in my first post?): Where can I get insurance at a reasonable price? My Polaris E Ranger costs me around $75/year to insure, is worth about 3 times the cost of these bikes, and so far my two quotes for the same coverage (loss due to theft or damage) on the bikes has been around $275. Each! So….ideas? Until they are insured, its going to be good locks and keeping them close.
Thanks for any info/insights, and what looks like a great forum.
Rich
PS: a bit about me - Retired fire service, 46 years, from seasonal FF to Chief and every rank between (including investigations), on the board of directors on my local FD now, I grow some grapes for a local winery, have a couple horses, used to sail and ride dirt bikes and Harleys, have a lot of RV experience, own a 35' motorhome and tow a jeep, love to take bikes and kayaks when we travel, and all of the above notwithstanding, am somewhat gadget averse these days. At least I was until this purchase…
New toys: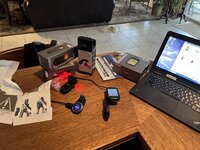 Last edited: