Few topics are as sensitive as the connection between you and your bike's saddle. The right seatpost can change a stiff, rigid bike frame into a more forgiving comfortable ride, dampening bumpy roads and potholes or smoothing an off-road trail. There's a significant impact force transmitted up from the road through the frame and seatpost into your body along with a downward compression force from your weight, gravity & body's reaction as you ride over a rough road. As important as your saddle is to an enjoyable ride, without the right seatpost for your riding style, you're missing out on an important part of the picture of what makes a bike ride great. An uncomfortable rigid seatpost can negate all of the positives of a steel or titanium frame or wider tires.
The most important factors when considering a seatpost are it's damping and flex ability. Damping is how quickly the seatpost flexes, reducing the vibration coming through a bike's frame up the seat tube. Flex is the total vertical and horizontal movement of the post in response to bumps on a road. So a seatpost with a higher damping & flex rate will respond faster to a road's unevenness with more of the vibration absorbed.
A straight seatpost without any offset is the roughest ride with little damping ability. However, with a moderate setback and different materials like carbon fiber, a rigid post will have a more dynamic and responsive ride; much better than aluminum alloy or titanium seatpost. There's wide variation between brands, performance and prices of carbon fiber and setback seatposts, so take that into consideration, too. Ultimately where you ride and your body build will help decide the best seat post for you.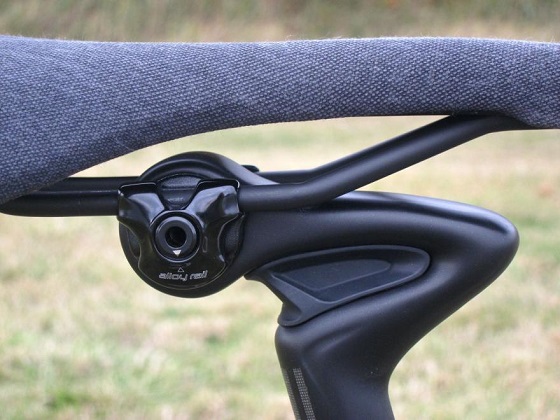 Take it to the next level and you have suspension seatposts that can make a simple straight post with an adjustable elastomer or spring insert into a more comfortable ride. These are generally inexpensive and are a reasonable choice if the roads aren't too pitted. Most have a simple hex head adjustment at the base of the post to create a softer or more firm response. This is important since a larger rider could bottom out or have a bumpier ride if the suspension is set too soft.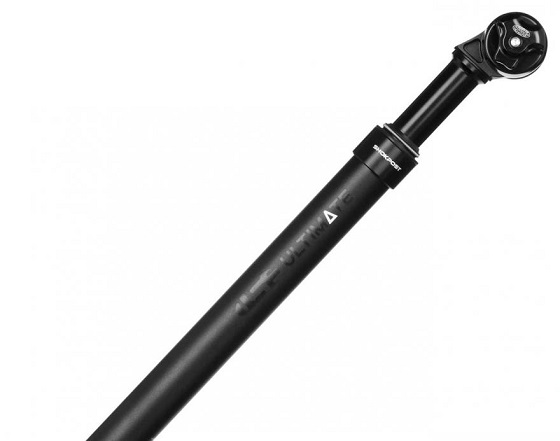 The ultimate suspension seatposts combine a setback with adjustable elastomer pads or springs depending upon the post to make it a custom setup for each rider. With the Cane Creek Thudbuster, you benefit from both vertical and horizontal damping with good flex and a choice of elastomer pads to help create the optimal ride. It can move about 14mm vertically and up to 20mm horizontally. Great at smoothing big hits, particularly for riders with lower back or spine issues. Downside: pricier, much heavier post that can't be lowered quite as much as a non-suspension post to accommodate a shorter rider. Check out this
review of the Thudbuster
for more details.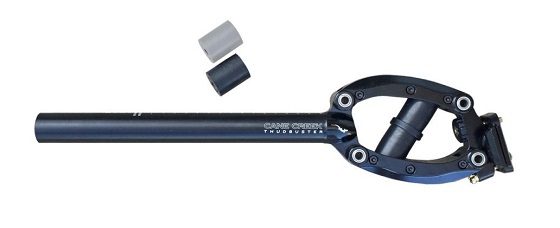 Cirrus Cycles created another seatpost system, the BodyFloat Kinect, that isolates vertical movement and vibration damping without affecting horizontal motion. It has a pair of springs that can be adjusted specific to a rider's weight and the road conditions, making it an optimal choice for riders who pedal over long miles of rough road. It's a more expensive suspension seatpost but the perfect solution for some people who wouldn't be able to ride otherwise. Similar issues as the Thudbuster for smaller riders.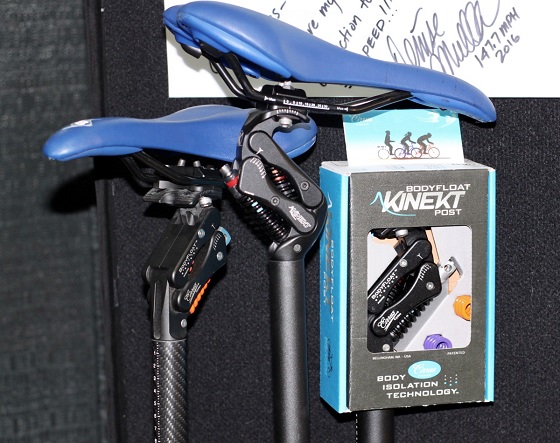 For mountain bikers, a dropper suspension seatpost gives the rider more control over body position, allowing them to shift their weight lower, particularly important for a rapid downhill descent over rocky terrain. A dropper post will have a lot of vertical travel, possibly up to 125mm with adjustments to accommodate different rider's weight. A small trigger button on the handlebars let's you rapidly activate the seatpost drop during a downhill run and pop it back up afterwards.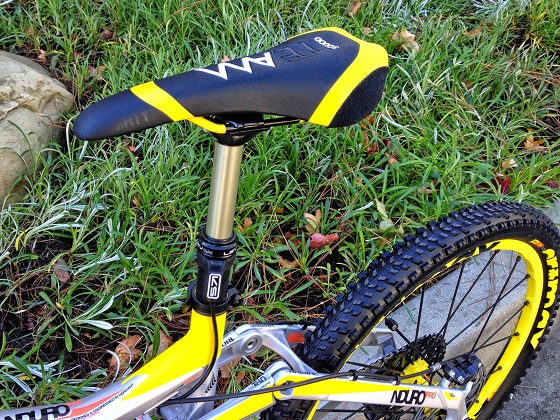 Besides your seatpost, lowering the tire pressure a few psi (keep in mind the minimum recommended pressure listed on the side of the tire to prevent a
Pinch Flat
) will create a more cushy road feel as will wider tires. We'll cover saddles and handlebar grips & tape in the next guide to keeping your bike ride comfortable.