Hey all....glad to have found your forum. You have unknowingly tempted, titillated, and educated me during recent weeks. I live in Kansas City and am a 52 year old suburban dweller. I have always owned bikes and even a bike stand and a few tools, however, I have been busy with other things for decades now. My stable has most recently included old chromoly mountain bikes from the early 90's and they were getting long-in-the-tooth and hopeless. My 'bike' friends found me hopeless and implored me to shop my LBS and not Craigslist but I digress.
During the deep of the pandemic I had purchased a "OneWheel XR" for my mental health and exercise and I completely fell in love with it. I am an avid skier and the OneWheel brought the ski lift to my driveway. It is astonishingly intuitive and incredibly fun. After about 800 miles on that board I realized that I am 50+ years old and am bound to seriously hurt myself sooner than later....sadly off it went. I am nothing if not practical but man I really do miss that thing.
I have casually followed the e-bike craze for some years but wasn't directly introduced until my 82 year old father switched to a 'Story' branded e-bike....then my buddy in his 70's purchased a 'Van Moof'.....and an uncle purchased another type of Chinese cruiser e-bike. None of those bikes seemed 'right' for me but those e-bikes did pique my interest. I then recently saw the Aventon Soltera whose
PRICE
and geometry interested me. I test rode it and was impressed for its
price
....but I was not excited about it. I disliked the twist shifter and I was not overjoyed with the hardware throughout. I was seriously concerned about service, parts, and longevity. Atop it all....Aventon is apparently having a rash of DOA batteries and the issue is not being resolved promptly for those buyers. But again....I liked that
price
....its geometry....its gears....and I figured the Soltera to be a potential 'stepping stone' should I begin to enjoy riding again. While doing some last minute comparisons before purchase I happened into a distant LBS and they had a Specialized Vado SL 4.0 in 'Smoke' color and the salesman steered me that direction. I had seen this bike before and thought it near perfect. I immediately said "nope...I love that bike....and I know how much it costs". I was surprised to see it on sale for $2499 and gave it a test ride. The mid mount motor and overall quality beat any e-bike that I had ridden prior...and it really ticked all of my boxes. It was more money than I wished to spend but...
I was looking for that Sirrus or FX 'stance' type e-bike that would allow me to 'stand on it' like a regular bike when the mood struck. I sought an e-bike that was first a 'bicycle' and not first a 'moped'. I wished to have a bicycle foremost for fitness but also for fun. I needed the bike to be able to be ridden with or without battery assist.....and to be able to tailor that assist to allow me to burn some calories. I realize that most believe that Kansas is completely flat....and that Toto lives here.....but these are myths.
The Vado SL does require my input and is not an 'over-powered' motor and this is precisely what I was seeking. The 'ride-feel' between the Vado SL and any of the rear hub-motor ebikes was night/day to me. There are times when I think that having a powerful rear hub motor ebike would be a lot of fun for casual outings when I'm not seeking to get my heart pumping....but I'll save that for another day.
Anywhoodles...I am appreciative of this forum and the plethora of information within it. I am certain that the cumulative experiences and brain-power here at EBR will be helpful to me and I hope that in time my experience may help someone else.
FYI I am 42 miles in on my first charge and have 43% battery remaining. I purchased a QuadLock phone mount, a water bottle cage, and a water bottle. That is all lol.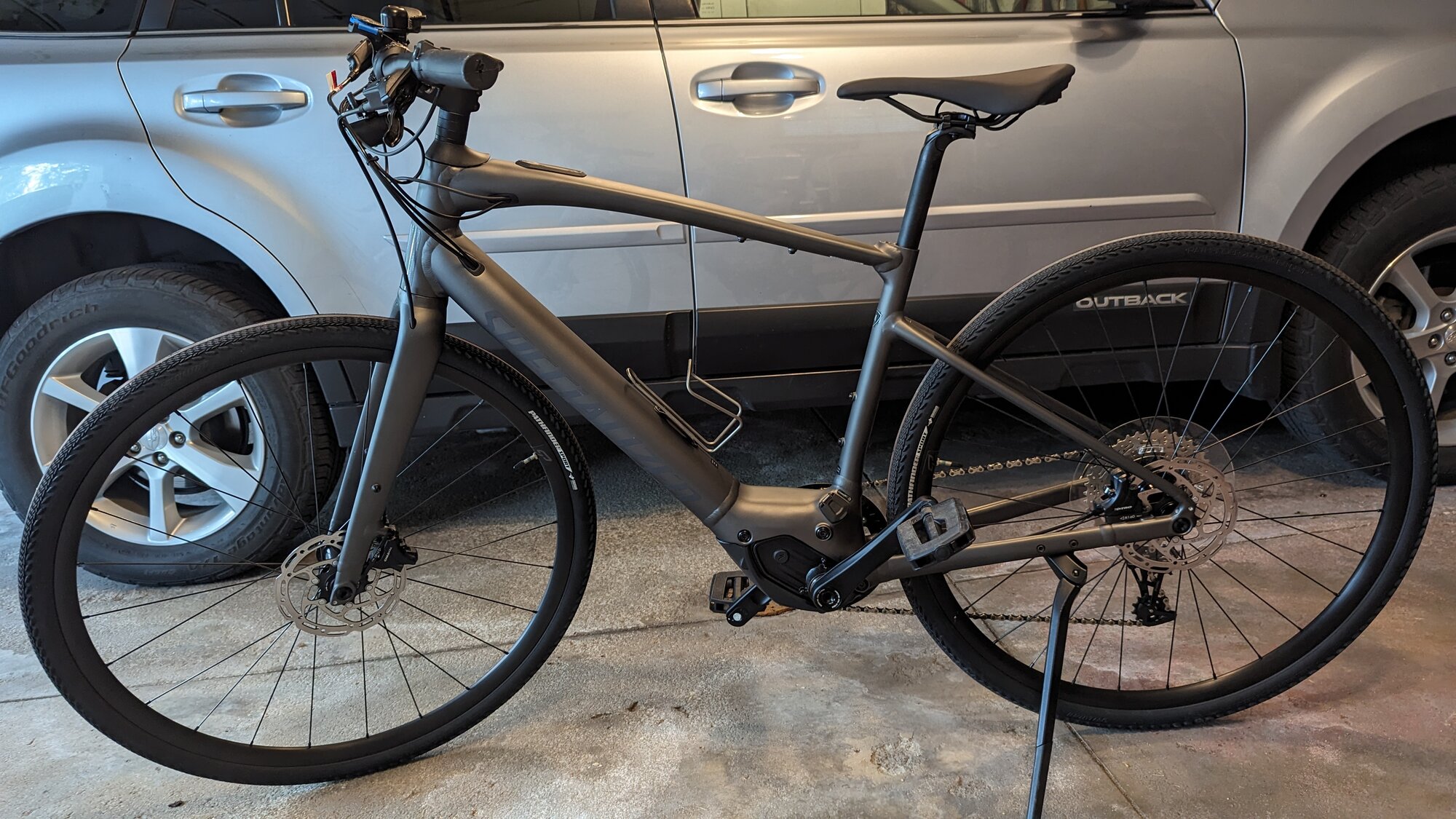 Last edited: