The Rubbee is an electric bike kit that uses friction to push your wheels, kind of like those old dynamo lights but in reverse. This thing makes you go instead of slowing you down and it's designed to work with almost any regular bicycle.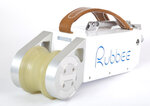 A team of London-based engineers has come up with a

new electric assist concept

that mounts a motor to any bikes seatpost, which in turn drives the rear wheel.

Dubbed the Rubbee, the patent pending system will power a bike for over 15 miles on a two-hour charge. The creator's main selling point revolves around the ability to turn any bike into an electric driven bicycle in a matter of seconds, minus the need to make any adjustments to the bike itself. The system is throttle operated.

Weight is also another unique selling point for the Rubbee, which comes in at 6.5 kilograms, around half the weight of many other conversion kits on the market.

The flywheel that drives the rear wheel is made from a specifically developed polyurethane formula, designed to efficiently move the bicycle forwards, but without wearing the rear tyre down too much. The battery is good for 200 charge cycles, apparently without any drop off in performance toward the end of its life.
(Link Removed - No Longer Exists)
Source:
BikeBIZ