I started this thread to collect people's experiences with their Crosscurrents.
I bought a Juiced Crosscurrent due to a lucky accident. I'd been considering a Magnum U5 electric bike but after riding it I was disappointed with the quality of the brakes, which were standard, cable-operated bicycle disc brakes. As a result, I figured I'd buy the bike and upgrade the brakes to hydraulics, preferably with larger discs to increase stopping power. I started researching replacement brakes and remembered that I had some Jucy brakes on my mountain bike. I Googled "Jucy electric bike brakes" and lo and behold, up popped a listing for Juiced Bikes. I clicked through and there was a picture of exactly the sort of electric bike I wanted - sporty, slightly aggressive seating position and best of all, it was red! It also had specifications that ticked all the boxes - torque sensor, cadence sensor, hydraulic brakes with large discs, good range and a 350w motor. I instantly lost interest in the Magnum bike I'd been considering.
Then I noticed the price. US$1,499! I couldn't believe it - how could a company produce such a top-end bike for such a low-end price? I wanted one. I saw that I could buy it online in the US and ship it internationally so I contacted Juiced Bikes asking what the shipment cost would be (to New Zealand). I found out that Juiced Bikes had a New Zealand distributor so I contacted them and received a prompt reply from Phil - the owner of the company that has the license to import and sell Juiced Bikes in New Zealand.
Phil was very helpful, he'd just imported some Juiced ODK cargo bikes for a pizza company to use as delivery vehicles. Phil placed an order for 3 Crosscurrents and told me that delivery would take about 6 weeks. In the end, it took much longer, but I was willing to wait and make allowances for the fact that this was Juiced NZ's first Crosscurrent order. Phil sent me a link to a website that let me track the position of the ship from China that my bike was going to be loaded onto. I was able to track its slow progress as it sailed to China and collected my bike.
While I waited, I ordered a collection of accessories to install on the bike to convert it from a sleek urban sports bike into what I needed - a slightly sleek urban commuter bike that I could use to get to work, carry some groceries on and not have to worry about it being easily stolen. From the UK I ordered a Suntour SP12 NCX suspension seat post, an Abus 5850 Pro Shield frame-mounted lock with heavy duty chain and a pair of SKS Bluemels mudguards. From Australia I ordered a Knog 250 lumen front light and rear flasher and from NZ I bought a Topeak Explorer 29er rack and matching Topeak DXP MTX trunk bag with inbuilt panniers. I also bought a set of Ergon GP3 grips, a Ciclosport CM 4.21 cycle computer and a MIRRYCLE MTB rear view mirror. The final purchase was an Orp cycle horn from the US. NZ$1,100 and 5kg of accessories later I was all set.
Eventually my bike arrived, delivered to my door in a huge box. I'm a bit of a handyman so I wasn't worried about needing to install the throttle, front wheel and handlebars myself - easy enough for anyone with an Allen key to do. I couldn't wait for my first ride, however the battery hadn't arrived with the bike because of hazardous cargo problems in China. While it was flown in separately I set about getting my bike sorted.
About 15 hours later it was done! I'd faced a few challenges, which from my reading of Juiced Crosscurrent forums, many other people had also faced. This bike isn't currently designed to have mudguards or a rack fitted - there simply aren't the required mounting points, but I managed to bend the rack to fit the bolts that hold the brake caliper on one side and the torque sensor plate on the other side. It sits a little crooked but it does the job. The mudguards were also a challenge as the Suntour forks don't have mounting points. Zip ties became my best friend. I'm a fairly fussy person and I like things to be just right, but the compromises I had to make to get the guards and rack fitted don't worry me too much.
Finally it was all done. The battery arrived and I got to experience how the bike rides. Smooth, meaty and with a subtle power that accelerates you quite quickly up to some crazy speeds. 45km/h is very easy to achieve. The bike feels solid on the road and the Suntour suspension seat post I added smooths most of the bumps. Stopping power is very good because of the larger discs and hydraulics. The 9 speed transmission seems perfectly suited to the power of the motor - having any more gears would be a waste I think. Range has been as expected with the smaller battery I have - about 30km of city riding with a few hills and lots of flat out, maximum pedal assistance use.
I find the throttle useful for pulling away from the lights when I'm in the wrong gear, but other than that I prefer pedalling, particularly because of the way the bike amplifies the pressure I put into the pedals. The assist is quite responsive and doesn't suffer from too much lag.
Things that could be better? Mudguard and rack mounting points are obvious, but the one thing that annoys me for no real reason other than aesthetics, is that the rear wheel is offset to one side by about 1cm. I contacted the manufacturer and Tora, the owner, replied that yes, that was the way it's designed because of the thickness of the torque sensor plate. Tora told me that these problems will be solved on later versions of the bike. Overall, the quality of the bike is very good apart from a few scratches on the inside of the frame around the rear disc, presumably caused during factory assembly.
With only 65kms under my wheels I can only hope that my Crosscurrent will prove reliable, however, based on my experiences with Juiced Bikes NZ and USA, I'm confident that any issues I do have will be fixed promptly.
So how likely would I be to recommend a Juiced Crosscurrent to my friends and family? I'll give it a 9 out of 10
STOP PRESS: The rack and mudguard mounting issues have been solved:
https://www.amazon.com/Ibera-IB-RA5-Touring-Bicycle-Carrier/dp/B00AA8GFSI
(Link Removed - No Longer Exists)
SKS
make a bracket to allow you to mount their mudguards on the Suntour NCX suspension forks using the mounting holes on the back of the forks.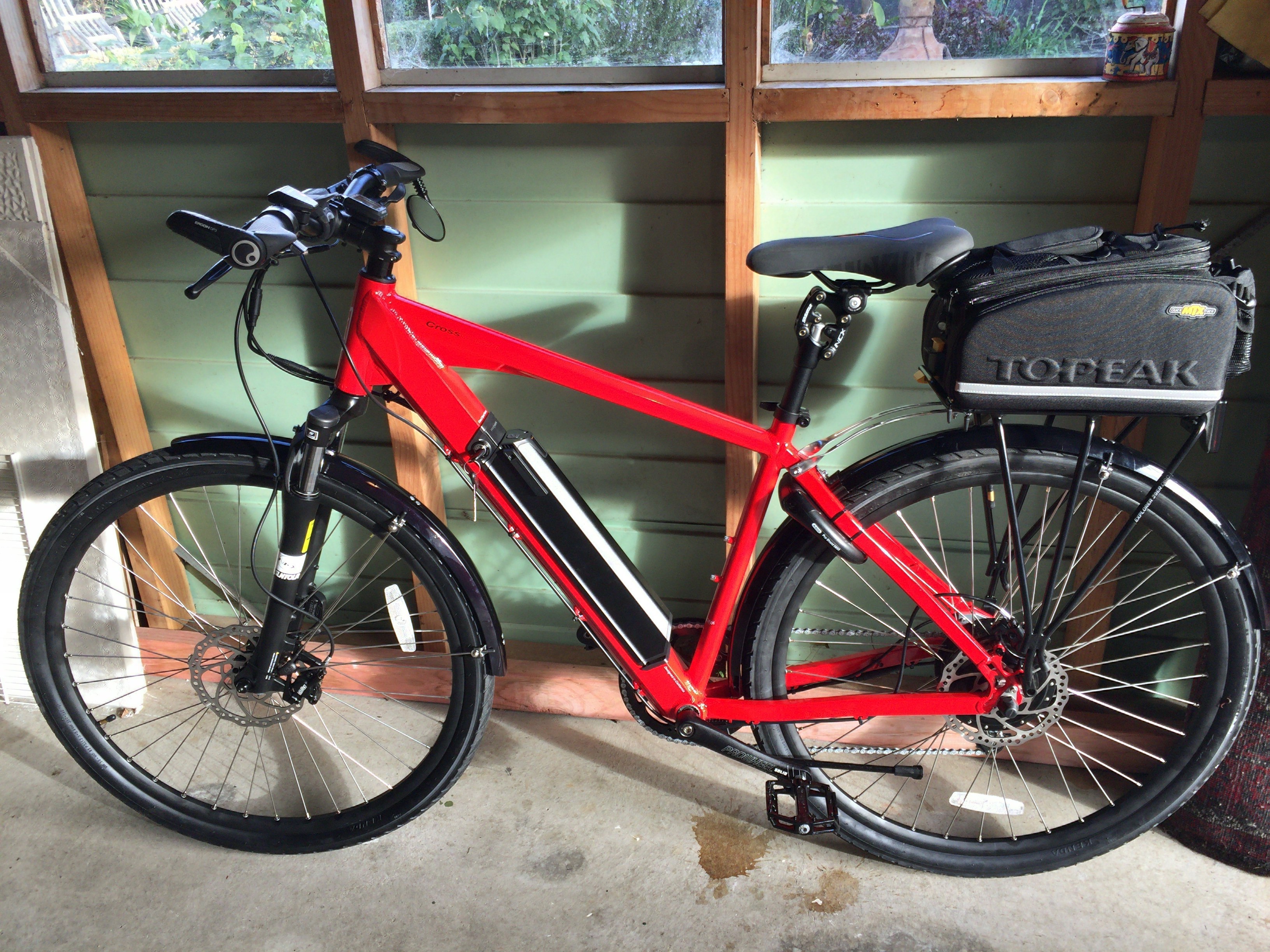 Last edited: