Greetings all!
Like the title says, I have a completely custom e-trike build in process. I hope to get as much advice as possible in hopes to mitigate any issues later on down the road.
So let's get up to speed! Haha! Get it? "Up to speed"... E-bike... terrible joke
... moving on.
I'll start by stating that this is a build for my Burning Man transportation while in the desert, so consideration for extremely invasive dust and harsh elements should be noted. I currently have a "rideable" trike custom built from 4 different bike frames. They've been "Frankensteined" together in order to accommodate 1 main rider and 2 passengers. Currently the entire drive train is connected so each occupant can pedal and provide assistance as we bike along. The down side is that the trike itself is quite heavy, so when I ride solo it takes an EXTREME amount of energy just to go around the block, and I'm in fairly good shape. The trike will be covered in lights and incorporate two 30' poles that will have strip lighting twisting up them (think barber shop pole), consequently a power source will need to be attached. On the back, it will also be carrying a loaded ice chest around the playa throughout the day. That, along with all the usual "accessories" required to play in the desert for at least a week and I'll approximately be carrying an additional 50-100lbs around with me at all times while riding solo, and 250-400 with passengers while I cover 5-15 miles per day. Hence the need to convert it to an E-Trike. With all the additional weight noted above, I fully expect to start riding by pedaling to get up to a moderate speed before implementing the electric drive, thus limiting the strain on both the motor and battery pack.
A few things I'm aware of already are:
1. Maneuvering the trike while riding solo at speed can be quite dangerous if I don't exercise extreme caution.
2. Stability and handling increases
tremendously
with the additional weight of just a single passenger.
3. Steering is... well... just weird until you get the hang of it, it's nothing like a traditional bicycle. I wonder if this is inherent to trikes or if the steering geometry is off?
4. Braking: An upgrade is mandatory as the coaster brakes struggle to stop just my weight on the trike now. Disk or Rim brakes?
5. The power source for the lights will be independent of the battery source for the drive kit.
I'm leaning toward a front wheel kit purely due its simplicity. However I'm not sure that would be the most efficient rout given the potential of additional weight I'll be hauling around. I estimate a fully loaded trike, passengers with gear and all, to weigh in around 400-800lbs. That being said maybe going with 2 rear wheel drive kits may be the better option, however that will dramatically inflate the cost of the project. My original budget was $1,000, but knowing Murphy's law usually changes everything, maybe $2,000 is a more realistic figure. Regardless, I will try to keep costs down without sacrificing safety. Once all the welding is done and cleaned up, she'll get sand blasted and painted. I'd like to finish all brackets and supports beforehand so not to have to paint twice.
Now, we all know threads are worthless without pics, and it's what everyone has been waiting for.......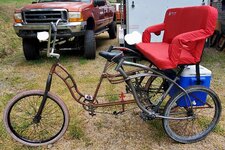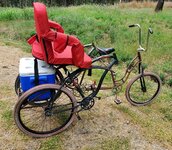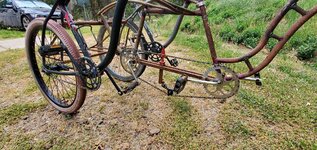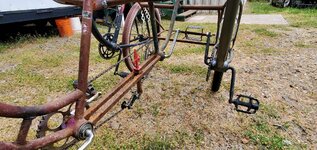 There she is,
HERE
is the link to the drive train in action.
I'm open to any and all suggestions! This should be a fun project!!!
Thanks, Dave.
Last edited: