This build is for my better half, 77yoa, with bad knees etc.
We have a 55 yr anniversary that is coming up and I would like to get her riding with me,
and surprise her with this build. (fingers crossed).
I have been doing hours worth of searching about building a decent women's ebike,
using this type of Brand/style, and kind of bike, and have contacted Pedaluma, for his thoughts/suggestions.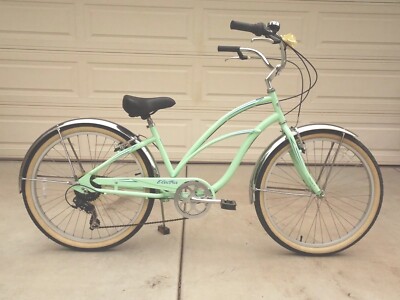 www.ebay.com
Per information I have found, (unknown to me, if it is true), with this certain brand of bike,
I can remove the OEM pedal crank and insert a 120mm BBSHD Bafang motor shaft into the BB housing, AND HAVE the motor sitting on top and inside the bottom part of the frame ??,
better ground clearance and protection for the motor for around here.
The distance from the BB and seat down post allows this to happen?
Click on the photo to enlarge and see what I mean. Is this possible and wise to do?? Read safety here..
So far upon checking other standard bikes I have not found ANY frames with this setback option. so far.
The only info on the build of this type, he built on a men's style bike, but I need a women's style.
This thread starts over on the introduction section so I will refer back to the beginning.
electricbike.com
This build MUST have a throttle, until the wife can pedal, every thing around here is UPHILL,
except for the valley floor, also fenders and maybe a front basket for her stuff etc..
Also the motor used must be programable for her use, also have 26" 2-3"semi wide tires,
48v 15a or better, battery for the back rack, (in nylon bag).
Is there more building sites for this type of information, as I am in the dark here.??
Thank you for you time and trouble,
Don
ps, I'll also be riding it.