Hi all,
This is a difficult question to ask, as the issue is somewhat complicated and difficult to describe.
I have a Trek Domane+ HP7 with the Bosch Performance Speed Motor, and an integrated proprietary mount (Blendr type thing) that is clamped to the handlebar between the stem bolts.
I love everything about the bike except.
1. The fact that the Kiox is bolted directly to the front light 'blendr' mount means it's not possible to adjust the viewing angle of the Kiox display independent of the light beam angle. I'm fairly sensitive about making sure I have my very bright front light angled in such a way as to not blind oncoming riders (on the trail) or drivers (on the road). Unfortunately, this puts the Kiox at an angle that makes it difficult to see in some lighting conditions.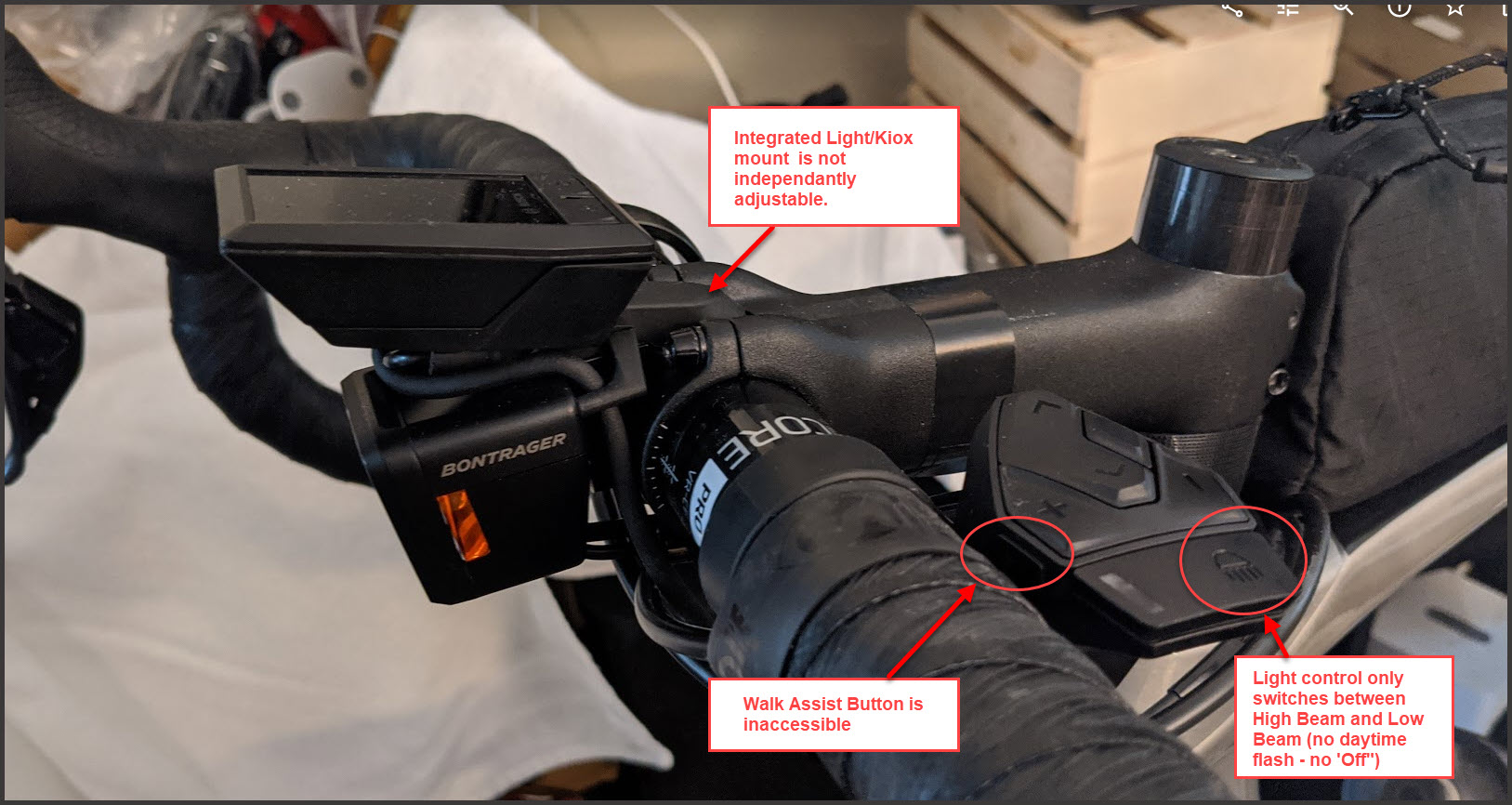 (PS: Please ignore the annotation about the inaccessibility of the Walk Assist button. Although it is annoying, and obviously poorly designed, it is not a big issue for me as I rarely if ever have need for it - I also used this image to show some of these issues to the management staff at my bike shop while in home isolation).
2. The Kiox lighting control is limited to switching between 'high beam' and 'low beam' using the Kiox control pad. I need to have a flashing daylight 'see me light' mode and want the ability to turn the light off completely when it's not needed at all (riding on a rural bike path on a sunny day, working on the bike in the stand, etc...) . I'm not sure if this is something that could be changed in the software the dealer has (if it is, they aren't offering), but I don't see any options to change these settings in the Kiox menus or the phone app (connected via BlueTooth).
I've done a lot of digging around looking for alternative mounts that will separate the Kiox from the light so I can adjust them separately. So far the only solution I've found (that I can actually get in the US anyway) is the
Blendr Kiox Mount from TrekBikes.com
.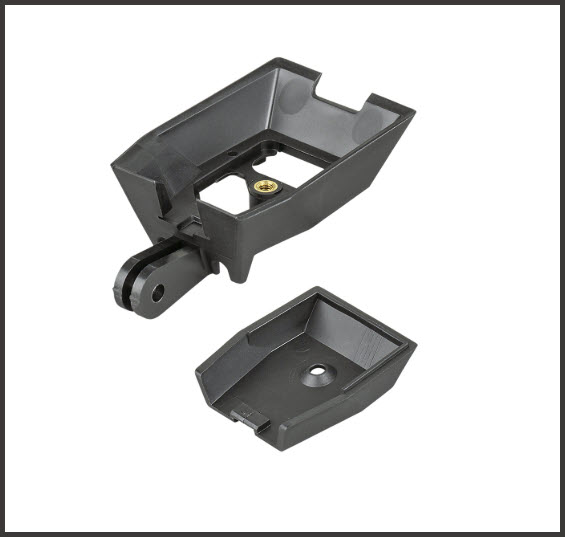 I have ordered one of these, but I don't actually have it yet. I will likely end up using this solution though.
There is one other option, and that is the standard 'Stem Cap' Kiox mount, which is used on many MTBs.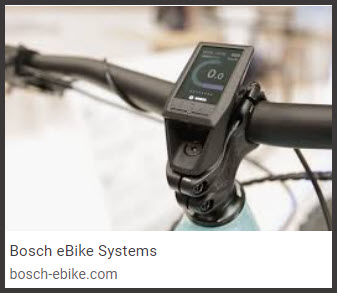 These are easy to come by, but I tried it, and it is not a viable solution for me as on the drop bar road bike (with a long 120mm stem) the display and it's controls are too high and too far back to see without taking my eyes off the road.
Unfortunately, using the Kiox Blendr Mount will mean that I have to use a different front light, as the Bontrager light's housing is integrated into the Blendr mount (hard to see in the picture).
I've been looking around at lights, but it's so very confusing. Bosch says any 12V light with max 1500milliamps output will work. I don't know if that is combined output, or applies to front and rear independently. I don't ride in pitch black conditions, so I don't need a mega bright light. Enough light to light the paved path in front of me at a safe distance is fine. I do want to replace both the front and the rear light , as the current rear light is mounted under my seat and is not visible with my commuter bags attached, so I need an alternative there as well.
My light requirements are.
Powered by the Bosch motor/battery, preferably with minimal modifications (i.e no drilling, etc.. nothing to invalidate my warranty). Plug and play is ideal, but I'm not opposed to doing some soldering/splicing as long as I have very detailed instructions that can be implemented without invalidating the warranty.
Must have Off/Bright (night)/Flash (day) modes at a minimum. Having multiple brightness settings (high/low beam) is fine, but these three are a must.
Needs to have flexible mounting options. If I end up with the Kiox Blendr mount, I can't directly mount using a Blendr (middle of the stem) attachment, so either something that can attach to the lower stem bolts, or a low (narrow) profile handlebar mount (preferably with the light underneath).
Ideally, it would need it's own control button (on/off mode change), as I don't see any options to change the functionality of the Kiox light contol butting (only changes between high/low beam).
Must be friendly to oncoming traffic (riders, pedestrians or drivers). I commute mostly on an suburban bike path and don't want to blind oncoming cyclists. I'm not off road, so don't need a particularly wide beam pattern. Somewhat bright and focused down to the path in front is me.
Not too fussed about price. I'm happy to pay a premium for a good quality light that suits my needs.
I'd prefer the two lights are from the same manufacturer. I've looked at Supernova, Lezyne, Light and Motion, but there is so little information about these on the manufacturers websites. i.e. how they integrate to the existing Kiox software and control button (vs. having their own independent on/off button). Anyway, I'm very confused about how to proceed here. I think I've solved the Kiox mount problem with the dedicated Blendr mount. Now I just need to find a lighting system that does what I need, is fairly easy to install, and won't invalidate my warranty if I install it myself (the shop that sold me the bike won't install anything they don't sell).
The Supernova lights are particularly appealing looking at their website, but the 'dealers' listed for my area don't seem to stock anything in the store, and the employees don't know anything about them. Being a German company (I'm in the US) has made it difficult to talk with them about the details I'm seeking.
I guess I'm hoping against hope that either someone from Bosch or another user here can point me in the direction of a lighting solution that meets my needs. I'm not having much success at the shop where I bought the bike, or communicating with Bosch or Trek directly via email. So far, everyone is pointing fingers at 'someone else'.
Thanks in advance