The Thudbuster seems to be mentioned in many of the bike reviews here and the BodyFloat is recommended in the Trek XM 700+ review. I thought the Thud Buster long travel version was my ticket.
However in the long-travel version I tried you seem to have to alter your pedal technique a little to keep from bouncing. I was in a Pedego dealer and rode the owner's Bodyfloat, and besides the obscene price starting at $249 for aluminum (more for carbon, and a precious metal price for titanium), that is the answer. Bodyfloat claims it's because they don't rely on dampening. I also prefer the Bodyfloat's industrial design.
Anyway for whatever reason - Wow! I'll update after a couple of weeks of use.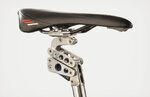 Last edited: