Region

Europe
City

Mazovia, Poland
I am not particularly happy with the 1x10 drivetrain of my Vado SL (not because it is bad but) because there are too big "jumps" between gears, so I spin in one gear and mash in the next.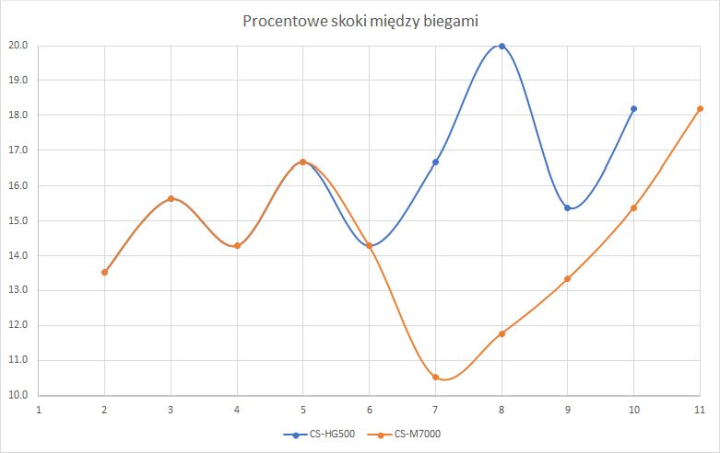 Percentage of "jump" between neighbouring gears. As you can see, there is a big jump between the 6th-8th gear for 10-speed CS-HG500 of my Vado SL 4.0. I spend most of my pedalling time at these gears.
I'd like to swap the drivetrain to 1x11. My full power Vado 5.0 is equipped with such drivetrain and I am very happy re maintaining favourite cadence.
Currently:
CS-HG500 11-42t cassette
Shimano Deore RapidFire 10-speed shifter
Shimano Deore, Shadow Plus, GS cage, 10-speed
I would like to replace to:
CS-M7100 11-42t, 11 speed
SLX 11-speed shifter.
Of course, the chain needs to be replaced, too.
CS-HG500: 11-13-15-18-21-24-28-32-37-42t
CS-M7000: 11-13-15-17-19-21-24-28-32-37-42t
Now:
Does it make sense?
Will I need to replace the derailleur, too?
General thoughts?
Whoever has experience with such an upgrade: articulate!