I have owned the Liberty Trike for several years now and it has served me well. This year I added a Rad Trike to my garage. There are so many similarities that I decided to write a comparo.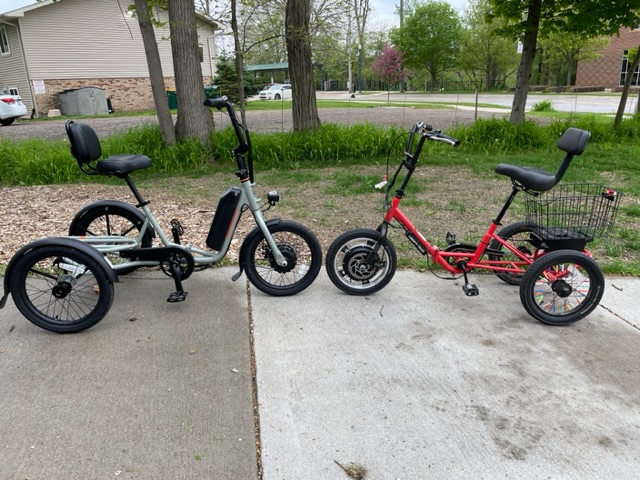 Both trikes have a front disk brake and a rear coaster brake. Both have front hub motors. Both are single speed with one rear wheel driven by the pedals, and one rear wheel that freewheels. Both have reverse. They have similar geometry; both can turn on a dime. (Be careful with that!)
Size:
The most noticeable thing in this picture is the size. The Rad is bigger. I am almost six feet tall and I always felt like a bear on a bicycle, on the Liberty Trike. In fact I replaced the Liberty Trike seat post with a longer one. (Which broke, ouch! I put the stock post back on.)
The Liberty Trike also has teeny tiny short cranks, which make it hard for me, as a large person, to pedal. I measured and found that the cranks on the Rad are 40mm longer. Feels vastly better.
The Rad is about ten inches wider than the Liberty. Which makes it more stable. Note that I never had a problem with tipping the Liberty. And the narrower Liberty Trike is easier to take into tight spots like the farmers market or to watch a parade. And I have ridden the Liberty Trike right into the supermarket; I would never do that on the Rad. But I am more comfortable going fast on the Rad.
Both trikes come apart in the middle, to pack into smaller spaces. But the Liberty definitely wins in this area. I carried it in my small hatchback several times. I am never going to attempt that with the Rad. It requires tools to take that joint apart and it's still huge when disassembled, even though the bars fold down. It is probably possible to get it in my car but I am not physically strong enough to play Tetris with it.
Frame and Components:
Neither of these trikes come out smelling like roses, in this area.
The Liberty Trike is a pedal trike from Worksman Cycle, that has had ebike stuff added to it. Worksman Cycle is the oldest bike manufacturer in the USA, but they aren't in the mainstream of bicycling. They specialize in bicycles for the disabled, and for industrial uses. They have never focused on making things work smoothly and efficiently. The frame and components are sturdy but crude. For example, the steering head bearings on my Liberty Trike were loose, and could not be adjusted. You can hand tighten them but there is no locknut so they loosen instantly. I just rode with it like that. It didn't get noticeably worse, it was just perpetually loose and crunchy. Another example is the cheap one-piece crankset. You can't upgrade the headset or the cranks, because they are a completely different size than modern components. You can't change the pedals for normal ones, because they are 1/2" and everyone else uses 9/16". (Though I was able to buy pedal extenders that adapted them to normal size. And I see that the current Liberty Trike comes with those.) Despute all this, I rode my Liberty Trike for years and it served me well! It's just that it's more comparable to a mobility scooter than to a bicycle. You can't really tune it up and make it smooth, but it doesn't disintegrate from lack of tuning, either. It will be below average without failing, for the long term. Hardly any point taking it for a professional tuneup.
The Rad has a nicer frame with normal headset that can be adjusted, normal three piece cranks, smooth bearings, etc. But it arrived improperly assembled, with a bent axle, and I also had to do some wheel truing. These quality issues were fixable and now it's smooth as silk. The Rad trike responds well to tinkering, but it needed more tinkering than it should have, to make it roadworthy when new. If you aren't a bicycle mechanic, you might want to hire one to set the Rad up, and take it in for a tuneup now and then. You don't need an ebike specialist (unless something breaks), just a normal bicycle mechanic should be able to handle it.
Electric bike stuff:
Liberty does not have pedal assist. The Rad has one of the better cadence sensing pedal assists I have tried.
Liberty has a nice LCD display with speedo and odo. Rad does not.
Liberty has five bars for the battery, Rad has ten.
Both have reverse but Liberty reverse switch is easier to operate.
Rad has headlight and taillight that run off the bike battery, no separate batteries to charge. The taillight has a slick integrated brake light. Liberty has no lights.
Rad has more battery range.
Both have five levels to choose from, but the levels do different things. The levels on the Liberty control the max speed from the throttle. The levels on the Rad control the max power from the pedal assist; the throttle has max power available all the time.
Both have computer-limited top speed. The Liberty is limited to 12mph and the Rad is limited to 14mph. While it is technically possible to pedal either of them faster, you would have to have more agility than me since they are single speed and the cadence would be superman fast. You can also get them going faster on a downhill, but I would only do that on the Rad, the Liberty gets scarier at high speed.
Accessories and cosmetics:
The Rad has great lights and three high quality fenders. You pay extra for racks and baskets and display. There are more choices of accessories for the Rad. Gray is the only color choice.
The Liberty has a nice display and a rear basket, and some may come with a very basic front fender. You pay extra for lights and rear fenders. Liberty is available in ten colors.
Conclusion:
The Liberty is better if you need to transport it, if you need to ride it in tight spaces, or if cost is a big factor. The Rad is better if you are a bigger person, if you want to go faster, or if you like to tune it up so it will ride smooth and quiet.