We live in a very hilly area of the , er, Texas Hill Country. I've been an long time avid biker, my wife and I rode some 1,500 miles from St. Louis to Maine then down to Virginia on our honeymoon. However, at age 75, in spite of best intentions, I just don't have the will to tackle the hill just outside my property gate, and haven't been on a bike in 6-7 years. With my primary form of minimal exercise, stationary bike at the gym, not feasible due to Covid, I started looking at other options. Several weeks of research led me to e-bikes, and is somewhat a natural for me, with 6 motorcycles currently in my garage. I finally settled on a espin bike. Ordered one for my wife, which due to accepting a less-popular color, came within 10 days or so. However, the similar model for myself, ordered back in October, has yet to arrive, and I'm still waiting for a response to the 3 separate voice messages I left on espin's phone some 3 weeks ago. We love my wife's espin "Flow", but after reading several posts from enthusiasts who placed an espin order as far back as July and August, still waiting for delivery, I decided to reluctantly pull the plug and get my money back. I now have an NCM "Moscow" Plus arriving on Tuesday (just 8 days after order placement). It is a few hundred more expensive, but the performance specs are slightly superior to the espin, and comes in a 29" wheel to accommodate my 6'2" frame. I also like the 3 sprocket front chainwheel, which should give me a bit more speed on the downhills.
I'd honestly pref a matching espin "Sport".. I find the design more elegant, and it doesn't have the garish graphics they have slapped on the Moscow, but I have to consider how I will get support from a company that just absolutely does not answer nor return phone calls.. inexcusable in my book. In contrast, most reviews of the Leon Cycle "Moscow" praise the company's excellent support and phone responsiveness, so I think in the long run I've made the right choice. It's all about having the fun without the anxiety or frustration!
UPDATE.. Well, my LeonCycles Moscow Plus arrived today, just a week after ordering and a day earlier than original projection. It looks good and assembled easily. However, after I charged the battery and installed it, the bike wouldn't power up. I placed a quick call to Doug at Leon Cycles (west coast) about 3 PM.. He asked me to send a short video showing the LED status lights I was getting on the battery. Within 30 minutes, I got a reply saying they were sending out a new battery asap. Before the afternoon was over, I already had confirmation from FedEx that they had picked up the battery and it's on its way to me! What a reassuring way to start off a purchasing relationship. I am still waiting for a return phone call from any one of my 3 voice mails left with espin bikes some 10 days ago. I'm so pleased I chose this company.
My only issue with this bike (even before receiving it) was the garish in-your-face graphix on the wheel rims. I guess that appeals to some, but just not my cup of tea. I don't want to feel like I'm on a carnival ride.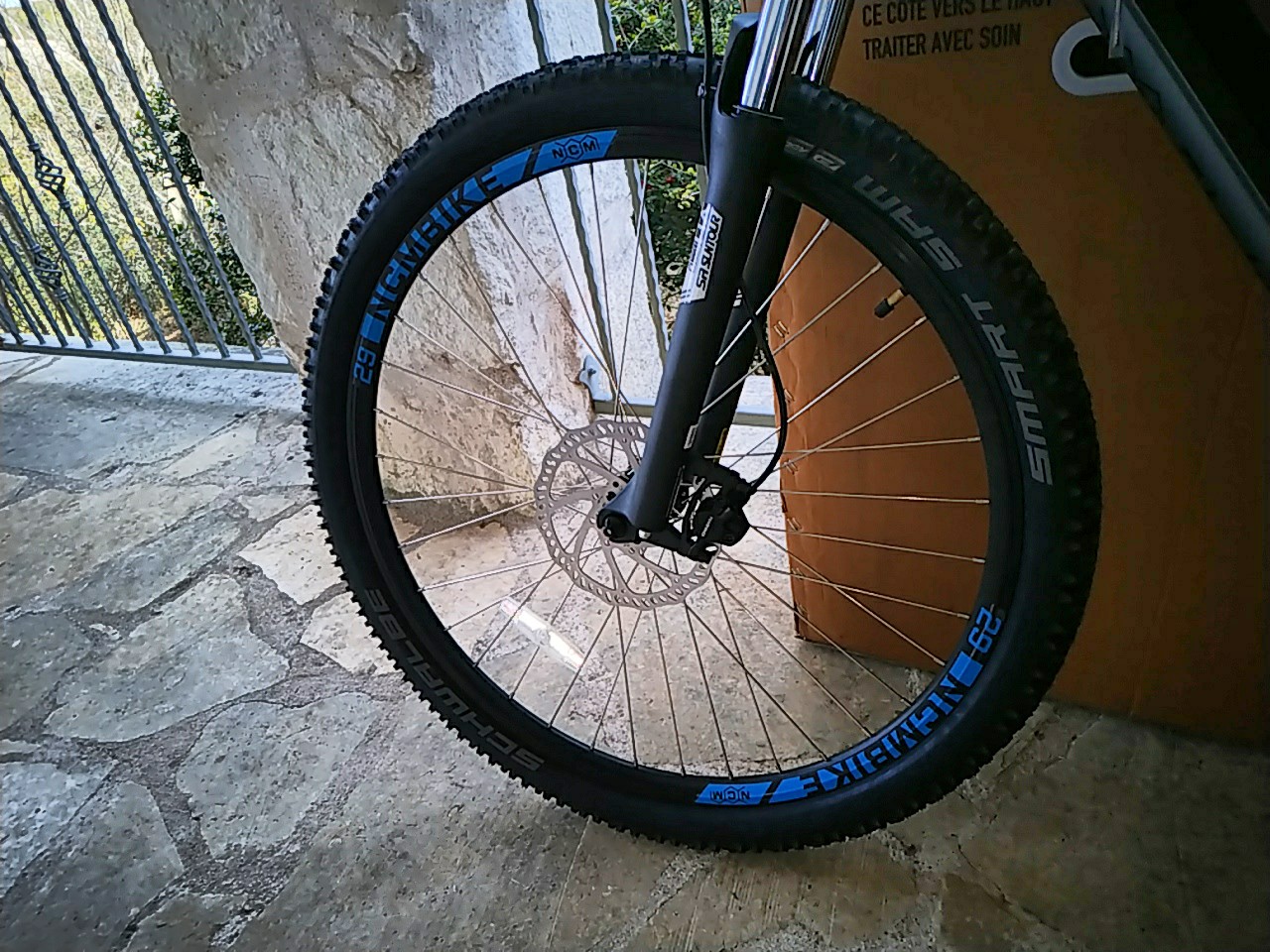 However, when the bike arrived, I was relieved to see that those wheel graphics are just self-sticking appliques. In very short order, I had them removed all the way around, leaving, in my opinion, a much more tasteful bike: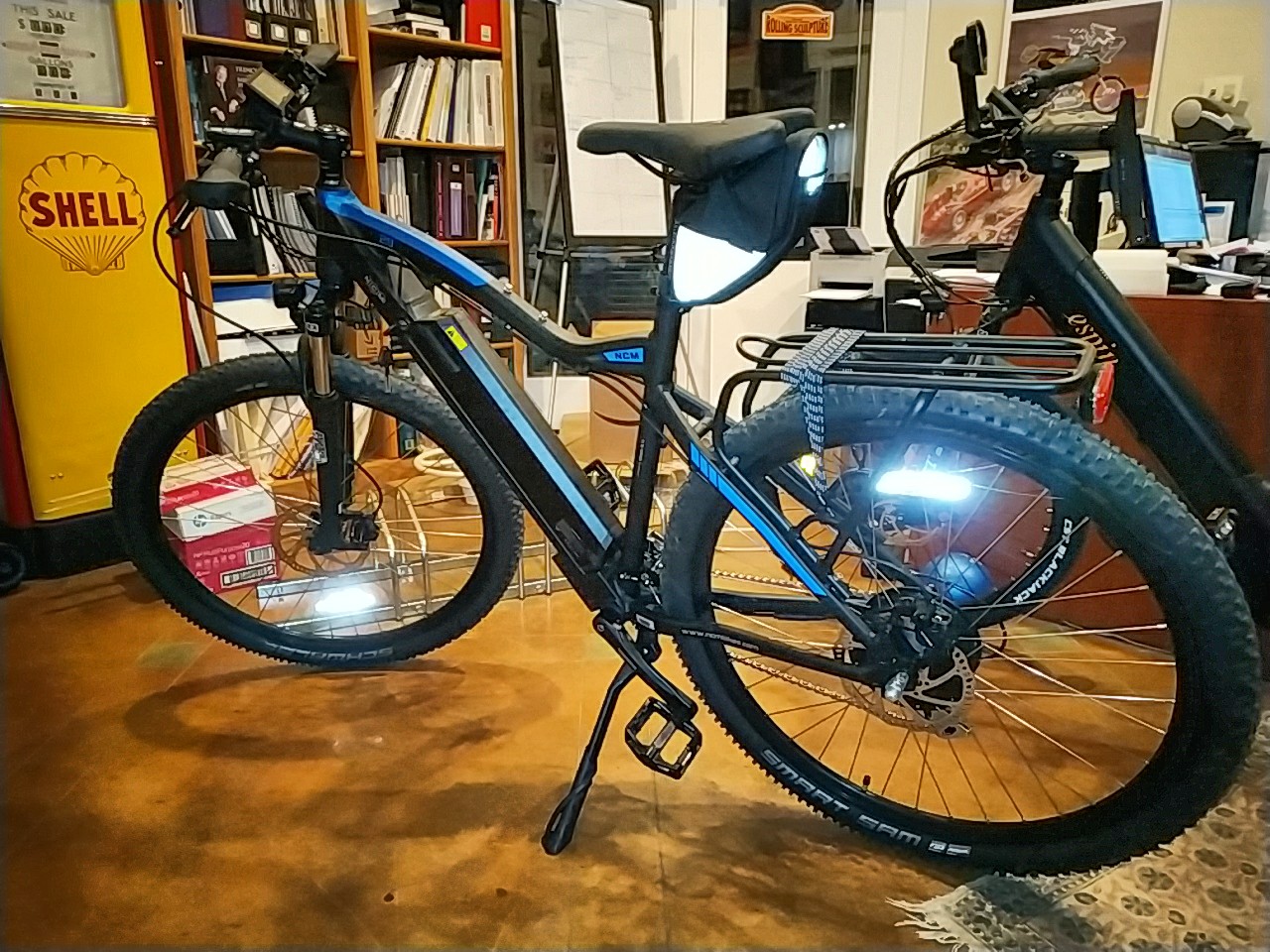 I can live with the remaining blue accents on the frame, all of which were actually painted on, not stick-ons.
I'm 6'2" so I ordered the larger bike with 29" wheels. In retrospect, I should have perhaps gone for the 27.5" model, as this is a REALLY BIG bike (but weight similar to the espin at roughly 55 lbs)
Last edited: