Region

Canada
City

North Vancouver
Hello,
I'm new here and I'm looking for an e-bike for my commuting. Before covid I used to ride my "normal" bike (i.e. not an electric one) for my commuting. I live in a upper neighborhood in North Vancouver (Canada), the way down in the morning was never an issue
But in the evening, at the end of my work day, the way up to home was quite a challenge and I used to do only the half-way on my bike, and then put my bike on a bus for the last part after the bridge. You can see my route in the below screenshot, and you can see that the last 5 km are quite steep - some parts have a 8-9% grade. I worked from home for the last 2 years but I will have to go back to the office soon, and since I didn't do much sport recently, and I would like to avoid the bus, I'm looking to buy an electric bike so I can do all my trip on my bike.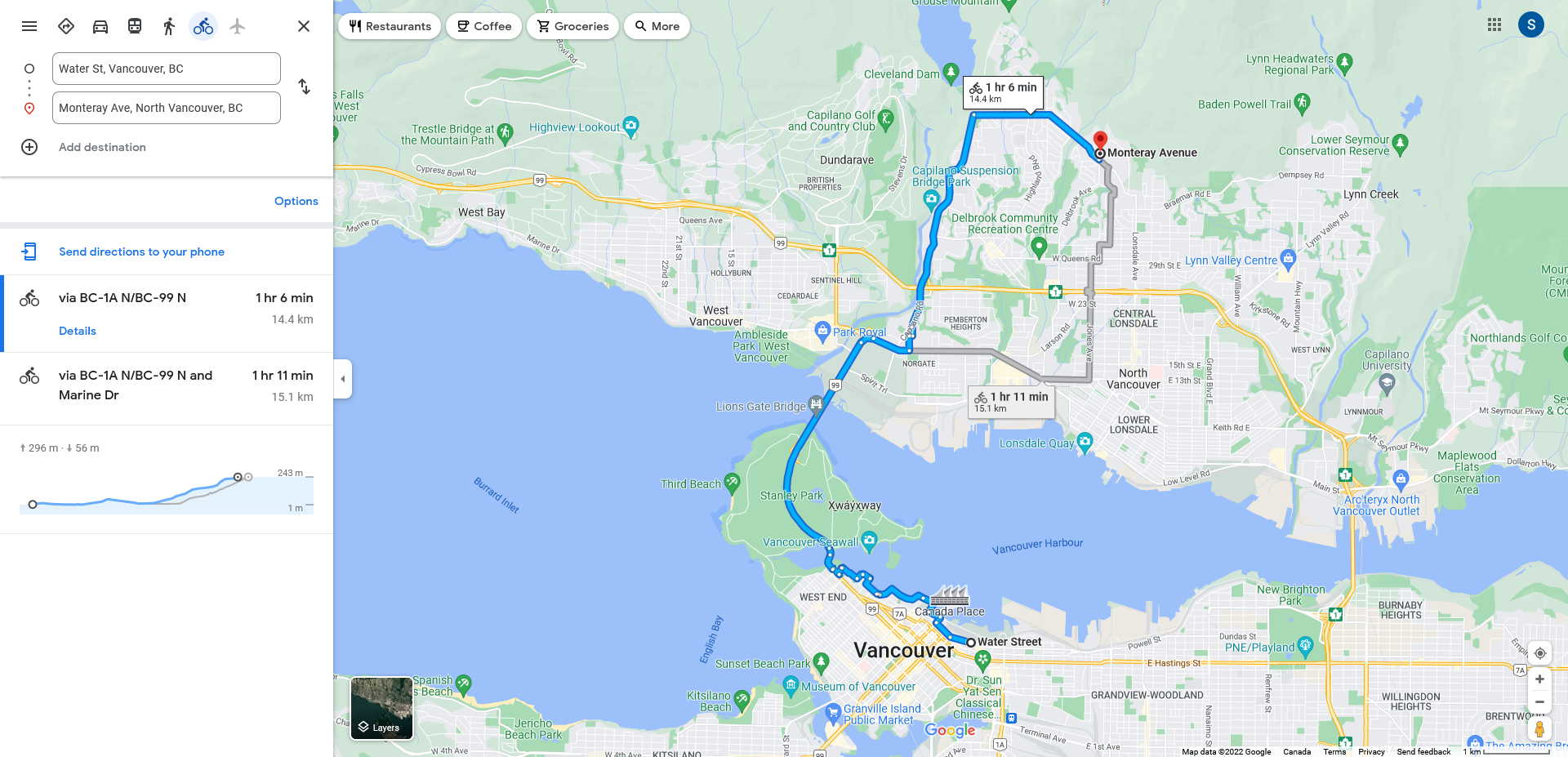 I tried lot of different models, and I read lot of posts on this forum and watched lot of reviews, but I'm still struggling to decide about the one I want to buy.
First, the best model I had the chance to try so far: Gazelle Medeo T10 HMB (Bosch motor - 500Wh - Torque 65Nm - $4300 CAD)
(actually I tried some better models but they were all +$4500 CAD that is way too expensive for me)
I was able to test it around my home and I know that it can manage the steep roads without any issue. The motorization is really powerful and the acceleration is smooth, that's a great one to ride and it fits well my size. The main issue with this bike is its price. I could buy it if that's the only choice but I'm wondering if I could find another more affordable bike. The issue is that all the other models I tried with less powerful motors (50Nm or less) gave me the feeling to really struggle as soon as I was on a steep road.
Secondly, one bike that is still a bit of mystery to me is the RadCity 5 Plus (Rad motor - 500Wh - Torque 58Nm - $2300 CAD). It is much cheaper, the motorization is totally different and honestly I feel it's less comfortable (I have the feeling to be pushed like on a motorcycle), but overall that seems to be a really good and well equiped bike for the price. I had the occasion to test it on flat roads only, and it was a nice ride, but I'm struggling to find any information about how it will manage my specific road with steep parts. If I can be sure that it will be fine on the long run, I would go for it mainly because of the saved money compared to the Gazelle. Did anyone already have the chance to test it on really steep roads?
Do you think of any other e-bike that would be a good deal in the range $2000-$4000 CAD and that could handle steep roads? Ideally I would like to be able to test it before to buy it. Thanks a lot for your help.
Cheers