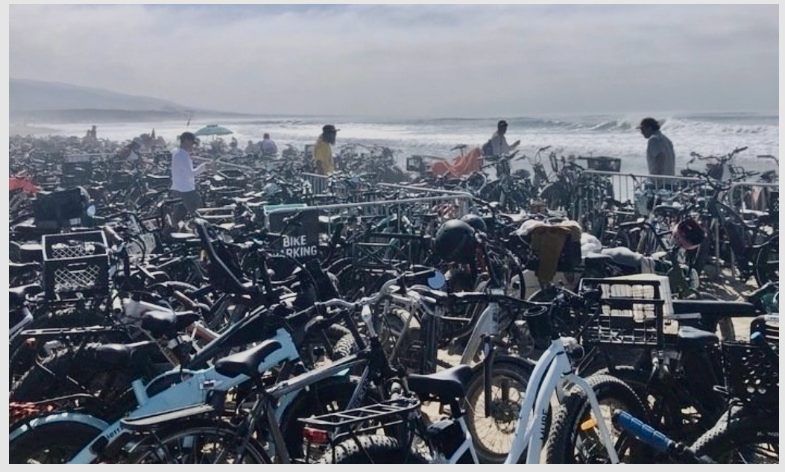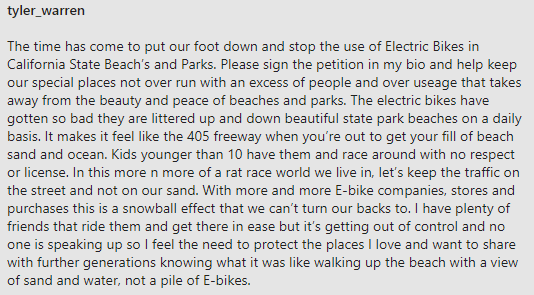 E-Bike Plague Hits State Parks​
Tyler Warren starts a petition to stop the spread.​
Tyler Warren started a petition to save State Parks from E-Bike invasions
.
The Orange County native is a surfer-shaper with an affinity for heritage surf craft, whimsical lines, and tranquil beaches. Yesterday, Tyler sent out a rally cry to preserve space on sand. The photo depicts e-bikes shading the beach like ants on a three-day-old Cheeto. See the post below:
Tyler's words and unsettling imagery prompts the question—Has the E-bike takeover done more good or harm? Our inner naturalists love the electric power and loathe the sandy tire tracks— just like our wallets enjoy the gas change and
hate the hospital bills
—an unusual predicament.
So far, Tyler Warren has collected 1300 signatures on his petition.
Tyler Warren started a petition to save State Parks from E-Bike invasions. Read the full petition and join the discussion.

stabmag.com
Notice in the middle of that picture is a sign clearly designating that as bicycle parking and has bike racks all around the perimeter.
Tyler obviously tried to make this look like it was all ebikes but you can also see many pedal bikes and that is where they are supposed to park. How did Tyler and his friends get to that beach? In a car? "I have plenty of friends there that ride them and get their in ease". Maybe Tyler just couldn't remember where he parked his bike?
Most surfers I know have always had this attitude that the beaches belonged to them and hate anyone else that might want to enjoy them and has their tax money used to provide these recreation beaches for people to use.
Your thoughts?
Last edited: