please, no debate here on phones vs. bike computers, which seems to be right up there with "tubeless vs tubed," "steel vs carbon," and all the other hot-button religious fervor debates in the cycling world! this thread is not about the pros and cons of one or the other, rather a different way to use a phone on a specialized eBike as your computer.
i have logged just about every single ride i've done on my creo using mission control; which then uploads to strava. sometimes i also use rideWithGPS for navigation, and in the beginning i tried a few other apps like cyclemeter. i use an iphone 12 mini for this, which has an OLED screen, plenty of battery life, is very light, and attaches nicely to my roval alpinist cockpit via a quad-lock case and some other little bits. this method works very well for me but there a couple frustrations:
1. the mission control "rider power" display ONLY shows the instantaneous power, with no opportunities for averaging.
2. the garmin varia "radar overlay" is available in rideWithGPS, but not mission control.
3. no app other than mission control (or BLEVO, which some like but i do not) can receive the bike's power, cadence, and speed data over bluetooth.
it's unfortunate that the creo (or other specialized e-bikes) transmit their sensor data over bluetooth using proprietary profiles or protocols. not surprising, but too bad. many have fiddled around with this, to no avail. however, as many here know the bikes DO transmit their data via industry standard ANT+ radio, a common standard in the e-fitness realm. so.... how to get that data into any of the plethora of iPhone apps for cycling!?!
it turns out there are two readily available devices which do so, the 4iiii viiiiiiiiiiiiiva heart rate strap/ant bridge, and the north pole engineering "cable." i'm going to focus on the latter. the device itself is a small oblong bit of plastic, a few grams in weight, with a coin cell battery.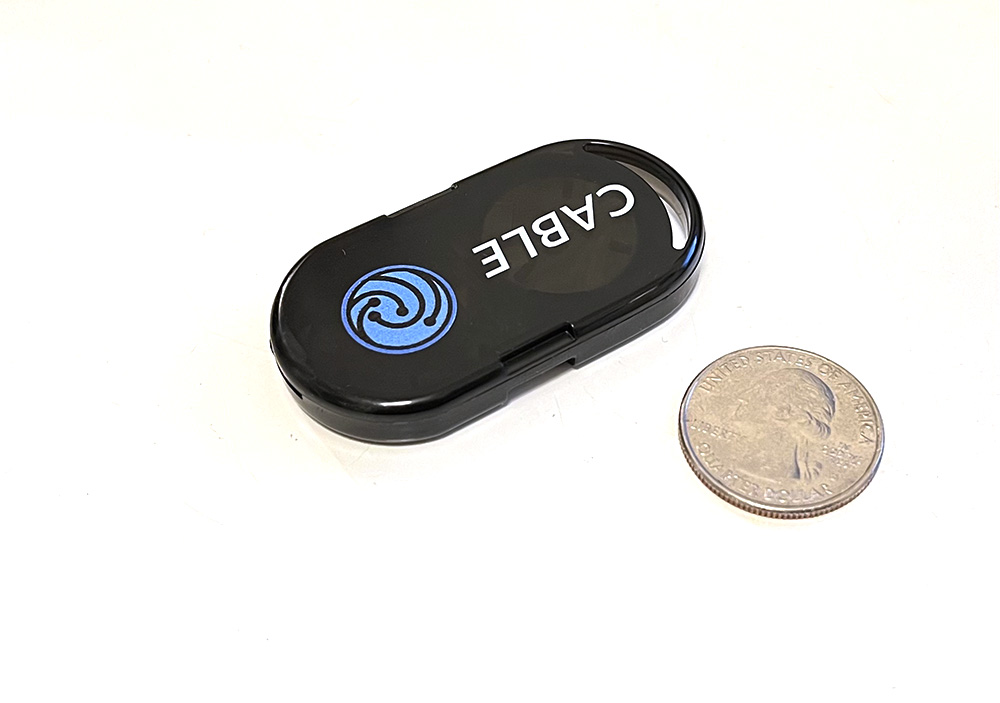 to use the bridge, you have to run an iOS only app called "cable util." this is a pretty straightforward little app, it pairs to the cable via bluetooth, and then shows a list of detected ANT+ sensors and their type. in my case, it detected a "11270 PWR" device, a "11270 Speed & Cadence" device, and a 56895 "Heart Rate" device. these can be selected and then the app has options to determine what bluetooth profiles to bundle them into - fitness machine, bike power, etc. i chose "CPS" which combined speed, cadence, and power into one "device" and added heart rate separately just for kicks - this is not necessary since my heart rate monitor also broadcasts via bluetooth itself.
here are the two screens to pair the ANT+ creo sensors to the CABLE, and then choose the bluetooth profiles to rebroadcast on. i took this screenshot away from the bike after setting it up, if i was near the bike the one on the left would have the live data, allowing you to see if it's working by turning the crank etc.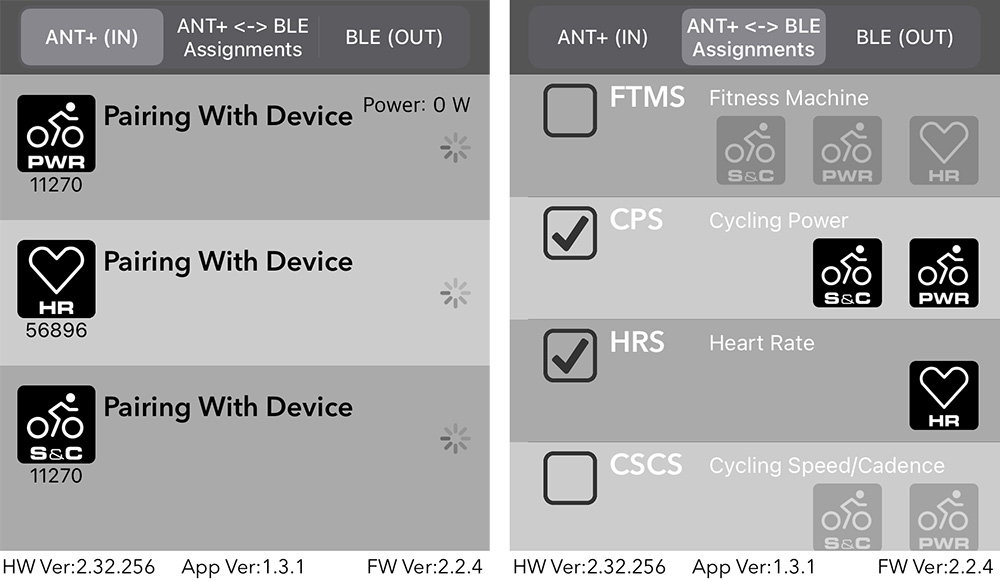 very easy. HOWEVER, i'm sort of an idiot, and struggled with the "power" channel for a while because no matter what i did, it was stuck on a value of "97." even if the bike was stopped. i unpaired, repaired, rebooted, turned the bike on and off and cycled power levels. this was the result of the "fake channel" setting in mission control, which allows the creo to broadcast it's BATTERY LEVEL on one of the ANT+ channels, so that you can display it on your cycling computer. mine was set to power, so it was cheerily broadcasting "97" as the power, no matter what. i suppose if i'd fooled around with it long enough it might have dropped to 96 and i'd have figured it out that was as well. jump to mission control, turn off the fake channel, and resume.
at this point i quit the CABLE app, never to be used again probably, and stuck that little sensor in my pocket. it would also fit many places on the bike.
the app i decided to try first was "cadence," a very full featured cycling app. i was particularly interested in the really robust dashboard configurations AND the fact that it can overlay the varia radar bar and warnings on the dashboards. i didn't bring my varia today, but i'm sure that part works. piece of cake to add the bluetooth sensors. i did not select "pedal balance" because the creo doesn't have a dual sided power meter. the dashboard layout editor is amazing, you can choose the size of the elements and select from hundreds of possibilities. it's also very easy to enter a custom wheel circumference, although i have not determined which value takes precedence - the one entered into the cable config app, or the one in cadence.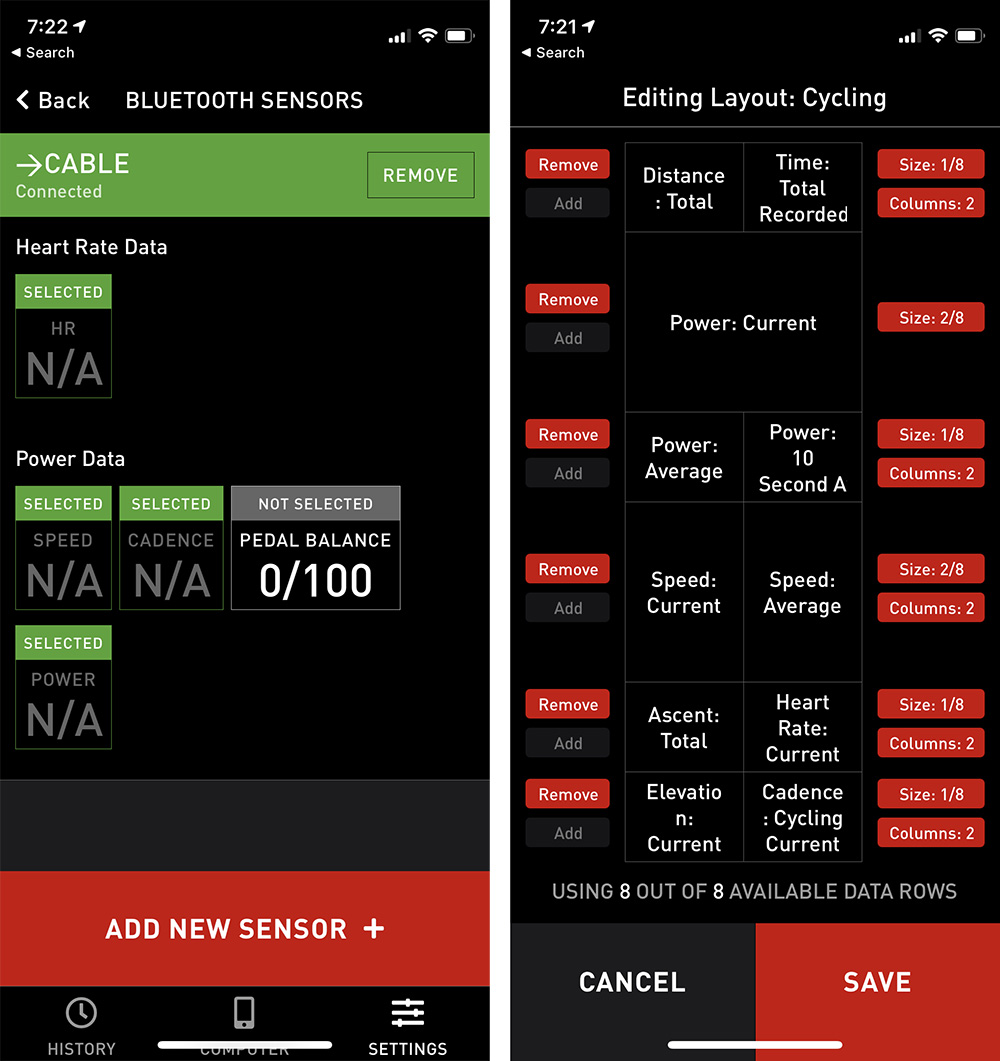 so, with that done, i rode up the block and back. i had just finished a nice hard ride, so it was truly just a quick test.
it worked exactly as hoped/advertised. here's a quick video, at 4x speed. after the ride, of course you can upload it to automatically to strava, apple fitness, etc. there are tons of great stats available, including the expected charts over time of all the data, averages, etc.
what remains to be seen, of course, is how reliable the two connections are - bike to cable, and cable to phone. the ANT+ protocol is, as i understand it, broadcast only and not really "paired," but i'm not completely sure what wakes up the cable device, and whether the cadence iphone app will hold the connection stable for hours at a time. no reason to think it shouldn't, but you never know...