I found another thread
Here
discussing the same thing, however it seems I have a slightly newer version of the same bike. My controller only has 4 waterproof plugs/wires coming out of it:
- 2 pin for power from battery
- 9 pin (I think) to motor
- 3 pin yellow plug to Pedal assist sensor
- 6 pin black plug to front of bike (splits into sever plugs for LCD/Brakes etc)
There is no spare throttle cable lying around, I thought I might be able to solder a wire to the pads on the PCB, but when I opened up the controller it has been filled with epoxy to (I assume) prevent modding, So I'm guessing if I want to add a throttle I need to replace the controller.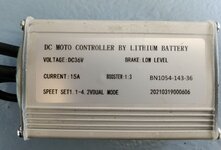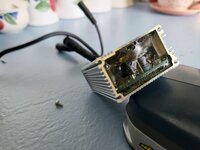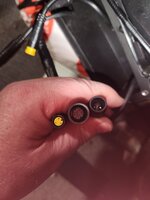 This
is the closest I've found to the original controller, It seems to have the same 9 pin plug to the motor, but all of the other plugs are the more basic non-waterproof plugs. I assume with a little cutting and splicing I can get it to work, but ideally I'd like the process to be non-destructive.
I've looked around and cant seem to find a replacement/sacrificial splitter cable (similar to
this
) that has the same plugs as mine; which is a 6 pin plug from the controller, that splits into 3x 2-pin (red) plugs for the brakes and horn (the horn is a male plug, the rest are female), a 6-pin (black) that goes into the LCD (OMT-M3) and a down facing wire from the splitter the the front light which is a male 3-pin (yellow) plug.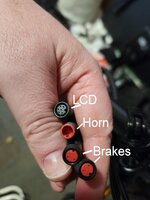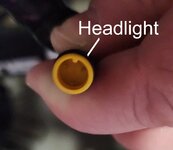 Will this controller work fine? if I can find a spare 1 to 5 splitter cable that matches, presumably I can cut the 6-pin plug off the bottom off my original one and splice it into the correct wires on the new controller, and just keep the new for a spare if I ever want to put it back.