it's been a rough few months for me with major health challenges that have led me to mothball my acoustic road bike - an s-works aethos which is by far the best cycling experience i've ever had, by a longshot. but riding such a bike at a reasonable speed on the steep hills of san francisco and the long hills of the rest of the bay area is no longer a good idea. i was on the fence between riding not at all, or resuming some road rides with enough assist to reduce my input to ±150w average over a long ride, at a heart rate of 80-90bpm.
i decided to see if there was a road bike experience close enough to what i'm now dearly missing, so i picked up a scott addict rc eride. this is a mahle x20 based bike, so of course i am a bit leery of the stability of the software and electronics. i currently still have a specialized turbo creo, heavily upgraded with carbon wheels, one piece cockpit, drivetrain changes, etc etc. it's a nice bike, but exemplifies the "jack of all trades master of none" problem with gravel bikes. the 1x drivetrain is not well suited to road riding, for one. although mine is down to 28lb or so, it still feels like a tank compared to the aethos.
i didn't like the color of the addict that came with the build i wanted, so i got the next tier down and changed out the cockpit, cranks, cassette, and am in the process of changing the saddle and seatpost. here's the bike :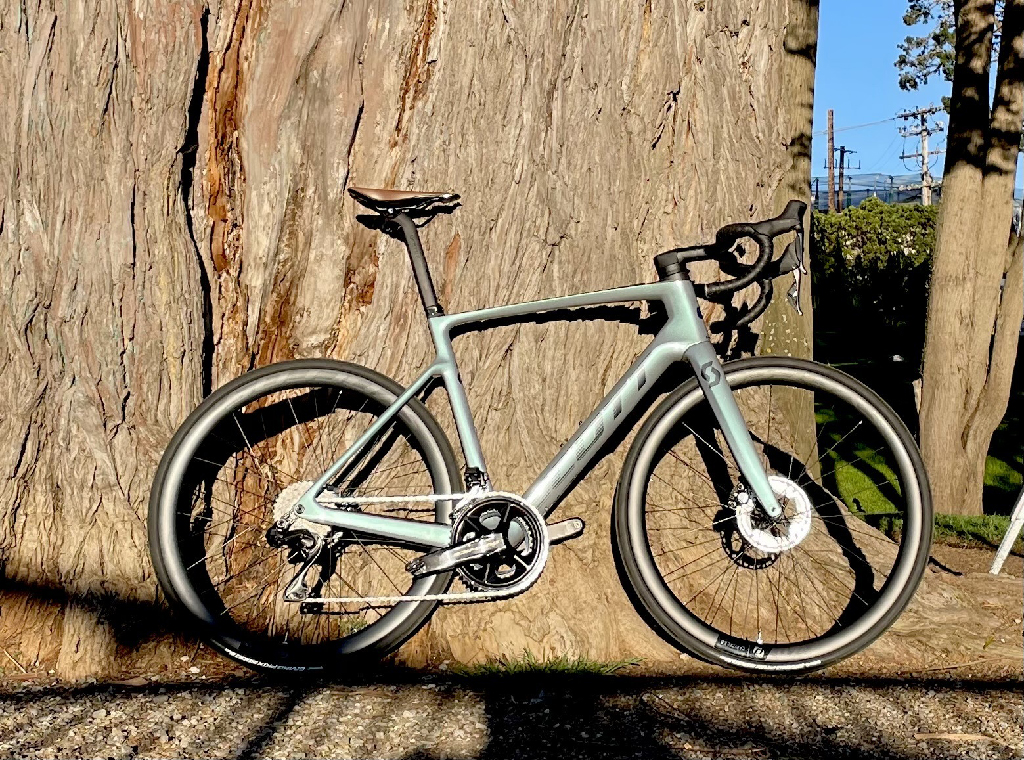 it weight a bit under 24lb - so while it's lighter than the creo, 15% isn't so much different that you don't know it's an ebike. it has almost the same di2 drivetrain (a mix of dura ace and ultegra in this case) as my aethos with a 52-36 up front and 11-34 in the back. i was in between this size and the largest size, so i went smaller and put a 130mm one piece cockpit on it, which i like a lot. haven't fully set up my phone mount and a couple other details.
first impression was that the saddle SUCKS. i wasn't able to put my preferred s-works power romin saddle because of the carbon rails, so i'm waiting for a different post and clamp. second impression was that it feels just like a road bike, albeit without the magical flying carpet ride feeling of the aethos. the geometry (with the adjustments i made) is very similar, to within 15mm at all the touch points. the bottom bracket is about 10mm higher, which is the bigger difference, and the reach was shorter by default but with the 130mm cockpit it's basically the same. it's set up tubeless, 28mm, gp5000 s tr, running 60psi now (shop had it at 90 LOL) and i'm using the same speedplay titanium pedals as before.
some comparisons to the creo experience and general observations :
1) the "bike" drivetrain is way better for a road bike, period. nearly instant and smooth shifting even under load, and no motor effects on the drivetrain.
2) the extender battery is very similar. the internal battery is smaller - not an issue for me, but certainly part of the 4lb difference.
3) the mahle x20 rear hub motor is much, much quieter than the mahle mid-drive motor in the creo. not even a comparison there, for those who care. i haven't ridden the creo 2 with the new 1.2 motor which is supposed to be quieter.
4) the mahle app has a lot of features and conceptually is similar to the specialized app, but has that "written by people who are no good at software" feeling. i won't actually use it, but it refused to connect to my HRM, so i gave up after several tries, and then it just spontaneously detected it during a ride and asked me if i'd like to connect it lol. over the air firmware update worked well.
5) fully internal cable routing for everything is clean but will definitely make working on the bike much harder.
6) the fit and finish of some of the trim bits (like the magnetic headset cover on the one piece carbon cockpit) is maybe not quite as good as specialized.
7) the overall "integration" and experience is also not quite as polished as specialized - the branding of the app, the quantity of manuals and packaging from several different vendors, the quality of the scott and mahle websites etc leave a lot to be desired compared to specialized, which has certainly had some qualities rubbed off on them from their proximity to silicon valley.
8) there's a fully removable magnetic cover on the charging port which the shop told me will not possibly come off, they use it on eMTB and have never heard of it coming off, but i bet it'll come off or i'll lose it.
9) the default assist settings are way too high, with the lowest level resulting in a consistent 70-80 watts of power even when i'm not pedaling hard. this is surprising given the low output of the motor and the odd fact that the built in "power meter" seems to be way, way off, like not even close. i know what my power levels are at a certain heart rate and a certain riding situation to within maybe 10%, and the info mahle is using to calculate the assist is at least 25% low. it doesn't really matter - since the bike has a real road bike drivetrain i'll use a crank arm mounted power meter, but it's curious. the customization of the three built in assist levels is similar to specialized but with one additional variable for the rate of change of assist. i turned down the support factor and peaks and will continue tweaking.
10) had no problem at the higher support levels riding comfortably up 15-20% grades. will be interesting to see how the motor fares with long sustained climbs, but i'm not expecting it to be a problem given that i'm only looking for it to put out 75-100w for an hour in a situation like that.
11) like the creo, the bike transmits cadence and power data over the ANT protocol, but when using bluetooth uses proprietary protocols that only the mahle app can use. unsurprising but lame. the electronics seem virtually identical to the way a specialized SL bike works other than different labels for everything and an uglier UI.
finally - and this may be an important factor - i don't think the scott LBS network is very good in comparison to specialized. i have several very capable specialized dealers/shops within a short ride of home, and know them well enough to know what they know and what they don't. the shop i ordered this bike from is really great, nice, good selection of many types of bikes, but they do not see many of these, don't specialize in road bikes or e-bikes, and there were a couple mistakes that not even i would have made... like not adjusting the front derailleur's vertical position when changing to a crank with larger chainring! quick fixes, of course, but not confidence inspiring!
no exposed cables or hoses anywhere
it's a nice greyish color with some irridescence. i do not like all the scott logos, but it is what it is.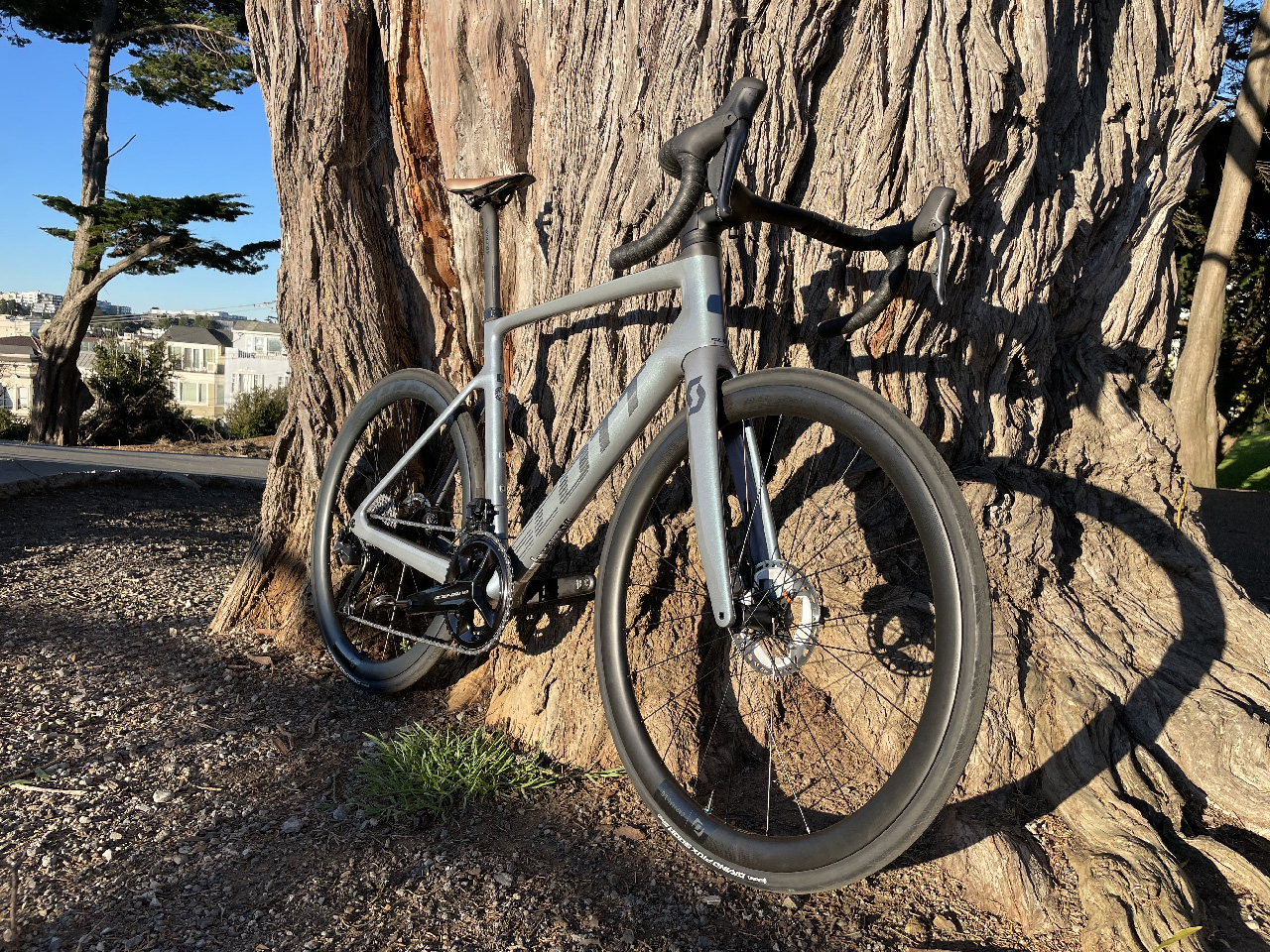 a familiar and well loved drivetrain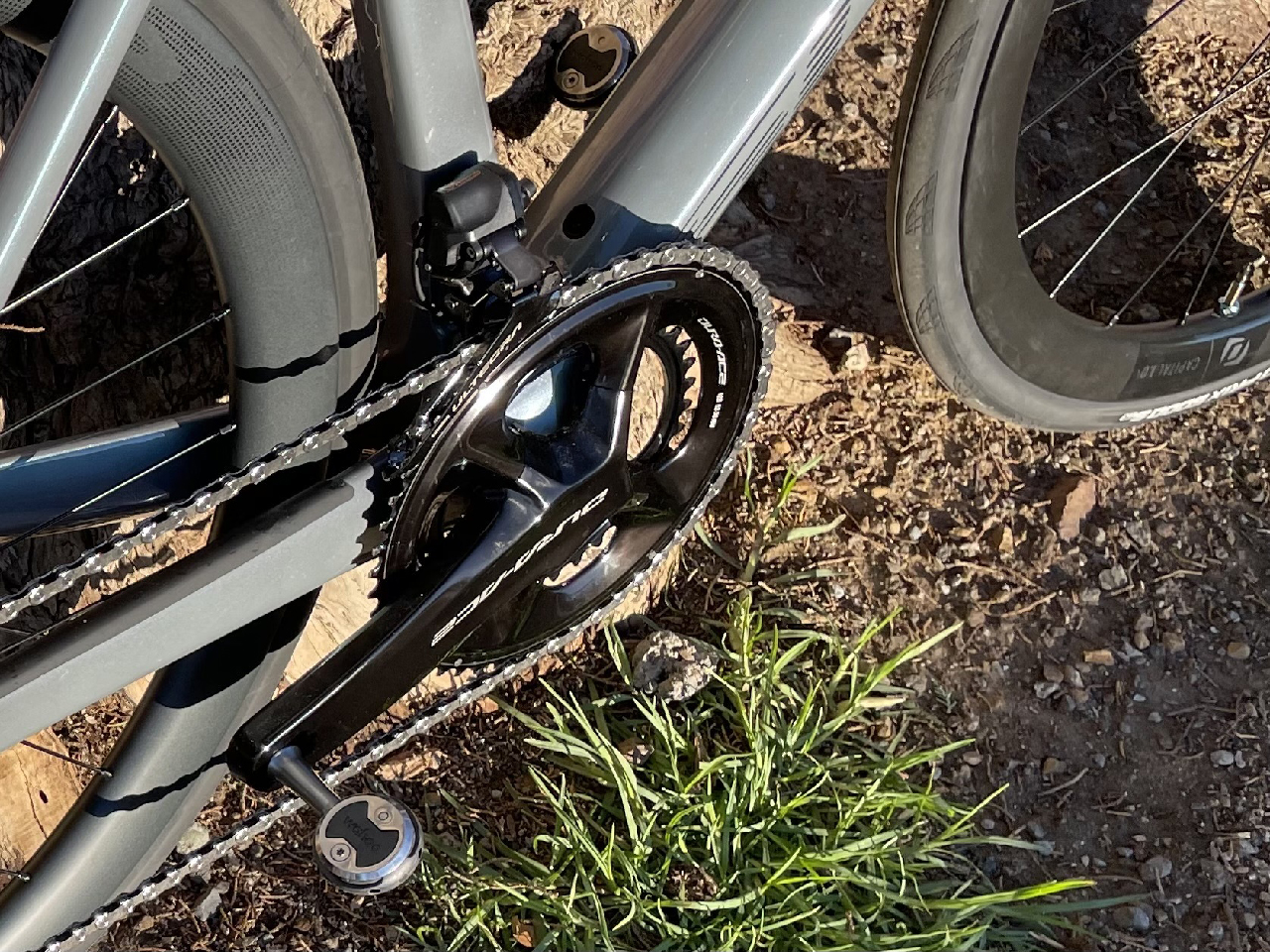 with the range extender battery, which i intend to use infrequently, and find the cage so ugly that i removed it and will put it back on when i need it.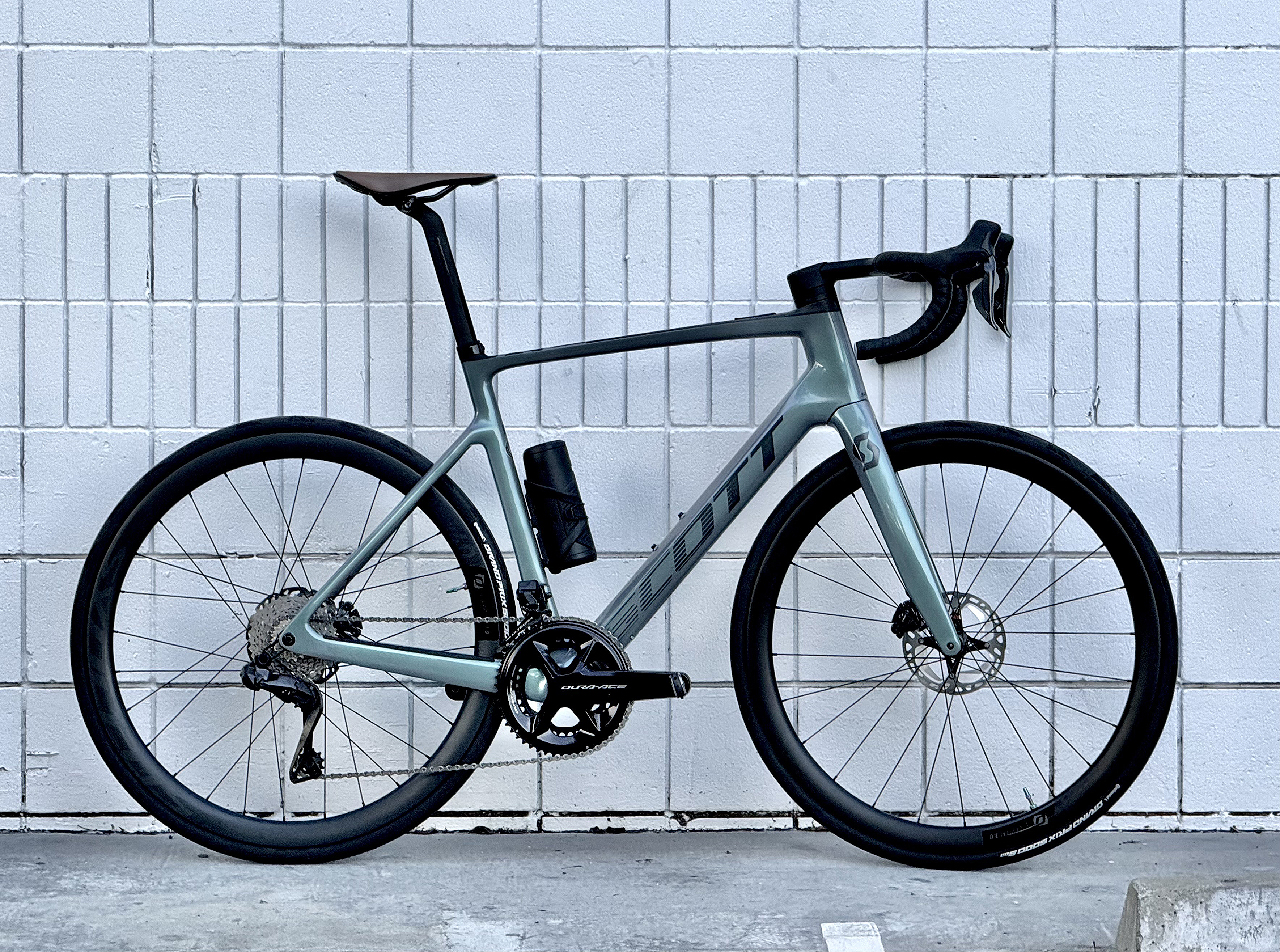 my conclusion so far is that this is a very niche bike, for people who want something as familiar to a super modern carbon road bike as possible but with a motor. it fills that bill. will it be reliable and versatile.... we'll see !